BIT-Sindri students land plum job offers during placement drives
Graduates from 10 different engineering streams receive full-time offers, overall placement figure reaches 133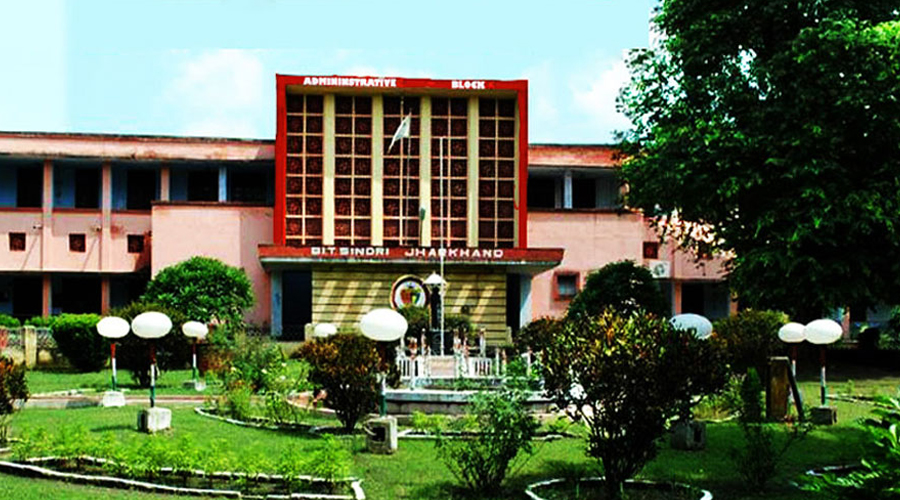 BIT Sindri
(www.bitsindri.ac.in)
---
Dhanbad
|
Published 15.02.21, 04:38 PM
|
---
The lone state-run engineering institute of Jharkhand, BIT-Sindri witnessed a flurry of campus selection drive as the overall placement figure touched 133 out of a total of 750 students.
All this, as students across 10 different engineering branches including Electrical, Mechanical, Production, Mechanical, Metallurgical, Chemical, Civil, Electronics, Mining and IT received full-time employment offers from different recruiters, including Schlumberger PITC, Vedanta Resources Limited, Jai Balaji Industries and Deloitte India. Some of the companies visited the campus for the first time.
The renowned name in the oil and gas industry, Schlumberger PITC based at Pune conducted its recruitment last week and two B Tech students from BIT were offered the role of software developer after multitudinous rounds of technical and interpersonal interviews. The results of the interviews were announced on Monday.
Namrata Kumari of electronics and communication engineering and Shantanu Shubham of information technology bagged the offer for a CTC of 9 lakh per annum. They underwent a written test based on aptitude and coding abilities followed by two technical and two personality and behavioural adaptability rounds.
Vedanta Resources Limited - Mumbai, world's leading mining based company, lapped up three final year B Tech students of mining engineering.
While conducting recruitment last week, specifically for students of mining engineering, during the second round of selection, after hiring students of the core branches earlier, the firm organised a comprehensive skill assessment process comprising of comprehensive, written aptitude test followed by group discussion and personal interview. After successfully clearing these rounds, the selected candidates were offered the role of a graduate engineer trainee for CTC package of Rs 8 lakh per annum. The selected candidates were Paresh Rathour, Utkarsh Shrivastava and Mrinal Kumar.
Additionally, a recruitment drive was organised by Jai Balaji Industries, Durgapur for the passed out batch of 2020 for the position of graduate engineer trainee during which 15 students of different core branches were given job offers with a package of Rs 3.6 lakh per annum.
Earlier on February 10, Deloitte (US office) conducted the placement process for the first time in BIT-Sindri and selected altogether 18 students from different circuit branches including information technology, computer science engineering, electrical engineering, and electronics & communication for a pay package of Rs 7.6 lakh per annum.
The selected students for Deloitte included five of computer science engineering namely Bablu Kumar, Nutan Sinku, Shivam Ghatak Haarish Khan and Rajesh; six students of information technology namely Shantanu Shubham, Prakhar Srivastava, Shubham Jha, Manpreet Singh, Chandan Pandey and Abhay Kumar; four students of electrical engineering namely Komal Shruti, Pallav Tiriya, Ankita Kumari, Sayan Chaudhary and three students of electronics and communication namely Gaurav Kumar, Priya Mandal and Nidhi.
Giving details, head of the Department of Physics of BIT-Sindri, Ghanshyam Rai who is also the training and placement in-charge of BIT-Sindri said, "With the latest placement round, the overall placement figure of 2021 B Tech pass out has crossed 130 and considering the pandemic situation the figure seems to be quite satisfactory as more than a dozen IT as well core sector recruiters are still lined for campus selection for our students."
The selected students in different companies included 16 by Tata Steel for Rs 10.54 LPA, two Hindustan Unilever for Rs 8 LPA, 75 by Tata Consultancy Service for Rs 7 LPA, three by Tata Steel Long products for Rs 3.75 LPA, 16 students by Vedanta Resources Limited for Rs 8 LPA, two students of Schlumberger PITC for Rs 9 LPA, 18 students by Deloitte for Rs 7.6 LPA and one student by Multicoreware for a package of Rs 6.6 LPA.