Bust, book honour for Father Stan Swamy on birth anniversary
The Hindi version of the memoir, written by Ranchi-based Jesuit priest James Toppo, would be released on the occasion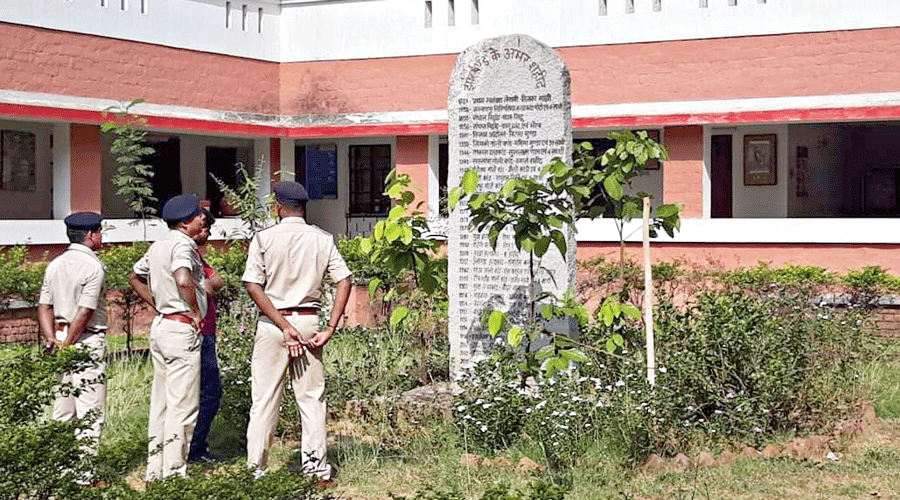 A stone slab dedicated to tribal martyrs at Bagaicha in Ranchi. Father Stan Swamy's name has been written on it.
Manob Chowdhury
---
Jamshedpur
|
Published 15.04.22, 01:35 AM
|
---
The birth anniversary of Father Stan Swamy would be observed with the installation of the Jesuit priest's bust and release of two books at Bagaicha, a training and social action centre, in Namkum, Ranchi, on April 26.
"Father Stan Swamy had coined the name Bagaicha, which the Ho tribe uses to describe a place where all species of plants are found. Father built the institution as a meeting point and platform for all organisations working for human rights and espousing the cause of the oppressed to discuss and execute plans. We will observe his birth anniversary with installation of his bust and book release," said Bagaicha in-charge Father Tony P.M.
The Hindi version of the memoir of Swamy, written by Ranchi-based Jesuit priest James Toppo, would be released on the occasion. The English version of the memoir, published by Indian Social Institute Bangalore and titled I am not a silent spectator: Why Truth has become so bitter, Dissent so intolerable, Justice so out of reach, was released in Ranchi last year.
The memoir contains writings of the Jesuit priest during his visit to southern India in 2019 and also poems and diaries written during his imprisonment at Taloja Central Jail.
The English version was released by the central zone Jesuit province at the Xavier Institute of Social Service, Ranchi campus.
Stan Swamy was known for his human rights activism. He spent long years working among the Adivasi community in Jharkhand. He was arrested on October 8, 2020 from Bagaicha by the NIA in connection with the Bhima Koregaon case and was lodged in Taloja Central Jail in Mumbai. He died under judicial custody while undergoing treatment at a private hospital in Mumbai in July last year.
His death had caused much outrage; as he was repeatedly denied bail requests despite his deteriorating health over nine months in jail, and activists had lamented the inhumane treatment against Swamy in the last few months of his life.
Another book If Not Now, When? Disquieting Feminist Questions, published by Gujarat Sahitya Prakash and edited by Astrid Lobo Gajiwala, Kochurani Abraham and Prashant, would also be released on the occasion.