Biker dead, three injured in road mishap in Ramgarh
STATE DIGEST: BSL notice to evict 200 hutments, MP says notice 'irrelevant'; tricycles, wheelchairs gifted to the needy in Jamshedpur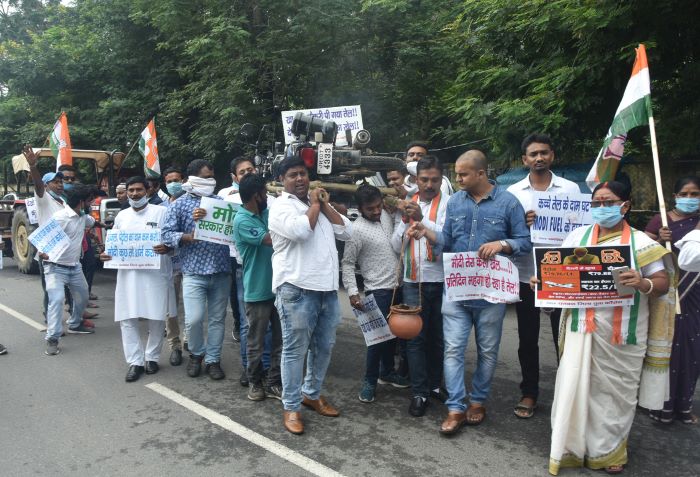 ---
---
A trailer carrying manganese ore hit a mini-truck on the Ranchi-Patna Highway (NH-33) in Ramgarh on Sunday morning and killed a biker before falling into a 50-feet ditch.
Police reached on the spot after getting information about the mishap, rescuing the trapped drivers of the two vehicles.
As the trailer laden with minerals was going to Giridih from Nagpur, the driver lost control of the vehicle at Chutpalu Ghati, hitting a mini-truck and a biker respectively before falling into a deep roadside ditch.
The biker died on the spot. His identity is yet to be ascertained.
The driver of the trailer and two migrant labourers were rescued.
The driver of mini truck and three others sustained minor injuries were also sent to Ramgarh Sadar Hospital.
Caption: Bhagwan Mahavir Viklang Sahayta Samity (BMVSS), a unit of famous Jaipur Foot. Swung into action after almost three since nationwide lockdown by gifting tricycles and wheel chairs to the needy on Sunday.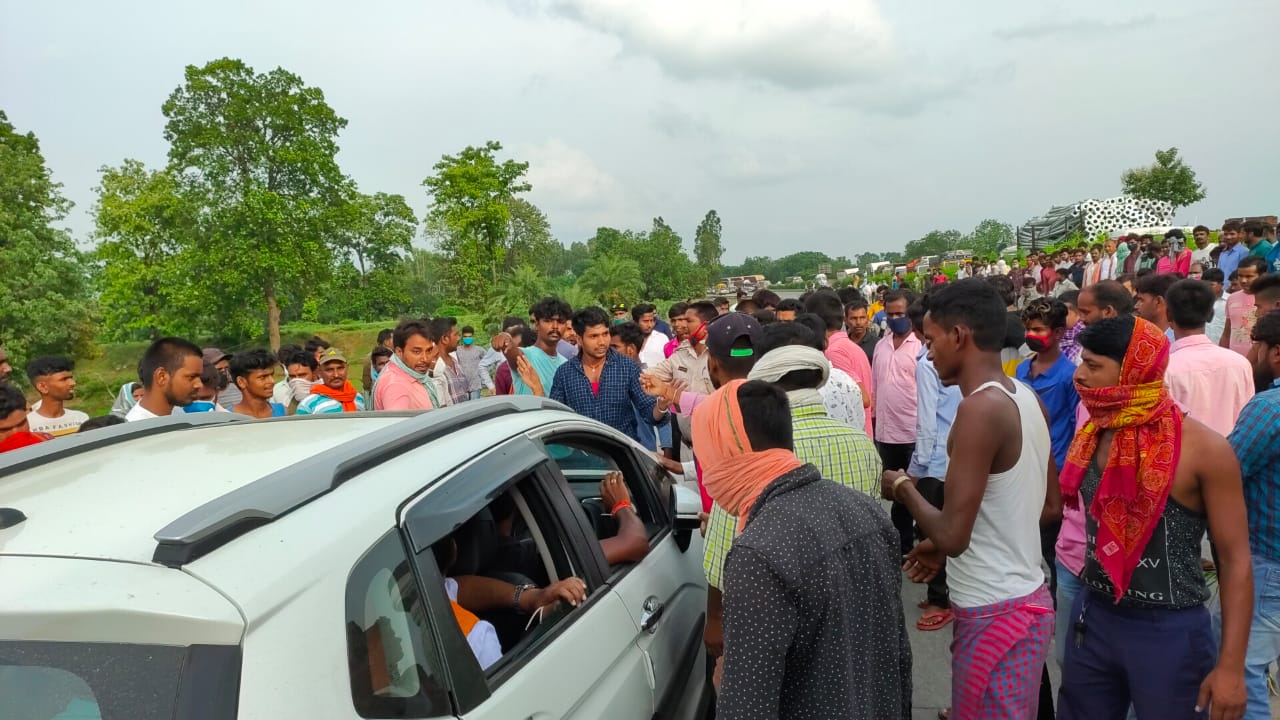 Local residents catch hit and run driver, demand compenstion

A 25-year-old mother was crushed to death by a tanker on GT road, and her 8-year-old son had a miraculous escape on Sunday at GT road in Panchmadhav, Barhi tow, Hazaribah.
Local residents blocked this busiest highway for half an hour, but ended agitation after after getting assurance from officials.
In the incident, Upendra Yadav of Sinpur village was going to a market on his new bike with his wife Usha Devi and son Roshan Yadav as pillion riders.
Near Panchmadhav, an oil tanker-NL-01/AD-5279 hit the bike from behind, killing Usha on the spot. Roshan escaped with injuries on his right hand.
Local residents rushed Roshan to the local health centre, where he was referred to the Hazaribagh Medical College and Hospital.
Angry villagers blocked the highway after stopping the tanker and catching its driver.
They are now demanded compensation for Usha's family and other government benefits.
Block development officer Aruna Kumari reached assured of all help to the family, after which the protest was called off.
Due to half an hour of traffic jam, large numbers of vehicles were stranded on both sides of the
highway.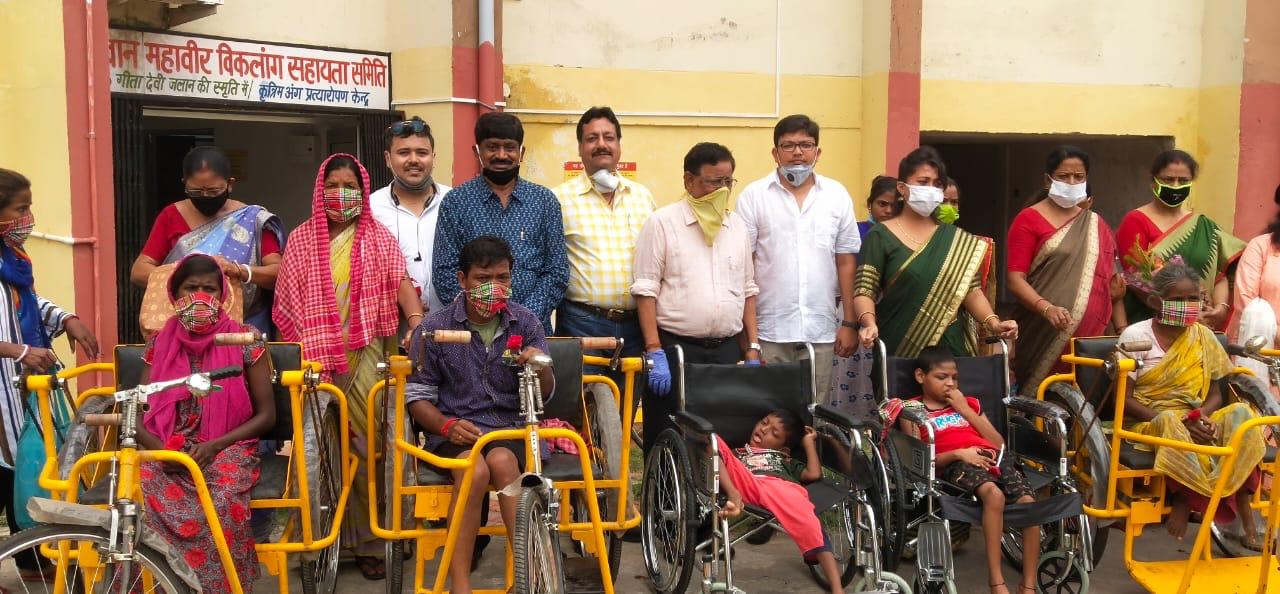 Tricycles, wheelchairs gifted to the needy in Jamshedpur
Bhagwan Mahavir Viklang Sahayta Samity (BMVSS), a unit of the famous Jaipur Foot, gifted tricycles and wheelchairs to the needy on Sunday, after almost three months since the nationwide lockdown.
Six orthopaedically challenged persons were provided tricycles and wheelchairs from administrative committee members set up by the East Singhbhum district administration, comprising civil surgeon Dr Maheshwar Prasad, past Lions district governor A.K. Srivastava and state advisory committee on disability management member Rajneesh Kumar at a function held at BMVSS centre at Sadar hospital in Khasmahal.
The beneficiaries who were given tricycles included 25-year-old Harish Sidhu, Mahendra Patra (40), Sumitra Patro (50) and Kartik Patro (30).
9-year-old Aditya Gorai and Sunita Yadav (40) received wheel chairs .
"The beneficiaries were identified by the Sanskriti Social Welfare Trust led by its founder president Munmun Chakraborty, who, along with her team made the survey and helped bring the needy to BMVSS," said Rajneesh Kumar.
Tata Steel MD T.V. Narendran and principal health secretary Nitin Madan Kulkarni inaugurated BMVSS on January 11 this year at Sadar Hospital.
MP condemns BSL notice to evict 200 hutments
Member of Parliament (MP), Dhanbad, PN Singh on Sunday strongly condemned the notice served to remove the dwellings of poor people in Shivpuri Colony near the Bokaro Steel Plant (BSL), marking it as inhuman and unfair.
The estate officer of BSL had on Thursday issued a show cause notice to those living in about 200 dwelling units, in a locality situated in the northwest Garga Dam catchment area on NH-23, asking them to remove their hutments by June 30.
A group of poor people living in the hutments met the MP and apprised him of the situation.
"At a time of this Covid-19 pandemic, when prime minister, Narendera Modi and the central government are saying that people living in rented houses should not be removed by owners, BSL management is giving notice to these poor people. It is irrelevant on their part, and BSL is not coming up with any venture on that land," said the MP.
The MP also raised concern over the BSL plant running without a CEO for the past seven months said he will talk to union steel minister, Dharmender Pradhan asking to fill the post soon.
Youth dies in car accident
A 23-year-old youth died and four persons were injured when a car rammed a truck on NH-75 near Jangipur in Garhwa, on Sunday.
The incident was reported around 9 am, when the car was on its way to Palhe from Nagar Untari.
At least five persons of a family were in the car at the time of the incident.
Eyewitness said that the truck coming from the opposite side collided with the car in order to avoid the pit built on the road.
The five injured persons taken the sub-divisional hospital in Nagar Untari where they were referred to the RIMS after first-aid treatment.
The youth, Prayag Shukla, succumbed to his injury on way to RIMS.
The driver of the truck abandoned his truck and escaped.
Police in-charge Pankaj Tiwari said they have registered a case and investigation is underway.