Big battle fails to impress people
Polling down in tribal belt
---
---
One person died in police firing in Gumla district and the high-profile chief minister Raghubar Das versus cabinet colleague turned Independent challenger Saryu Roy battle in Jamshedpur East failed to excite voters as Jharkhand voted in Phase II of the Assembly elections on Saturday.
Jilani Ansari, 28, died in police firing and Tabrej Ansari and Ashfaq Ansari were injured at booth 36 in Baghni village of Sisai seat, Assembly Speaker Dinesh Oraon's constituency. The injured were rushed to RIMS in Ranchi where their condition was said to be stable.
Sisai police station officer in-charge Bishundeo Choudhary and local journalist Sitaram Sahu also suffered head injuries when angry villagers pelted stones after the incident, police said. Two more persons, Akhilesh Yadav, a Gumla policeman, and Sitaram Singh, driver of the Sisai BDO, suffered minor injuries.
Additional director-general of police Murari Lal Meena, the nodal officer for election-related security measures, said Jilani was killed when personnel of the Rapid Action Force (RAF) fired at assailants. Gumla deputy collector Shashi Ranjan told The Telegraph that RAF fired out of "self-defence" when a group pelted stones and tried to snatch arms.
He added that polling at this booth, classified sensitive, had been cancelled and a fresh date would be announced soon. Jharkhand chief electoral officer Vinay Kumar Choubey said the incident was being probed.
An eye-witness said an altercation between the two warring groups snowballed.
"A good number were members of political parties who were creating disturbance. Police asked them to stand in queue. Some people started shouting that they were being prevented from voting. Suddenly, some men nearly snatched the weapon of a police personnel, stone pelting started out of nowhere. Polling officials locked themselves inside a room amid stone-pelting that continued for around 20 minutes after which the police opened fire in self-defence," said the local resident.
"If the Election Commission agrees, re-polling will be held on Monday," chief electoral officer Choubey said. "There were three incidents of violence."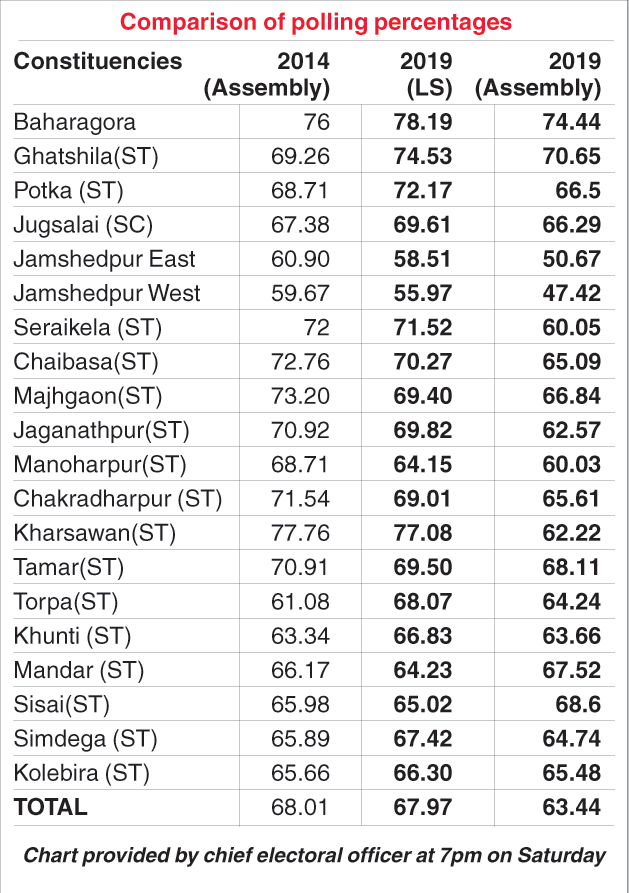 In the two other incidents, a polling party was attacked in Arki block of Khunti district while returning after polling at a booth under Tamar constituency, and a bus carrying voters to a booth under Chaibasa constituency that was relocated to Pandveer village was torched by extremist elements.
Choubey said no one was injured in the two incidents, and the EVMs were also safe.
The overall polling till 5pm was recorded at 63.44 per cent, down from the 68.01 per cent that was recorded in these 20 constituencies in the 2014 Assembly election of 2014, Choubey informed. "This is a rather good polling percentage," he added.
The lowest voter turnout, 47.42 per cent, was recorded in Jamshedpur West, he said. The second lowest, 50.67 per cent, was recorded in Jamshedpur East where CM Das is fighting against Saryu Roy.
The voting percentage in almost all the 13 Assembly seats of Kolhan (barring Ghatshila) also decreased compared to 2014, though Maoists had not given any poll boycott call.
There were cries of EVM tampering in Jamshedpur East.
"There have been complaints of EVMs being brought in auto-rickshaws and kept in other vehicles after polling ended. Complaints came from polling booths in Cable Town in Golmuri, Gurudwara Basti in Sakchi, Vidya Bharati Chinmaya Vidyalaya in Telco. Our polling agents lodged a strong protest at all the venues," said Pratik Sharma, an aide of Saryu Roy.
East Singhbhum deputy commissioner-cum-district electoral officer Ravi Shankar Shukla confirmed receiving complaints.
"We received complaints and sent teams to address the issues. Actually there has been confusion among polling agents on seeing the reserve EVMs being brought to the polling booths. As is the norm, a few EVMs are kept as reserve to be replaced if there is any technical snag. However, since there were few technical snags in the EVMs these reserved EVMs were being taken to the cluster points after the polls leading to confusion. We are addressing the grievances of the complainant," Shukla said.
Roy blamed the administration for creating confusion.
"If they were reserve EVMs then they should have been taken to the cluster points or strong rooms in separate vehicles rather than in the ones earmarked for carrying used EVMs as it led to suspicion of EVMs being replaced on the way," he said.