Baby is born and dies on train, kin cry neglect
The woman who gave birth claims there were no doctors to attend to her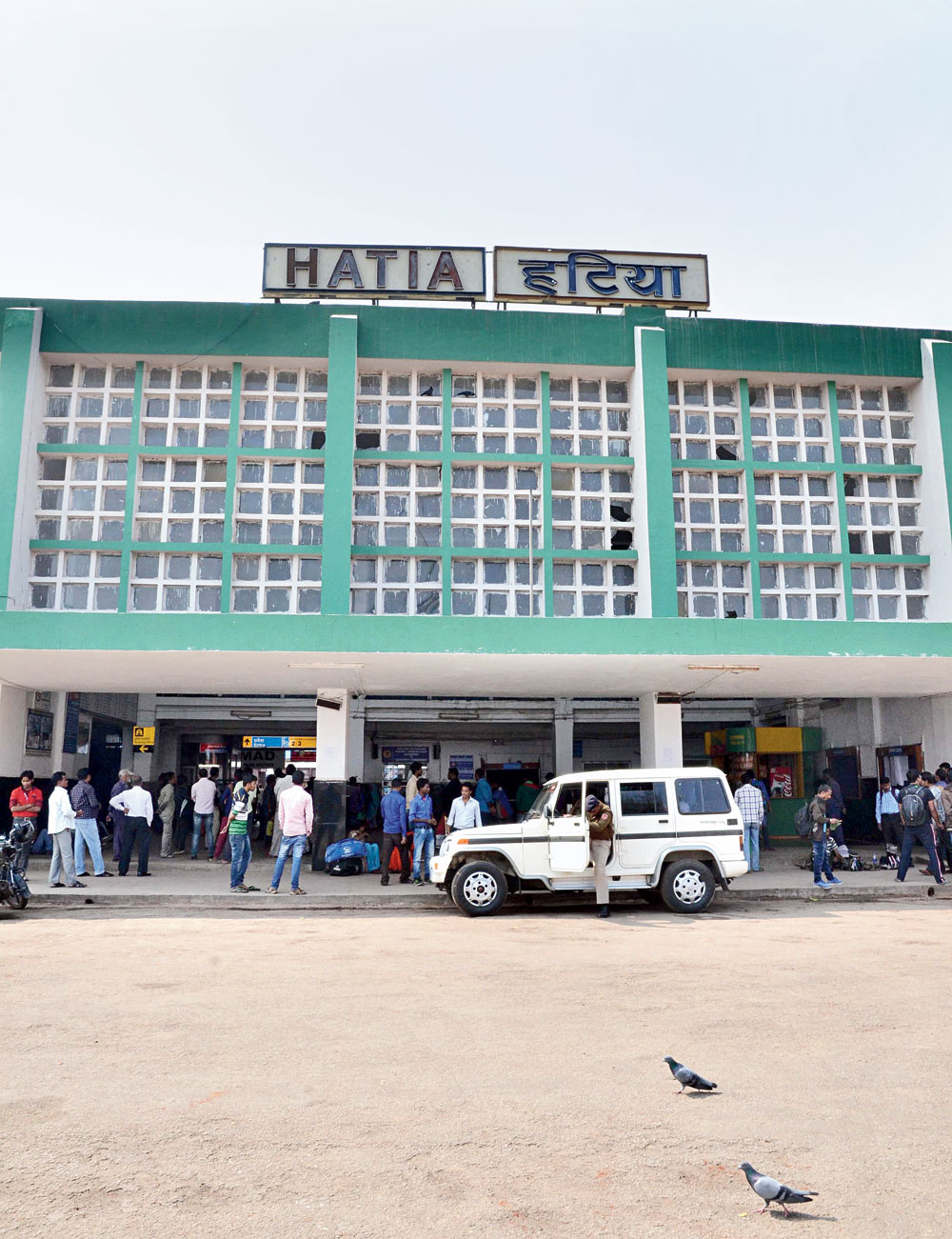 Hatia station near which the woman delivered a baby girl on board a train on Wednesday.
Telegraph picture
---
Ranchi
|
Published 13.02.19, 06:46 PM
|
---
A 21-year-old woman from Lohardaga who delivered a baby girl on a train in Hatia on Wednesday said her newborn died in the absence of immediate medical attention, a claim vehemently denied by the railways and the district health authorities.
While Ranchi railway division officially stated that Indramani Devi and her premature child were rushed to hospital without delay, the civil surgeon's office claimed it was a stillborn baby in the first place.
Railway sources said the woman boarded the S-8 sleeper coach of 13352 Dhanbad (Bokaro)-Alappuzha Express from Erode in Tamil Nadu with her husband and two other family members. They had tickets till Ranchi from where they planned a break journey to native Lohardaga.
A witness at the station said Indramani went into labour when the train was pulling into Hatia.
"There was no doctor on board to attend to mother and daughter. The baby died. A lady doctor came on board after the newborn died and accompanied the family to Ranchi station from where they were taken to sadar hospital. There too, the mother waited for doctors with her dead baby in a bag," the source said.
A local TV channel showed Indramani blaming the railways and doctors for the death of her child. "I was not offered medical attention… My baby died," she sobbed as she held up her baby for the camera.
This newspaper was, however, unable to contact the bereaved mother or her family members.
Public relations officer of Ranchi railway division Suhash Lohkare rubbished the allegations.
"Indramani Devi of Lohardaga, her husband and two other women were in S-8 coach of the train. She gave birth on Berth 16. A lady doctor immediately attended to her. Her family wanted to go to Ranchi. From there she was sent to sadar hospital under supervision of another doctor in a railway ambulance. It was a case of premature delivery. The matter is being misrepresented," Lohkare said.
Ranchi civil surgeon Dr Vijay Bihari Prasad, on the other hand, claimed the baby was stillborn. "Nothing could be done. Accompanied by her husband and sister, she came to sadar hospital and there she was offered care and counselling. The allegations are not true," he said.
Four days ago, another woman, identified as Rani Devi (25), had given birth on the Lohardaga-Ranchi Passenger. Her baby had survived.