Baby corn on smart farming menu
Outfit works with 500 Jharkhand farmers to grow their income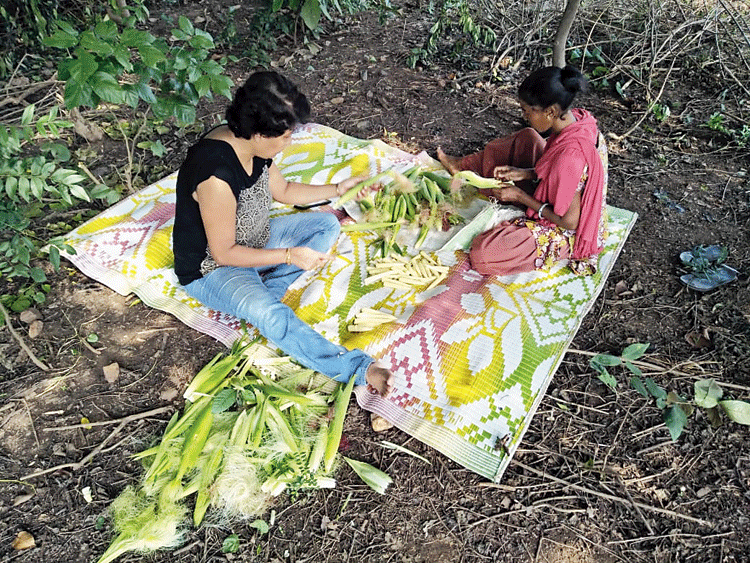 Baby corn being harvested at Rangamatiya in Seraikela-Kharsawan in October.
Telegraph picture
---
Jamshedpur
|
Published 29.12.19, 07:00 PM
|
---
Baby steps to grow baby corn can make a giant difference to farmers' earnings, believes a group of agripreneurs called EIGHT.
EIGHT (East Indian Growth Harbinger Trust), a group of three trustees and an equal number of volunteers, is working to create successful business models in agriculture in five villages near Jamshedpur, three in Seraikela-Kharsawan and two in East Singhbhum.
As of now, EIGHT is working with 500 farmers, but around 20 among them are the most active and act as leaders in their community.
In July, EIGHT experimented with baby corn cultivation at four villages, Rangamatiya, Bansamore and Mahadevpur in Seraikela-Kharsawan, and Patamda in East Singhbhum. Growing baby corn on one acre each at the four villages on a pilot basis, the final yield was 40 kilos and sold at Rs 4,000 in the wholesale market.
The next project? Farmers at Saramda village in Hata, East Singhbhum district, around 25km from the city, have agreed to grow papaya to extract papain (which is used as medicine) under the guidance of EIGHT.
Amar Chouhan, a member of EIGHT and a retailer of fruits and vegetables, said that the baby corn pilot project was rewarding in the sense that paddy farmers came to know that a cash crop such as baby corn could grow in that soil. "But of course, an yield of 40 kilos over 4 acres is nothing. Ideally one acre must produce 300 kilos of baby corn but this was a prototype, more of a trial. The next time, we will train farmers more extensively on how to improve yield so that their earnings increase," he added.
Techie-turned-agripreneur Sudipta Ghosh, who left her lucrative IT sector job to grow flowers commercially, and is associated with EIGHT as a consultant, said Kolhan region had a lot of promise for farmers. "Here, farmers need to know which are the cash rich crops and how to market them properly. Farmers in this belt rely on paddy which doesn't give them good profits. Also, many are not good at negotiating deals. We can tell them how to negotiate with buyers. In the case of the papain extract, for instance, EIGHT will connect farmers to the right agencies instead of their selling the fruits to normal wholesalers."
Chouhan said the model was simple. "The farmers share land, the entrepreneurs gives them ideas on innovative farming and helps them market and sell the produce and give them their financial share instantly," he said.
He added that they were also trying to keep the bond between farmers and their land alive. "Many farmers here join nearby companies as daily wage labourers because they earn more that way, around Rs 350 a day. We hope that EIGHT helps many farmers return to their original livelihood by growing crops that are in demand. It is early days yet, but we have planned to set up procurement centres where farmers can come directly and sell their produce to get money instantly."