At finish line, markets get festive in Ranchi
After a dull week markets at the capital were crowded with thousands buying festive items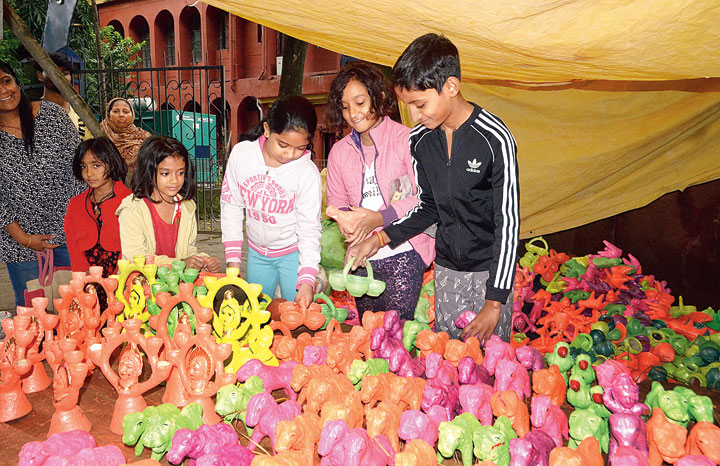 Kids buy earthen diyas at Doranda Bazaar in Ranchi on Saturday
Prashant Mitra
---
Ranchi
|
Published 26.10.19, 06:35 PM
|
---
Diwali shopping on Saturday finally managed to trump both downpour and downturn.
After a dull week, markets at Harmu, Kishoreganj, Upper Bazar, Main Road and Ratu Road and other parts of the capital were crowded with thousands, including children and the elderly, buying festive items such as diyas, candles, garondas or Diwali ghars, decorative items, flowers, clay toys, sugary sweets shaped like animals, among others.
Deepa Kumari, a resident of Kishoreganj, who took a long time to read Main Road via Shraddhanand Road, said she got stuck in a jam at Mahavir Chowk in Upper Bazar. "Over 50 makeshift shops selling Diwali items have cropped up on the road and there's a sea of people thronging them. It feels like Diwali, finally," she said.
Added Abhay Mahto, a resident of Vidya Nagar, who went out for last-minute Diwali shopping on Saturday. "Aj raunak thi (Today, there was glow)," he said. "Although there were jams too," he added. "It took me more than an hour to negotiate traffic."
A civil engineer in an MNC, Gautam Tandasi, who lives at Harmu Housing Colony, said he shopped for Diwali from 11am to 1pm. "It was really crowded when I reached Harmu Bazar," he said.
He said that he heard many parents trying to convince their children not to buy too many crackers. "Often gunpowder in the crackers becomes damp after a spell of rain and the crackers don't light up. That's a waste of money. Also, sometimes a damp cracker lights up a long time later, which can pose a risk. You might have forgotten all about the cracker and then it suddenly comes alive," he laughed.
The president of the Federation of Jharkhand Chamber of Commerce and Industries, Kunal Ajmani, said Saturday was a good day for trade. "On Friday, there were signs of life in markets. Today (Saturday), they grew stronger. Still, that didn't meet my expectations. Apart from the slowdown, the rain affected business a lot before Diwali," Ajmani said.