Artist's tribute on canvas
Rabindra Jayanti amid lockdown, Love for Tagore finds expression online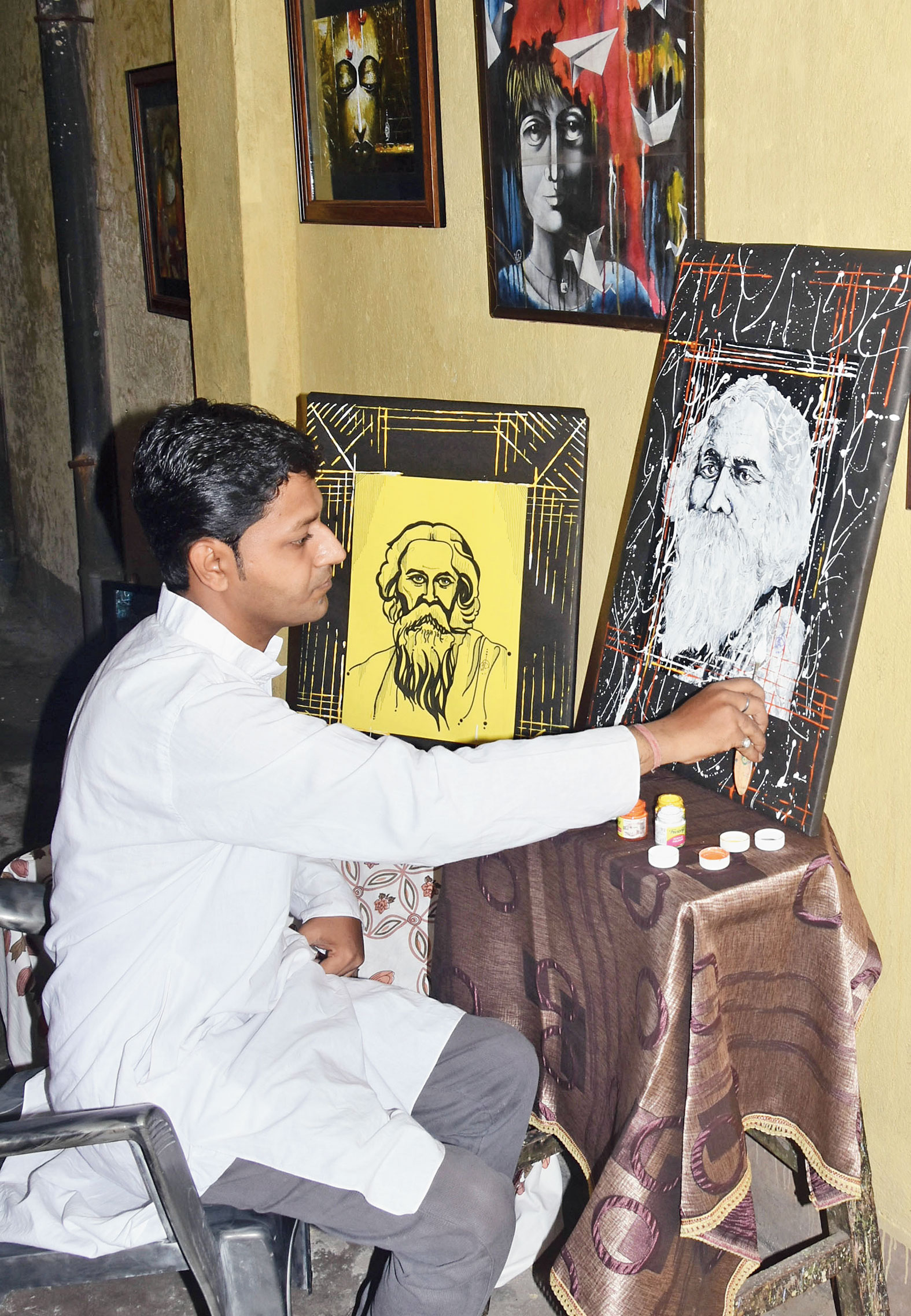 ---
|
Dhanbad
|
Published 08.05.20, 12:46 AM
---
Victor Ghosh, a 28-year-old artist, would hold a painting contests among his students at his institute, Anuva Academy of Fine Arts, on Rabindra Jayanti every year.
The lockdown has made Dhanbad-based artist tweak his plan this year. On Friday, he will unveil six of his paintings, including three portraits of Rabindranath Tagore, online.
The Nobel laureate was born May 7, 1861, but his birthday is celebrated according to the Bengali calendar according to which Rabindra Jayanti is on Friday.
Ghosh said he would use Skype or Zoom to unveil his paintings and let his students speak a few words about Tagore.
"As an artist, I have great reverence for Tagore, who was one of the best painters of his times. His paintings were displayed across Europe, Russia and the United States. I have made three portraits, one using pen and markers, another using acrylic medium and the third using water colour," Ghosh said on Thursday.
He said it took him almost a week to make the portraits on 16X18 inch canvases.
Ghosh, who has taken part in 65 competitions and exhibitions besides 28 art camps, said his three other acrylic paintings were inspired by Tagore's love for nature and music.
"One of the paintings has a lot of greenery as the backdrop while the other one depicts a child spreading his hands wide open in an effort to break free from the shackles of responsibilities to enjoy nature," Ghosh said.
"The third painting is based on the theme of music and soul. It shows a man playing the flute," he said, adding that two of his nature-themed paintings would be used during two competitions of Lalit Kala Akademi in August and September.