Munda promises priority to tribal issues
He arrived to take the blessings of his mother Saira Munda at their ancestral house in Ghorabandha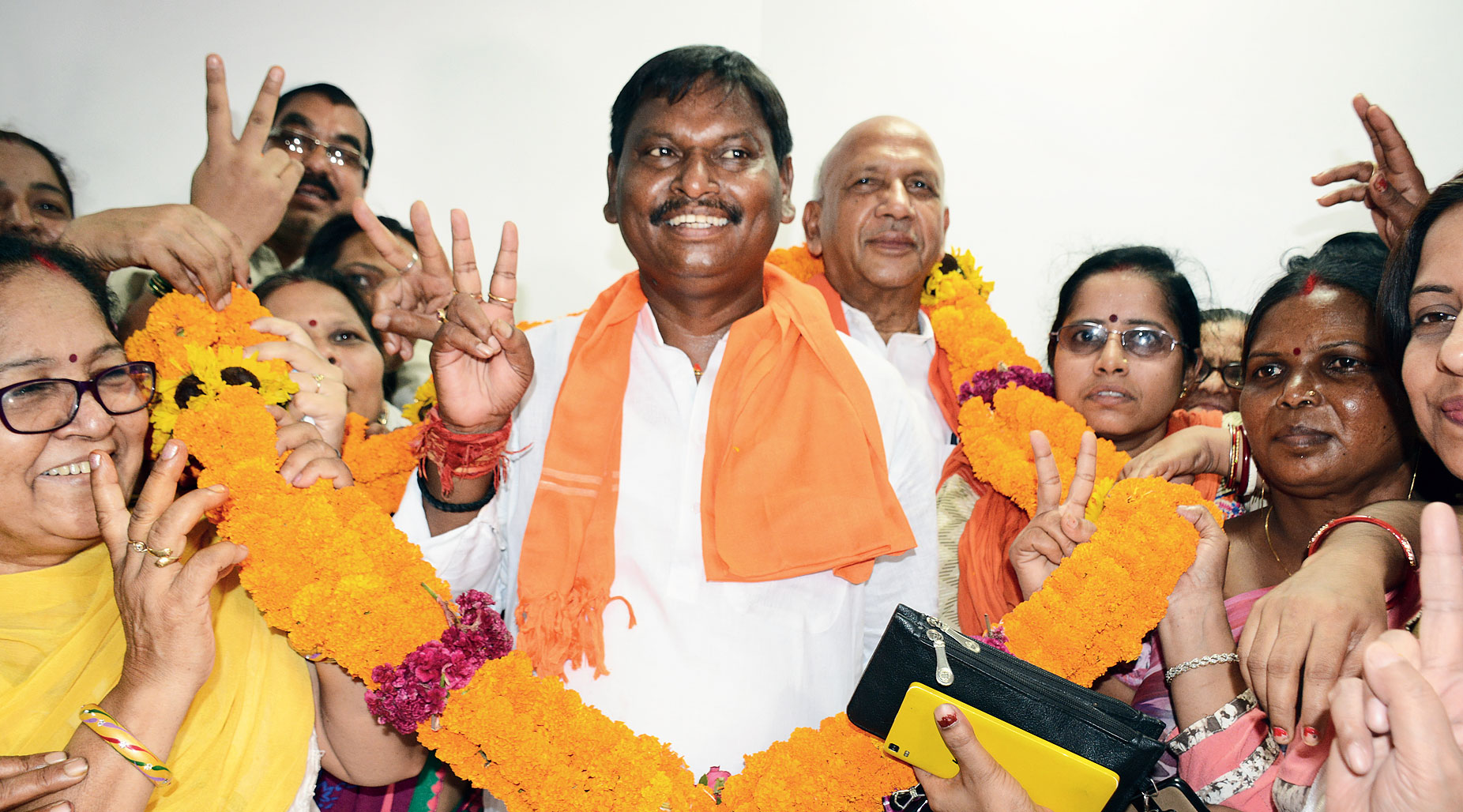 MP-elect Arjun Munda being felicitated by BJP supporters at the residence of senior party leader Saryu Roy (on Munda's left) in Bistupur, Jamshedpur, on Saturday.
(Bhola Prasad)
---
Jamshedpur
|
Published 25.05.19, 06:57 PM
|
---
Former chief minister Arjun Munda, who won the Khunti Lok Sabha seat by a wafer-thin margin, has promised to delve deep into the problems of tribals and find out a solution.
In a brief interaction with the media at the official residence of state food and civil supplies minister and senior party leader Saryu Roy in Bistupur on Saturday, Munda gave enough hints that assuaging hurt tribal sentiments over pathalgadi would be his top priority.
The 51-year-old arrived here on Friday evening to take the blessings of his mother Saira Munda at their ancestral house in Ghorabandha (near Telco) before leaving for Ranchi enroute to Delhi to attend the meeting of NDA MPs scheduled on Saturday evening.
"I will definitely visit the length and breadth of the constituency and take into account all problems faced by the tribals, including issues over pathalgadi, and try to find out a solution, taking care not to hurt the age-old traditions of the tribals. I will also try to clear the misgivings about the government among tribals," Munda said.
Significantly, Khunti had become an epicentre of tribal agitation in 2017-18 beginning with the violent pathalgadi movement, an ancient tribal custom of erecting stone slabs in the memory of forefathers, that soon took on a secessionist turn along with the agitation against the state government's proposed amendments to age-old land tenancy laws (Chhotanagpur Tenancy Act and Santhal Parganas Tenancy Act).
Sources in the state BJP admitted that Munda would have to do some hard work to win the confidence of tribals going by the voting pattern in the parliamentary polls, which he won by a wafer-thin margin of 1,445 votes against Congress's Kalicharan Munda.
"According to available data, Arjun Mundaji trailed in four Assembly constituencies dominated by the tribals (Torpa, Khunti, Simdega and Kolebira). It was the massive lead at his bastion Kharsawan and Tamar that saved the day for him," a senior BJP leader associated with the election campaigning, said.
According to data released by the Election Commission, Arjun Munda polled 43,964 in Torpa, 51,410 in Khunti, 66,122 in Simdega and 44,866 in Kolebira against Kalicharan Munda 65,122 (Torpa), 72,812 (Khunti), 71,894 (Simdega) and 69,798 (Kolebira).
However Arjun Munda made it up with 88,852 in Kharsawan and 86,352 in Tamar where Kalicharan Munda could manage 55,971 and 44,871, respectively.
Munda, who according to party insiders is tipped for a ministerial berth at the Centre, refused to make any comments on the issue.
"Nobody is above the party and I will shoulder whatever responsibility is given by my party, be it in Jharkhand or in the Union government. However, fulfilling commitments made to the people of Khunti during my campaign would be my top priority, especially road connectivity and arranging irrigation facilities in the remotest of village and developing the region as an educational hub. I will soon open MP offices in all the Assembly segments where people can come for prompt redress of their grievances," Munda added.
On why his face was absent in party posters during campaigning in the state, the three-time chief minister and party's tribal face said he owed his political career to Jharkhand and would continue to serve its people irrespective of his face appearing in the banners or not.
"I know I have a place in the hearts of the people," he added.