Activists ask Uddhav to ensure Swamy is treated with dignity in jail
Jharkhand group calls for arrest of 'real' Bhima-Koregaon culprits in letter to CMs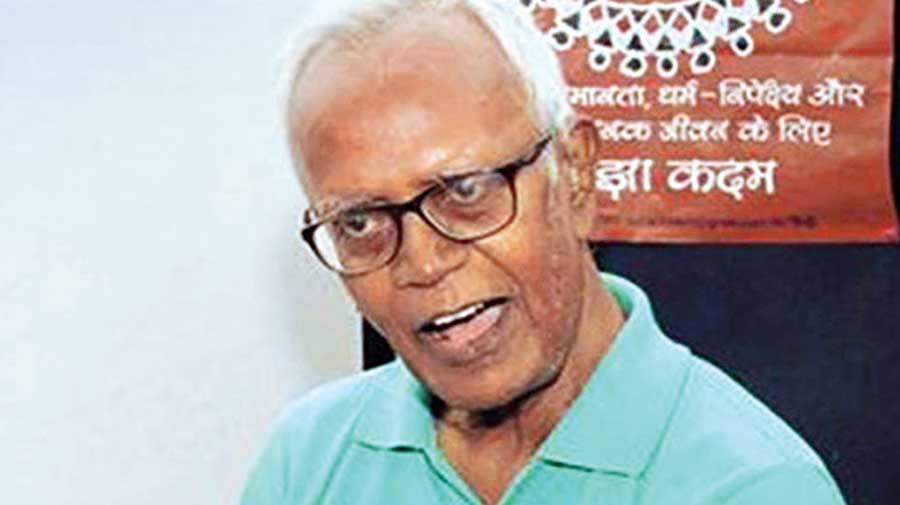 Father Stan Swamy (83) was arrested by the National Investigation Agency on October 8 in the Bhima-Koregaon case.
The Telegraph file picture
---
Ranchi
|
Published 01.12.20, 06:23 PM
|
---
Jharkhand Janadhikar Mahasabha, a network of rights organisations and activists, has appealed to Maharashtra chief minister Uddhav Thackeray to ensure that Father Stan Swamy (83) was treated with dignity and that he had access to all amenities in jail.
In a letter dated November 30, but released to the media on Tuesday, the mahasabha also appealed to the state government to arrest the "actual perpetrators" of violence at Bhima-Koregaon in January 2018 -- it named two leaders belonging Hindu organisations -- and ensure speedy trial of the case.  
"This is to bring to your attention the current health condition of 83-year-old Father Stan Swamy, currently lodged as an undertrial in the Taloja jail. He is a Parkinson's patient with severe tremors in both his hands. As a result, he has trouble drinking water from a glass, taking baths and washing clothes on his own. He also has a serious hearing problem and needs hearing aids in both ears. He was operated twice for hernia in the recent past," read the letter, a copy of which has also been sent to Jharkhand chief minister Hemant Soren.
Swamy was arrested by the National Investigation Agency (NIA) on October 8 from his residence in Ranchi in the Bhima-Koregaon case. "He carried along with him some medicines for chronic illness. He also carried a steel-straw sipper, which was necessary for him to drink any liquid food item. But he was not allowed to take his sipper with him inside the jail," the Mahasabha noted in the letter.
"We would also like to bring to your notice that jail authorities refused to allow Swamy access to warm clothes sent by his family. This is a serious violation of basic rights of an elderly person with disability. While the NIA and central government continue to harass activists through the Bhima-Koregaon case, it is also the responsibility of the Maharashtra government to ensure amenities and dignity to the undertrial activists," the Mahasabha said.
Jail authorities, it has been reported, provided a sipper to Swamy on November 29 after condemnation from various quarters. "We appeal to the Maharashtra government to ensure all amenities including warm clothes, health support and dignity to Swamy, considering his age and illness. Swamy is a valued and public-spiritedness citizen who has worked for Adivasi rights since decades in Jharkhand. We have the highest regard for him and his work," the Mahasabha said.