7-year-old state chess champ comes 5th at school meet
Dishita Dey, daughter of former wome's champion Alka Das, won the online Jharkhand championship in the under-10 age group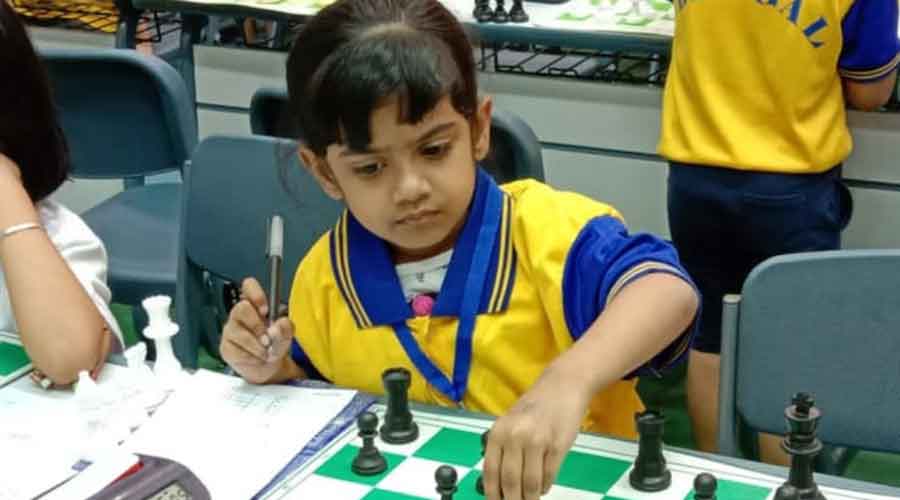 ---
---
Jharkhand added one more feather to its cap as Dishita Dey secured fifth place in the recently concluded Online National School Chess Championship for Under-7 girls.
The 7-year-old tied for the third to seventh spot with 7 points out of 9 rounds but failed to get the bronze as her tie-break point was less than two others. The winner of the event, Charvi A. of Karnataka had a 100% score, one point ahead of Telangana's Samitha Pungavanam who managed 8 points. The third place went to Ira Bohara of Maharashtra.
On the basis of this performance, Dishita is eligible to represent India in the forthcoming Asian School Chess Championship for Under-7 Girls. Dishita is the daughter of former Jharkhand women champion Alka Das. Dishita opted to play for Jharkhand and is registered with the state chess association.
"The success of Dishita, Souryadipta Sarkar, Vatsal Singania and Adhiraj Mitra in the last four days would create a new wave in Jharkhand chess," said All Jharkhand Chess Association (AJCA) secretary Neeraj Kumar Mishra, an International Master.
While Souryadipta made it to the Indian team for Online World Under-12 Rapid Chess Championship (Cadets & Youth), Vatsal earned his second IM norm after a satisfactory performance at a just concluded International Open Tournament at Paracin, Serbia. Adhiraj, on the other hand, claimed the National Under-9 Open National School Online Chess Championship held on July 13 and 14 and made it to the Indian outfit for the Asian Championship to be played from July 29 to 31. All are Jamshedpur-based players.
Chess prodigy Adhiraj is a cousin of Dishita who stays with her parents Jyotirmoy and Alka Dey in Calcutta.
Dishita's mother Alka said she feels very happy that her daughter was going to play for the country. "It's a proud moment for me. I am leaving no stone unturned to help her make progress in chess," she told The Telegraph Online over phone from Calcutta.
According to her, Dishita got attracted to chess after watching her play. "I used to take Dishita whenever I went to play in the national championships. She watched me play and developed a keen interest," Alka recalled.
Dishita hones her chess skills under her Jamshedpur-based maternal uncles Dushyant and Abhishek Das. Karnataka Grandmaster M.S. Thejkumar also chips in with guidance to the kid, a student of standard II at Narayana School in Calcutta.
Alka said they were planning to shift to Jamshedpur where she, along with her brothers Dushyant and Abhishek, has set up a chess cradle. "I was born and brought up in Jamshedpur and intend to produce top chess players for Jharkhand. There is no dearth of talented players in Jharkhand who can be guided to become top players," she added.

Dishita, who also loves dancing, has won the recently concluded online state championship in the under-10 age group and has also represented Jharkhand in virtual under-10 and under-12 national events.