500 parents, children stage protest against school closure in Latehar
The demonstration was organised under the aegis of Gram Swaraj Mazdoor Sangh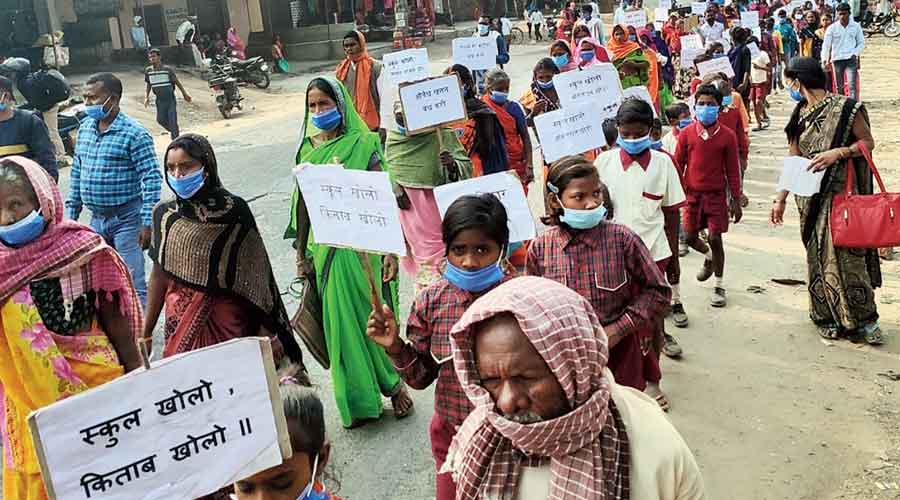 Parents and students protest the closure of primary schools at Manika, Latehar, on Friday.
Shabbir Hussain
---
Jamshedpur
|
Published 11.12.21, 12:31 AM
|
---
Around 500 parents and children staged a demonstration against the closure of primary schools at the block office in Manika in Jharkhand's Latehar district on Human Rights Day, terming it as a violation of their rights.
The demonstration was organised under the aegis of Gram Swaraj Mazdoor Sangh (GSMS).
"Primary schools have been closed in Jharkhand for almost two years. The government expects online study to fill the gap, but in areas like Manika very few children study online. During a village-to-village campaign, GSMS volunteers found that most children in the primary-level age group are unable to read a simple sentence. This is consistent with the findings of the School Children's Online and Offline Learning (SCHOOL) survey conducted in 15 states earlier this year," said development economist Jean Dreze, who was part of a rally organised by GSMS in Manika on Friday.
The SCHOOL survey found that among poor rural families, only 25 per cent of children enrolled in Class III were able to read a simple sentence.
Most of the parents in Manika cannot afford private tuition for their children and want schools to reopen as soon as possible.
"If crowds are allowed in markets, marriage parties and cricket stadiums, why are schools closed? Our children's future is being ruined. If our children remain illiterate, they will have no choice but to earn a living from hard work at brick kilns. Even 10-year-old children have forgotten the alphabets," said James Herenz, a local and coordinator of NREGA Watch.
On Friday, a huge crowd was allowed to attend a meeting addressed by chief minister Hemant Soren in Daltonganj, nearly 43km from the protest site.
A few weeks ago, 40,000 people were allowed into a stadium in Ranchi for the India-New Zealand T-20 cricket match.
Somwati Devi, a homemaker from Sadhwadih village and a member of GSMS, said: "This is a plot against the poor. Big people want us to remain illiterate so that we continue to work for a pittance in their fields and houses."
Right to clean air
The Environment Conservation Society on Friday submitted a memorandum to chairman of Jharkhand State Bar Council Rajendra Krishna in Ranchi, highlighting the issue of air pollution and underscoring the right to clean air on Human Rights Day.