3-D models to monitor smart roads
Secretary reviews four projects, also calls for regular inspections to ensure 2021 deadline is met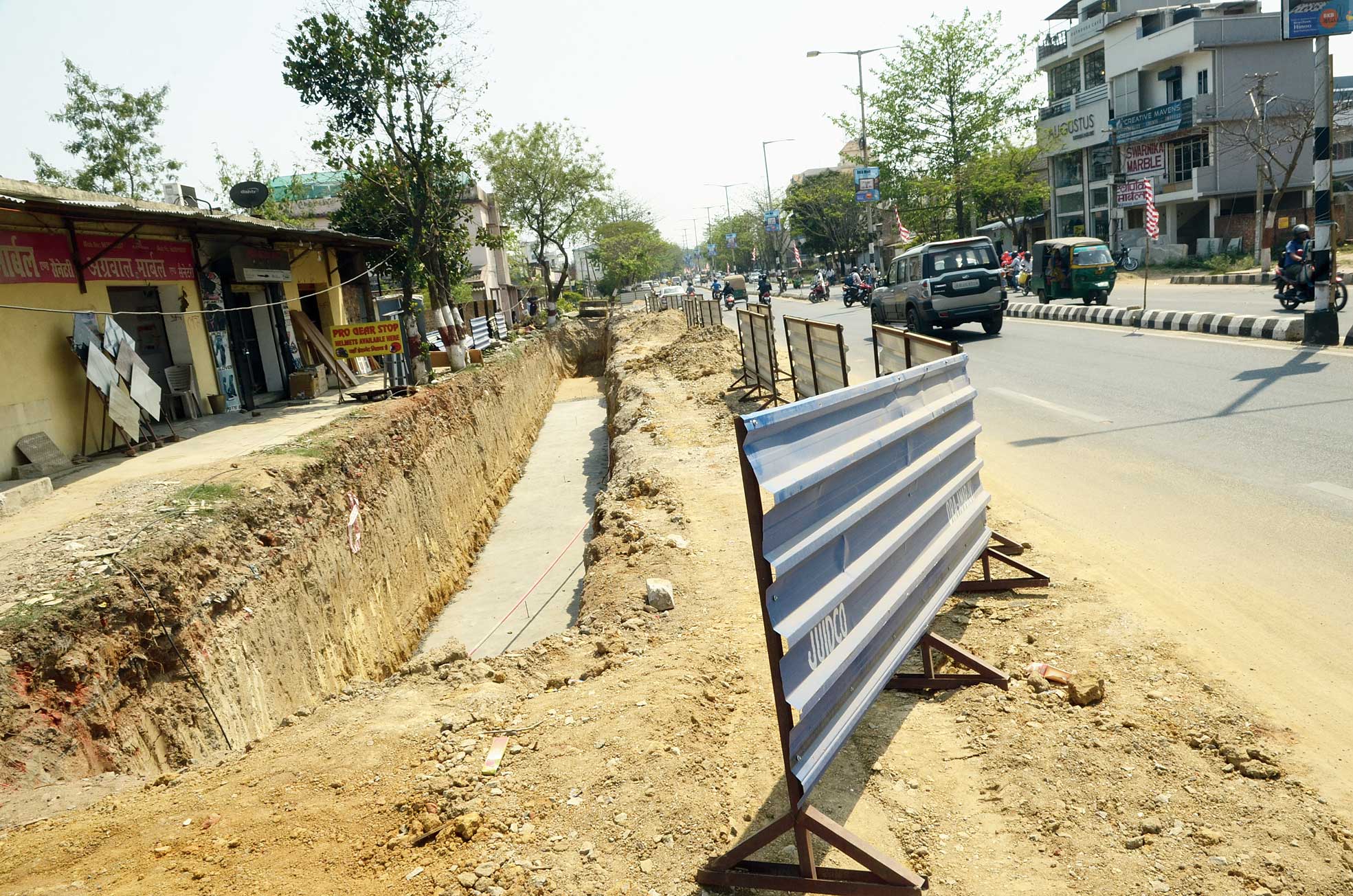 Road widening in progress at Dibdih in Ranchi on Thursday.
Picture by Prashant Mitra
---
Ranchi/Jamshedpur
|
Published 04.04.19, 06:55 PM
|
---
Three-dimensional models and regular physical inspection will henceforth be a part of the drill to ensure that construction of four smart roads in Ranchi is completed by 2021.
State urban development secretary Ajoy Kumar Singh, who reviewed the progress of the projects on Thursday, directed private contractors to provide three-dimensional models of the smart roads that are being constructed by next month and advised senior officials of Jharkhand Urban Infrastructure Development Company (Juidco) to conduct spot verifications so that construction work is completed within the stipulated time-frame of two years.
"The idea of three-dimensional models is to ensure smart road construction is done in line with the detailed project report and give us an idea if there are any technical difficulties that can be sorted out early after consulting various department so that the projects do not get delayed," said Kumar, who is also CMD of Juidco that is executing the four smart road projects through private contractors.
"We understand that the multi-disciplinary road projects need consultations with various departments, including telecom, energy (JBVNL), drinking water and sanitation, along with urban development officials. The officials should conduct regular physical verifications so that pressure is built for timely completion of the projects," he added.
The much touted smart roads would have common underground ducts for drains and electrical wiring, optical fibre cables and also gas pipelines. Each flank of the road would vary between 7 meter and 9 meter, while the width of pavements and cycling tracks would be between 2.5 meter and 4 meter.
The ducts will be under the pavements and cycling tracks. The common ducts will negate the need for the roads to be dug up frequently for laying utility cables and pipes, something that leads to traffic congestion.
Work has already commenced on three smart road projects., namely the 2.55km stretch between Birsa Chowk and Birsa Munda Airport via Hinoo, the 8.85km stretch between Raj Bhavan and Birsa Chowk (via Main Road) and the 2.88km stretch between Raj Bhavan and Kantatoli Chowk (via Circular Road, Lalpur).
The fourth road, the tender for which was finalised in February, is an 8km stretch between Raj Bhavan and Booty More.
The Birsa Chowk-airport stretch, costing costing Rs 42.52 crore, is being constructed by Mini Axle from Ranchi. The Raj Bhavan-Birsa Chowk stretch, costing Rs 162.7 crore, and the Raj Bhavan-Kantatoli Chowk stretch, costing
Rs 92.99, are being built by Chattisgarh-based Amar Infrastructure.
The Raj Bhavan-Booty More stretch is being built by R. K. S Construction at a cost of Rs 188-crore.
The urban development secretary also advised private contractors to ensure that dedicated bus bays were constructed at 1 km intervals and space allocated on the left side of the road so that traffic is not hindered when bus stops for passengers.
Do you think the smart roads will be ready by deadline? Tell ttkhand@abpmail.com