180 migrant workers from Jharkhand fly back to Ranchi on Air Asia chartered plane
Law graduates organise special flight out of Mumbai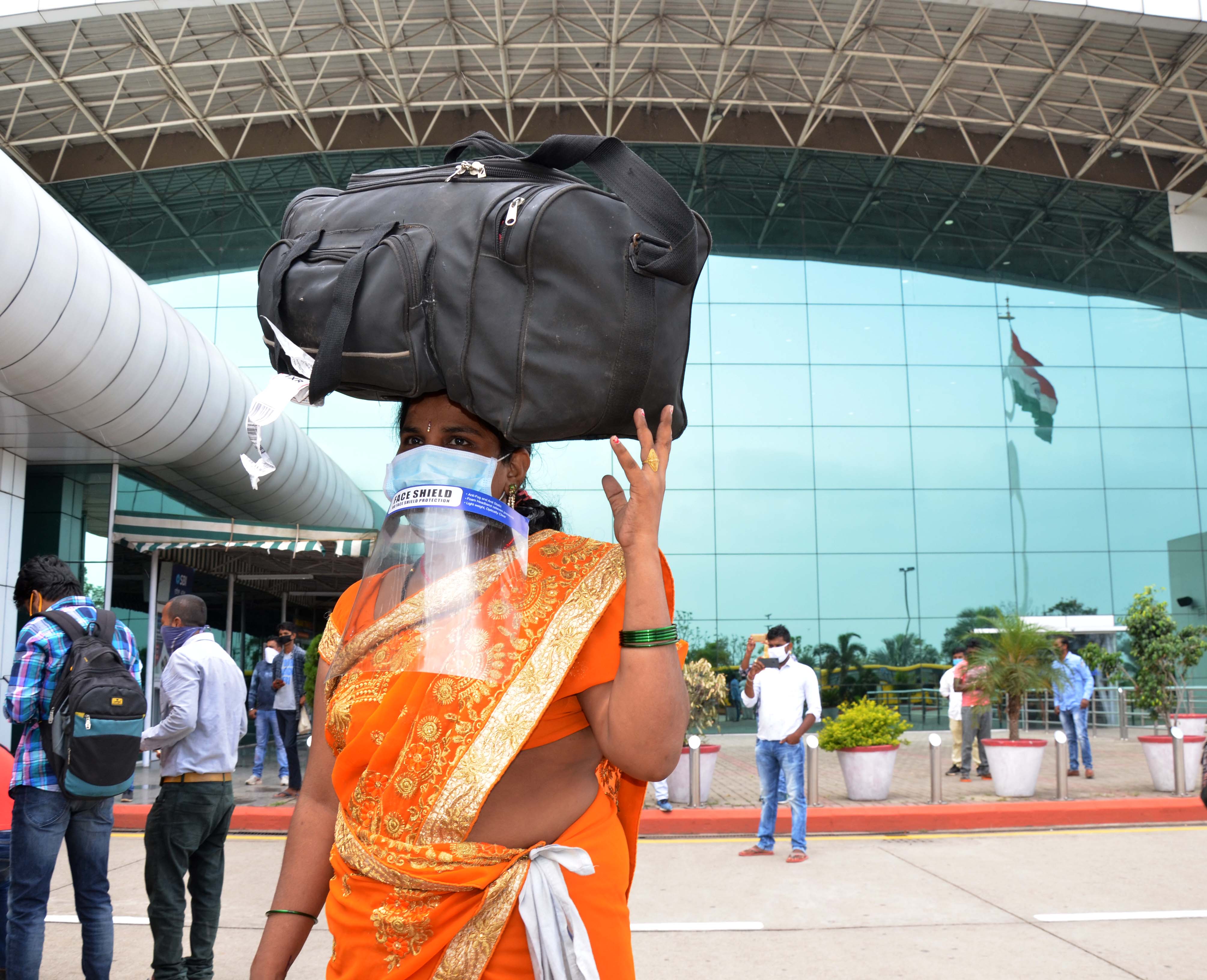 ---
|
Ranchi
|
Published 28.05.20, 11:07 AM
---
Jharkhand became the first state to bring stranded labourers home in a chartered flight on Thursday, the chief minister's office noted, with 180 migrant workers stranded in Mumbai flown to Ranchi in an AirAsia flight which landed at Birsa Munda Airport here at 8.30am.
The one-of-a-kind initiative would not have been successful without the efforts of a group of graduates from National Law School (NLS), Bengaluru that reportedly gathered Rs11 lakh via crowdfunding so far to help migrant labourers during the ongoing crisis.
These law graduates approached the Maharashtra government and Jharkhand government to execute their plan of flying stranded migrants home, an English daily in Mumbai reported.
Chief minister Hemant Soren, whose office issued a press communique, took to Twitter on Thursday to thank the alumni of NLS for their efforts. 'In the time of such crisis, the alumni of NLS have voluntarily extended their support to our migrant workers. I thank them for their humane gesture, and I hope that their actions will encourage many more individuals and groups to help people in need,' Hemant said.

नेशनल लॉ स्कूल, बंगलोर के पूर्ववर्ती छात्रों के सहयोग एवं झारखण्ड एवं महाराष्ट्र सरकार के अधिकारियों समेत इस पुनीत कार्य में सम्मिलित सभी कोऑर्डिनेटरों के अथक परिश्रम से आज 174 मज़दूर सकुशल झारखण्ड, अपने घर लौटें। इस नेक एवं अद्वितीय कार्य के लिए मैं एलुमनाई नेटवर्क ऑफ नेशनल 1/2 pic.twitter.com/4Mkh5mf8Vk

— Hemant Soren (घर में रहें - सुरक्षित रहें) (@HemantSorenJMM) May 28, 2020
All 180 passengers, including children, underwent medical screening soon after landing at the Ranchi airport, officials said on Thursday. They were served breakfast and sent to their respective districts in special buses, which the state government referred to as Samman Rath (homage chariot).
Migrants from at least 12 districts returned in this flight, officials in the chief minister's office (CMO) said. Social distancing norms were maintained in the buses on which they were sent to their respective home districts, officials added.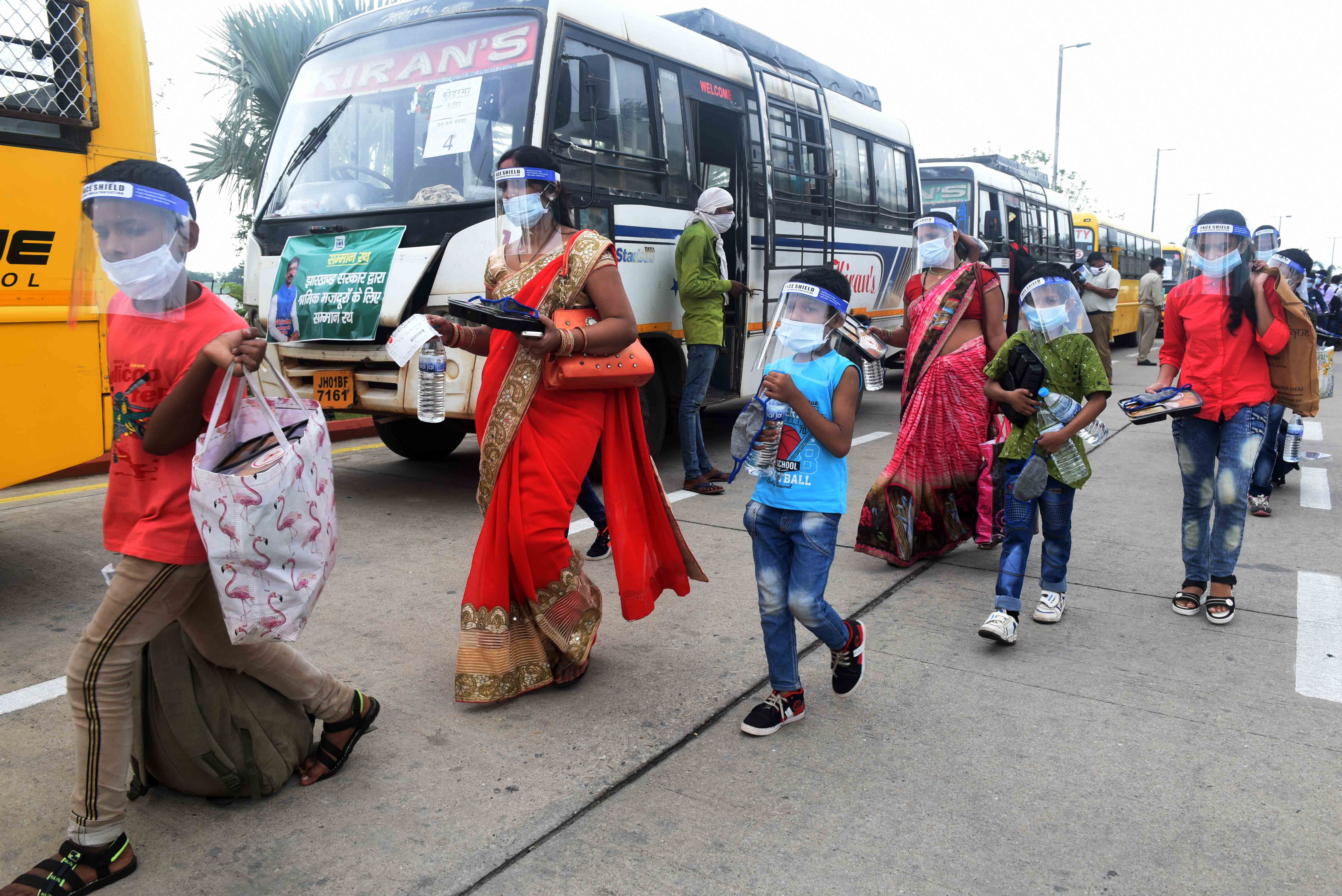 According to the CMO, at least 41 of these migrants are from Hazaribagh, 29 from Giridih, 28 from Simdega, 16 from Ranchi, and 11 from Koderma.
At a time when migrant workers are being forced to cover miles on foot to reach home, this development is one of the rare positive happenings for migrants in India. Over a dozen Jharkhand migrants have died in road accidents while returning home during the lockdown, while many have fallen prey to the coronavirus infection.
Migrants have also been battling unemployment, poverty and hunger as ventures in the unorganised sector came to a standstill.
Jharkhand is one of the key source states from where workers migrate to the more developed states to help in projects ranging from roads and buildings. The state, with a tribal population of 26 per cent, also suffers from illiteracy, lack of resources and superstition.