13-year-old champ beats shuttlers twice her size
Aadhya singh is Jharkhand's only player to qualify for u-15, u-17 & even u-19 slots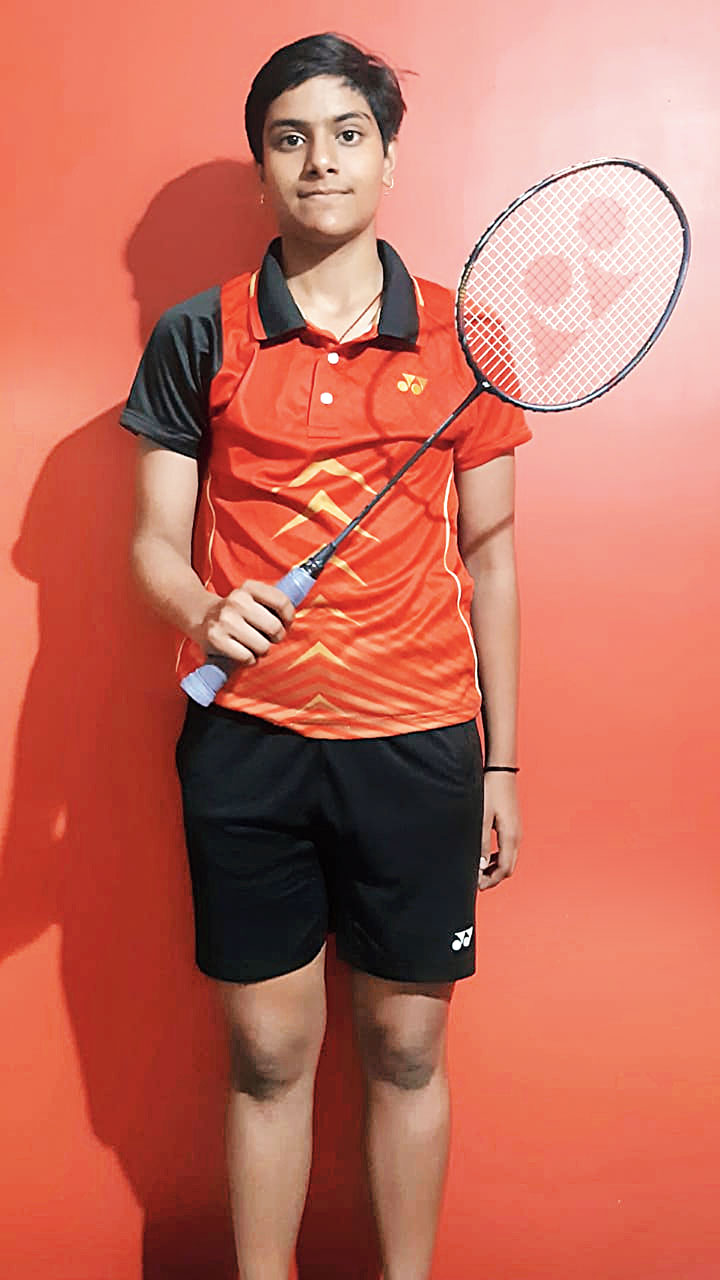 Aadhya singh is the first badminton player in Jharkhand-Bihar to qualify for national competitions in higher age groups
Telegraph picture
---
Jamshedpur
|
Published 16.12.19, 07:20 PM
|
---
She is all of 13 but unleashes powerful smashes across the net to the terror of older opponents.
Meet Aadhya Singh, 13, the first badminton player in Jharkhand-Bihar to qualify for national competitions in higher age groups (Under-15, Under-17, Under-19) this calendar year.
Nationally, Aadhya is currently ranked 6th in the Under-13 age category, 13th in Under-15 and 34th in Under-17. Though she is already 13, under Badminton Association of India (BAI) guidelines, till December 31, 2019, she remains on the Under-13 list.
The hardworking Aadhya, an Adityapur girl who studies in Class VIII at Sheyn International School, Kandra, is the defending state champion in girls' Under 15 and 17 categories. She skipped the Under-13 state meet to play against shuttlers in the higher age groups.
Showering praise on the teen shuttler, Jharkhand Badminton Association (JBA) secretary K. Prabhakar Rao said Aadhya was the best player in the Under-13 and Under-15 groups. "Aadhya is very skilled and works hard to improve her game. We know she will do Jharkhand and India proud in the years to come," he added.
Rao, also the joint secretary of BAI, added that Aadhya was the first player in Jharkhand and Bihar to participate in all age groups — Under-13, Under-15, Under-17 and Under-19 — in one calendar year. "She will play at the Under-15 and Under-17 national meet scheduled in Bhubaneswar from December 17 to 22, and right after that will represent her state in the Under-19 nationals at Rajahmundry, Andhra Pradesh, from December 24 to 30," Rao said, adding the 13-year-old would compete in singles and doubles.
Aadhya's selection in the state squads was done on sheer merit, Rao said. "Aadhya was picked in the state squad because of her Under-13 and Under-15 national ranking. In the selection trials for Under-17 she emerged champion and in Under-19 runner-up, both this month. That's no mean feat for a 13-year-old," Rao added.
Aadhya is unfazed by her achievements, said her mother Shashi Rekha Singh, a homemaker. "I have to say my daughter is very disciplined," Singh said, adding that as a mother it is her fond hope that her daughter does her country proud one day.
"She is different from other girls her age. She has no time for playing games on the mobile phone or watching TV. She does physical exercises at NIT Hostel grounds in Adityapur from 4am to 6am, then trains under national coach Sachin Kumar Rana and Subho Roy from 9am to noon and from 2.30pm to 5.30pm at Mohan Ahuja Stadium in Jamshedpur. She also meditates at home," Aadhya's mother added. "Her school has given her special leave for a year so that she can focus on her game."
Aadhya said she loved badminton.
"I love to play and beat my opponents consistently," she said. Asked what motivates her to work hard every day, she said: "To do well in competitive sport, you have to work hard," she said.