129 centres, 4 with webcasting facilities, ready for Covid shots
Online monitoring at Sadar, MGH hospitals; Covishield stocks arriving Wednesday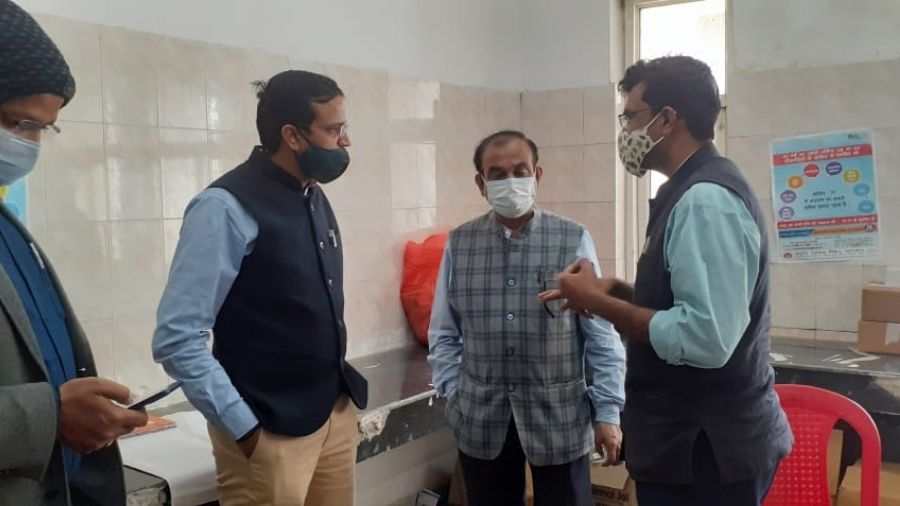 Deputy commissioner Chhavi Ranjan (wearing a black mask) inspects the vaccination centre at Sadar hospital in Ranchi on Monday night.
Telegraph Picture
---
Ranchi
|
Published 12.01.21, 05:00 PM
|
---
Two out of the 129 centres that have been set up in the state for administering the Covid-19 vaccine on Day One of its nationwide rollout on January 16 will have webcasting facilities for both central and state authorities to monitor.
Sources in the state health department said the two centres with live screening facilities were set up following Union health ministry directives asking officials to be in a state of readiness for the Prime Minister who may wish to speak to a beneficiary.
State nodal officer of the immunisation programme Dr Ajit Prasad said vaccination centres at Ranchi's Sadar hospital and MGM hospital in Jamshedpur would have live streaming facilities. "This is for officials of the state and centre to monitor," he said.
"Vaccine shots will be administered in all the 24 districts on January 16. Health workers will be the first to get the shots," said state director of National Health Mission (NHM), Ravi Shankar Shukla.
Besides, according to Ranchi district administration sources, webcasting facilities were also being set up in four other vaccine centres in the district for better surveillance and monitoring.
The Centre has authorised two vaccines – Bharat Biotec's Covaxin and Oxford-Astra Zeneca & Serum Institute of India's Covishield – for emergency use in India. While many states have begun receiving consignments from Tuesday, the state health department said Jharkhand was expecting stocks of Covishield on Wednesday.
The vaccine, health officials said, will generate protective levels of antibodies in the body two weeks after the second dose. NHM further stated that people would have to continue taking precautionary measures against the virus even after getting the vaccine shots.
The health department had earlier stated that a photo identity proof would be a must for any person to get Covid-19 vaccine shots. Voter ID cards, school certificates, MGNREGA job cards, PAN cards and passports are some of the identity proofs that can be used to register for the vaccination. Also, the person getting vaccinated has to produce his photo identity proof at the vaccination centre, failing which he/she will not be administered the vaccine shot.
On Day One of the vaccine drive, approximately 12,900 people would be immunised across the state. "For January 16, 129 centres have been set up and at each centre, 100 people will be vaccinated. Slowly, the number of centre's will be increased," said Prasad.
As for security, Ranchi deputy commissioner Chhavi Ranjan said magistrates would be deployed cluster-wise across the district. "Armed guards and a magistrate will be deployed at every vaccination centre. Directives have been issued to the city police to ensure proper deployment. Above them, at every block, one magistrate will be appointed for overall supervision of five to six centres," he said.
About 1.25 lakh people—mostly frontline medical workers—have been identified for immunisation in the first phase. For the entire vaccination programme, the state government has prepared a list of 99.89 lakh people based on a priority list.
In terms of logistics and manpower, 275 vaccine storage points have been set up, nine walk-in coolers, five ice-lined refrigerators, 700 deep freezers, and 5,505 cold boxes have been readied, besides training 41,979 vaccine carriers.