Youth dies in Yogi crush
Suresh was a resident of Sammanpur village, about 5km from the spot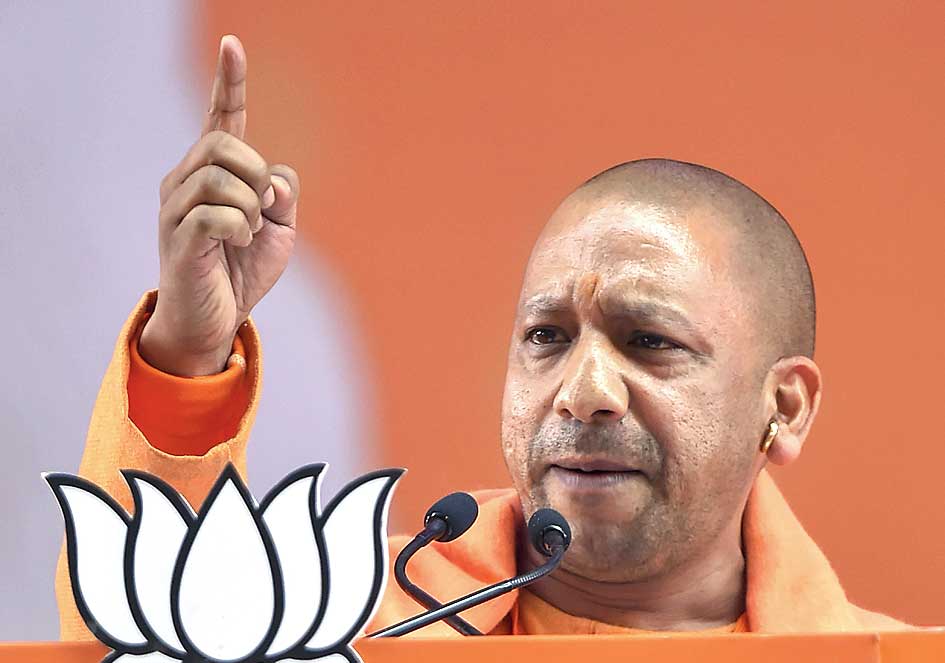 ---
|
Lucknow
|
Published 07.09.19, 08:15 PM
---
A young man died and two people suffered injuries in a stampede when police beat a crowd gathered to see chief minister Yogi Adityanath arrive in a helicopter in Ambedkar Nagar district on Saturday, eyewitnesses claimed.
The police denied any stampede and claimed the dead man, Suresh Kumar, had fallen off a terrace near the makeshift helipad on the Narendra Dev Inter College grounds in Jalalpur town, 200km east of Lucknow.
Eyewitnesses claimed that Suresh, 30, a local municipal sweeper, had joined the crowd of 2,000 after cleaning the helipad along with over a dozen fellow sweepers.
Some people who were in the crowd alleged a sudden baton charge by the police had caused the stampede. Others denied any baton charge and said the cops had tried to push the crowd back just after the chief minister's chopper had landed.
Adityanath, who had just stepped out of the aircraft and was surrounded by security personnel, is unlikely to have realised what had happened. He walked across to the dais erected on the college compound to address his audience.
Suresh, whose body lay for about 15 minutes at the spot, wore around his neck a saffron strap with an identity card the local administration had issued to him for the day's VIP duty.
Additional superintendent of police Awanish Kumar Mishra denied any stampede, saying: "Suresh was standing on the terrace of the veterinary hospital and slipped. Nobody else was injured."
Superintendent of police Virendra Kumar Mishra said: "We are conducting an inquiry into the death."
The post-mortem report is awaited. Suresh was a resident of Sammanpur village, about 5km from the spot.
Eyewitnesses said the police had taken Suresh to the district hospital after 15 minutes. He was declared dead on arrival. They said two others were injured and have been admitted to a local community health centre. Their identities remain unclear.
Adityanath announced Rs 235 crore worth of projects for the district and laid the foundation stones for them.
He suggested the people write thanksgiving letters to Prime Minister Narendra Modi and Union home minister Amit Shah for scrapping Jammu and Kashmir's special status.
"This is the first time that India and Uttar Pradesh have governments that are genuinely working for the people," he said.