Suspense continues on possible change of guard in Karnataka
Yediyurappa said that he was yet to receive the 'message' from the BJP central leadership on whether he should continue as chief minister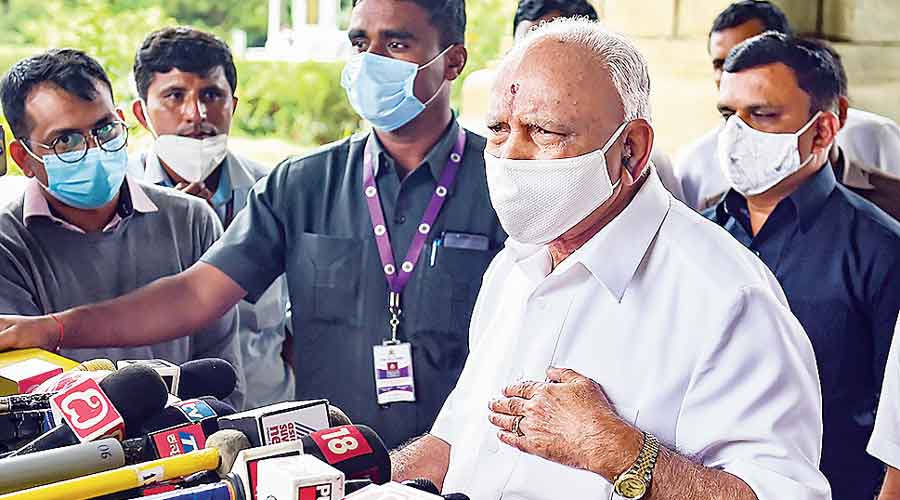 ---
Bangalore
|
Published 25.07.21, 10:54 PM
|
---
Karnataka chief minister B.S. Yediyurappa kept people guessing on Sunday about his political future after dropping more than one hint that his hold on power was no longer guaranteed amid speculation about his replacement.
The 78-year-old Lingayat strongman, the face of the BJP in the state in the past two decades, said this evening that he was yet to receive the "message" from the party's central leadership on whether he should continue in his post or quit.
"Nothing has come till now... In the morning there is a programme to mark two years of government. I will speak about the achievements in those two years. After that, you will know the progress," he said on Sunday evening.
"I have decided that I will work till the very last minute. I already said two months ago that I was ready to resign whenever I was asked to. I will say it again - until now I have got no message from the centre. As soon as it comes, if they ask me to continue I will. If not, I will resign and work for that party," he said.
"I believe the information will come tonight or tomorrow morning," Yediyurappa added.
Origins of crisis
Yediyurappa made a sudden visit to Delhi earlier this month where he met the Prime Minister and other senior leaders.
Through days of speculation, the chief minister has said that he has not been asked to resign. On Thursday, he told reporters, "There is an event on July 26 on completion of two years of our government here. After this, I will follow whatever JP Nadda will decide".
There are, however, questions on whether the 78-year-old will be asked to step down as the state battles floods.
This morning, Yediyurappa left Bengaluru to fly to Belagavi, one of the flood-affected districts in the state. The torrential rain over the last few days in several districts of the state has left 10 people dead and three people missing.
Yediyurappa said he has the "lone target" of toiling for the next two years and bringing the BJP back to power in Karnataka, where assembly elections are due in 2023.

He agreed with BJP national general secretary C.T. Ravis statement that everyone in the BJP is an ordinary party worker and he would abide by the partys instruction.

"He is 100 per cent right. We will not exceed the disciplinary line. We have been following it and will do so in future as well", the chief minister said.

In Panaji, BJP National President J.P. Nadda on Sunday praised Yediyurappa for his "good work".

"It is good, he has done a good job. Karnataka (government) is running smoothly. Yediyurappa is looking (managing) at things on his part," Nadda said in response to a question on Yediyurappa government completing two years in office and how he views his leadership. To a question that there seemed to be a political crisis in Karnataka, he said, "That is what you feel. We dont feel so."
Indicating that Monday might be his last day in office, Yediyurappa had recently said that based on the instructions the central leaders will give him on July 25, he will begin "his work" from July 26.
With nobody else in his cabinet for several days, Yediyurappa toured the rain hit districts to supervise relief operations as the only member of the cabinet.
This time, he has asked his ministers to remain on the ground in their districts to supervise the rescue an
Murugesh Nirani reaches Delhi
Amid heightened speculations state minister Murugesh Nirani arrived in the national capital on Sunday apparently to meet BJP leaders, party sources said.
People close to Nirani, however, claimed he is on a personal visit to the national capital.
Nirani, the Minister for Mines, hails from the Lingayat community like Yediyurappa and is being seen as one of contenders for the chief ministerial post along with BJP general secretary CT Ravi, Home Minister in Karanataka government Basavaraj Bommai and Union minister Pralhad Joshi.