When Centre rushed in extra forces, Kashmiris had a hunch
People feared that additional deployment of forces was to deal with protests that might erupt in Kashmir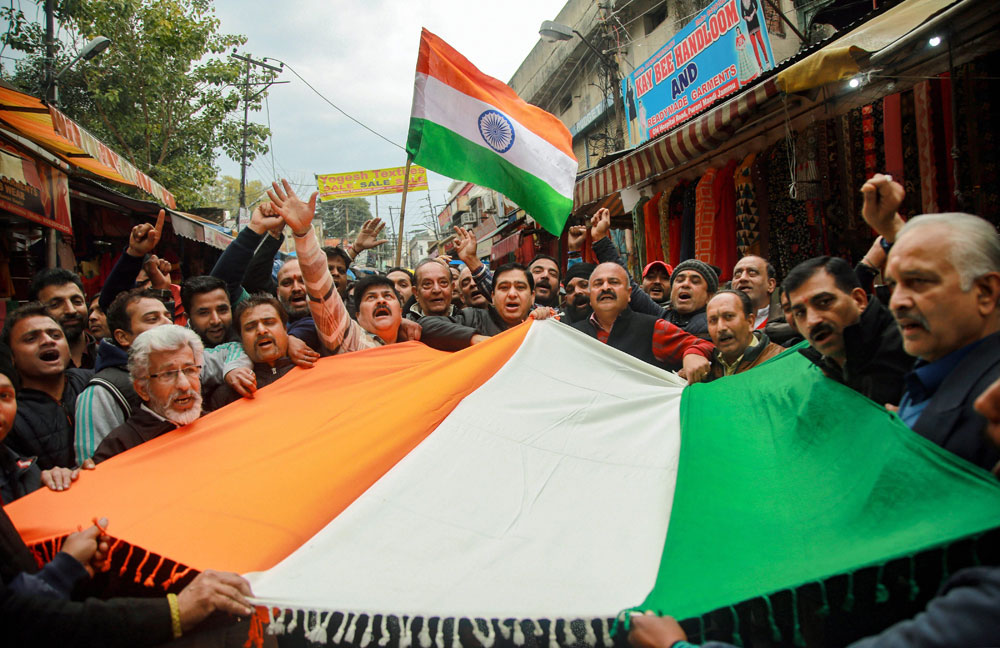 People chant slogans as they celebrate India's major preemptive strike on Jaish-e-Mohammad's camps, in Jammu on Tuesday.
(PTI Photo)
---
Srinagar
|
Published 26.02.19, 10:05 PM
|
---
Few in Kashmir had believed it when the administration led by governor Satya Pal Malik said on Sunday that the Centre's move to rush additional troops to the state was purely an election-related decision.
Tuesday's early-morning cross-border action appears to have proved them right.
Now people in the Valley fear a further escalation and most stayed indoors. Few vehicles plied on roads and markets shut early.
The Centre had last week rushed 10,000 additional paramilitary troops to the state, followed by a host of measures that included arrests of dozens of separatists, cancellation of leave of doctors and stocking of medicines at hospitals.
Most people believed more military boots in the state meant that a dramatic escalation of tension between India and Pakistan was in the offing or the BJP-ruled central government was planning to scrap Article 35-A that gives permanent residents special privileges.
People feared, as they do now, that the additional deployment was to deal with protests that might erupt.
On Sunday, the state administration claimed the additional forces had been deployed solely for the peaceful conduct of the upcoming general election and "no other cause" should be attributed.
Former finance minister Haseeb Drabu summed up why Kashmiris had been reluctant to buy the official version.
"An old adage in and about Kashmir: Kashmir main khabar galat ho sakti hain, affa nahi," he tweeted.
That translates as: "In Kashmir news can turn out to be wrong, but not a rumour."
That, perhaps, also explains why many Kashmiris took the news of the Indian air strikes with a pinch of salt.
"BBC has done a video story which quotes an eye witness that one person was mildly injured in the strike. This contradicts the story of Indian side," local journalist Wasim Khalid wrote on Facebook.