Central forces rushed in, Kashmir on edge
45 companies of the CRPF, 35 of the BSF and 10 each of the SSB and ITBP were airlifted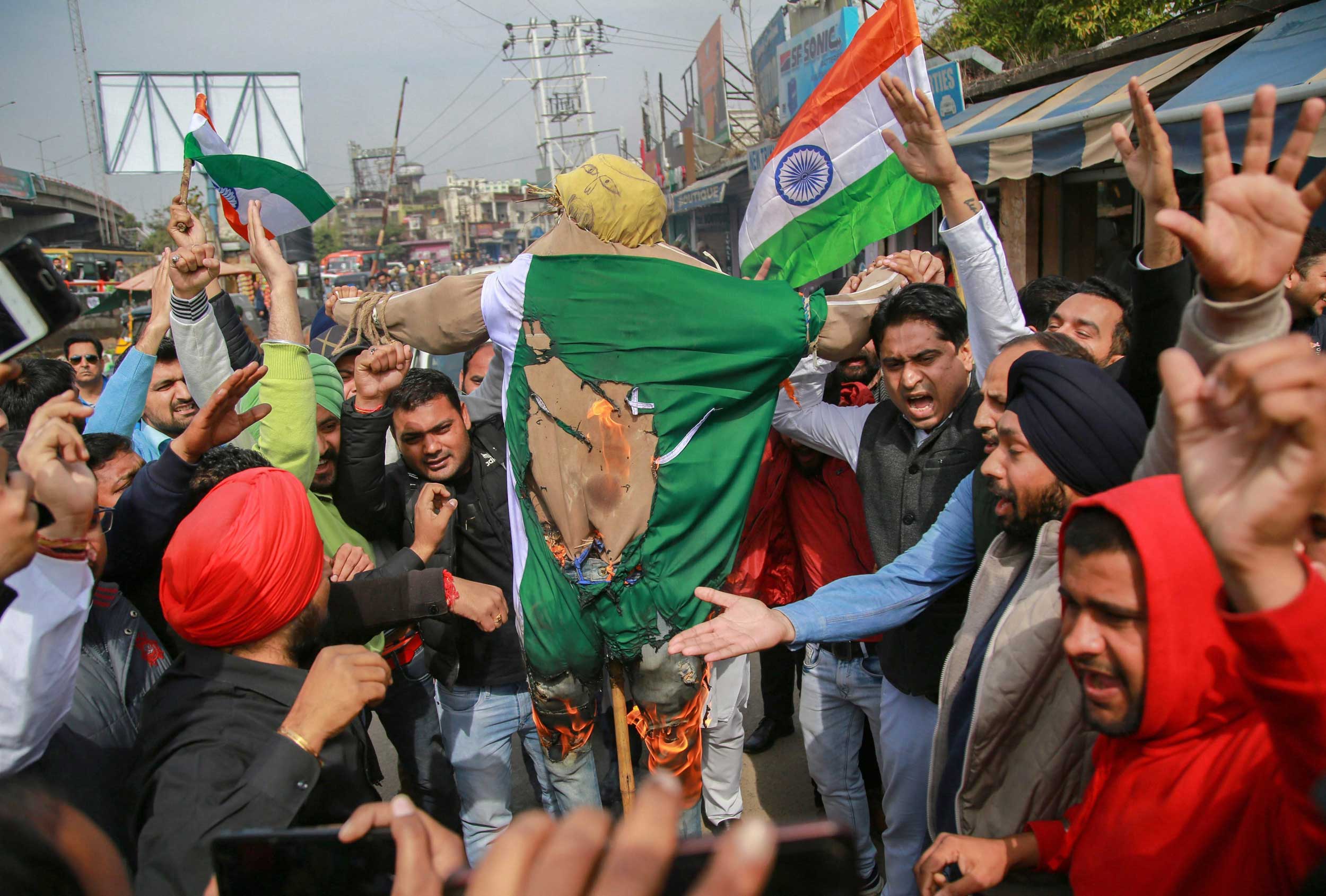 Jammu and Kashmir Pradesh Youth Congress members and supporters burn Pakistan Prime Minister Imran Khan's effigy as they protest against the Pulwama terror attack, in Jammu, on Saturday.
(PTI Photo)
---
Srinagar
|
Published 23.02.19, 09:52 PM
|
---
The Centre has flown 10,000 additional troops to Kashmir, picked up at least 150 separatists and activated a raft of contingency measures with a bearing on everyday life, putting the Valley on edge.
The flurry of activity came nine days after the Pulwama attack and ahead of a hearing in the Supreme Court on a Sangh-backed petition that wants Article 35A of the Constitution scrapped. Article 35A entitles only permanent residents of Jammu and Kashmir to acquire immovable properties and get government jobs and scholarships.
The step that stood out the most was the order to airlift 100 companies of central forces for deployment in Kashmir. Sources said the additional troops — 45 companies of the CRPF, 35 companies of the Border Security Force and 10 companies each of the Sashastra Seema Bal and the Indo-Tibetan Border Police — were airlifted from several states and deployed after they landed at Srinagar.
The BSF, withdrawn from the Valley in 2005, had since then been deployed only once (for a week) in 2016. Fourteen years ago, the BSF, which sometimes uses more lethal force than the CRPF, was withdrawn from urban counter-terrorist operations in Kashmir as a sign of normalisation and aimed at consolidating the dialogue process. The Kargil review committee had also recommended "one border one force", and the BSF was moved to guarding the Line of Control.
The deployment coincided with dozens of raids overnight, following which scores of separatists, including J&K Liberation Front chairman Yasin Malik and Jamaat-e-Islami chief Abdul Hamid Fayaz, were arrested.
A police officer said around 150 people, mainly from the Jamaat, were detained but the separatist Joint Resistance Leadership put the number at 200. The officer said it was the biggest crackdown on the Jamaat in a long time.
Without any call for a shutdown, streets emptied out, several markets wore a deserted look by afternoon, traffic went off the roads and offices closed early.
By then, the administration, now run by the governor, had cancelled the vacations of doctors at the premier hospitals in the Srinagar and directed officials to complete the sale of foodgrains at government depots by Saturday evening.A top police officer said "not to worry too much" but gave no reason for the measures.
Mohammad Yasin Khan, who heads the apex trade body Kashmir Economic Alliance, said rumours were rife on Article 35A.
"People are confused. People are asking why so many people have been arrested or why there is such a (fresh) heavy deployment of forces. There is a lot of insecurity, a section of people are stocking rice," Khan said.
A Sangh-backed NGO has challenged Article 35A in the Supreme Court and sought its scrapping on the ground that it was introduced without Parliament's approval.The following are some of the other decisions announced by the Jammu and Kashmir administration:
Chief medical officers have been directed to "collect available supply of drugs, medicines, surgical disposable items" for district hospitals "tomorrow positively" from the main drug warehouse, which will stay open although it is a Sunday.
Doctors have been told to ensure "uninterrupted healthcare services" and administrators asked "not to leave their stations" without permission.
Block medical officers have been told to keep rapid response teams ready so that any untoward eventuality can be tackled.
Srinagar's government medical college principal cancelled winter vacations and asked faculty members to report by February 25.
Officials were asked to complete sale of foodgrains by "this (Saturday) evening positively" at government depots.
The state home department recalled IPS officer Syed Javaid Gillani from the vigilance department and posted him as additional director-general of police, armed forces. Gillani has experience in handling violent protests.