VHP and Bajrang Dal members violate assembly ban in UP
Protesters assembled at Gurudev Crossing in Kanpur, chanted the Hanuman Chalisa and shouted 'Jai Shri Ram' and 'stone-throwers, come to your senses'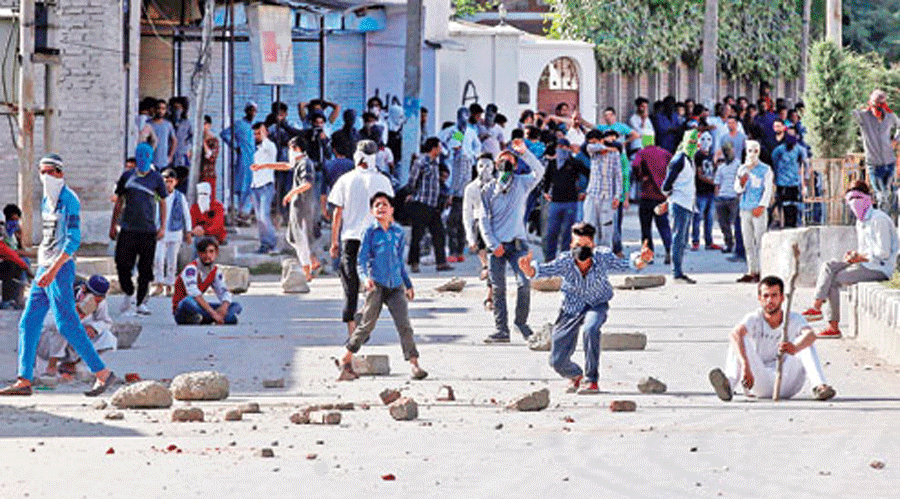 They held dharnas in protest at the stone-throwing demonstrations against Nupur Sharma's remarks.
File photo
---
Lucknow
|
Published 17.06.22, 02:53 AM
|
---
Vishwa Hindu Parishad and Bajrang Dal members on Thursday violated bans on assemblies at several places in Uttar Pradesh, holding dharnas in protest at the stone-throwing demonstrations against Nupur Sharma's remarks.
A police officer in Kanpur, asking not to be named, said the sit-ins were allowed because the Bajrang Dal had "submitted an application that their protest would be peaceful".
Over 100 protesters assembled at Gurudev Crossing in Kanpur, chanted the Hanuman Chalisa and shouted "Jai Shri Ram" and "Pattharbazon hosh me aao (Stone-throwers, come to your senses)".
Similar sit-ins by 20-odd people each were held at the Khalasi Lines and Kidwai Nagar in Kanpur, which had on June 3 witnessed protests against BJP spokesperson Sharma's derogatory comments on Prophet Mohammed. Assemblies of more than four people are banned across Kanpur City.
 "While Section 144 was in force, we deployed a heavy contingent to confine the Bajrang Dal protesters to one place (at each venue)," a police officer who requested anonymity said.
"They had permission for only two hours of dharna and dispersed in time after handing their memorandums to the district administration."
The VHP-Bajrang Dal held dharnas also at Shastri Ghat in Varanasi and Gol Ghar in Gorakhpur.
"We have requested the President through a memorandum to seal the madrasas near which violence took place on Friday and book the rioters under the National Security Act," Dilip Singh, Kanpur district convener of the Bajrang Dal, said.
The country had witnessed widespread protests against Sharma's remarks on June 10, some of which turned
violent.VHP spokesperson Vinod Bansal said: "In every district of Uttar Pradesh, we have handed memorandums (to local authorities), addressed to the President, to check the increased jihadi and violent activities."
Bulldozer spectre
Kanpur police have arrested over two dozen Muslims in connection with the violence and served notices on many people from the minority community, saying their houses were built illegally.
On Sunday in Allahabad, bulldozers had demolished a part of the house of Javed Mohammad, alleged "mastermind" of the June 10 violence in the city, alleging illegal construction. Bulldozers have been used against properties of riot accused in many BJP-ruled states since April.
"A total of 357 people have been arrested so far in nine districts for their involvement in violence on Friday," additional director-general of police Prashant Kumar said in Lucknow.
He said the police had posted 130 companies of the Provincial Armed Constabulary and 10 of the Rapid Action Force in the "affected and sensitive districts".
 "We are also coordinating with religious leaders for peaceful conduct of Friday prayers across the state," he said.
Kanpur East deputy commissioner of police Pramod Kumar said: "Section 144 is in place, and we have deployed eight drone cameras to keep an eye on those who may resort to violence."