Venkaiah Naidu releases book by BJD MP
Authored by Dr Achyuta Samanta, the book speaks about the struggles of his mother who raised her seven children braving acute poverty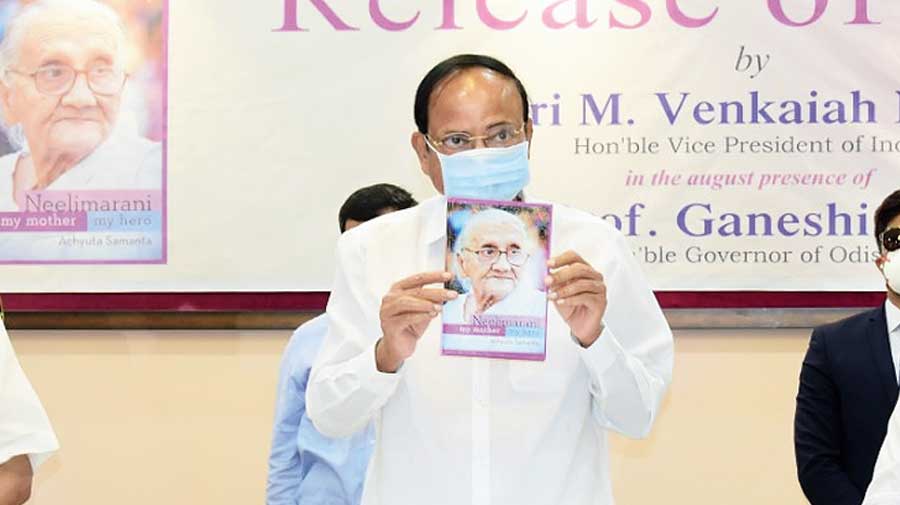 Vice-President M. Venkaiah Naidu releases the book, Neelimarani: My Mother, My Hero at Raj Bhavan on Friday
Telegraph picture
---
Bhubaneswar
|
Published 05.04.21, 01:44 AM
|
---
Vice-President M. Venkaiah Naidu on Friday released a book titled "Neelimarani: My Mother, My Hero" at the Raj Bhavan here. 
Authored by Dr Achyuta Samanta, the ruling Biju Janata Dal MP from Kandhmal and founder of  Kalinga Institute of Industrial Technology (KIIT) deemed university  and Kalinga Institute of Social Sciences (KISS), the book speaks about the struggles of his mother who raised her seven children braving acute poverty.
Releasing the book, Naidu, who began his two-day visit to Odisha on Friday, said, "We read biographies of entrepreneurs, explorers, and scientists, but writing the biography of a mother is something different and unique. Writing a biography on one's mother is very inspiring."
The vice-president said, "When I was going through the pages of the book, I could not but feel enormous respect and reverence for a mother who fought every odd to single handedly raise her seven children. Despite abject poverty and lack of resources, she ensured that all her children got good education and became responsible citizens. I was moved by the account of Dr Achyuta Samanta's father's death."
"Despite such life-shattering experiences, Smt Neelimaraniji never wavered from her humane approach towards the poor and downtrodden and kept on working for their upliftment. I am very happy to know that with the help of her sons, she turned her native village Kalarabanka into one of the first smart villages of its kind in the country. This is inspiring!" said Naidu who urged people not to forget their roots. "No matter where you are, you should always remember your mother, motherland and native place," he said. 
In his address on the occasion, governor Prof. Ganeshi Lal said, "We should not only serve humanity but also worship humanity. At such a young age Dr Samanta has written such an important book. I am reminded of Thakkar Bapa when I see Achyuta Samanta."
Speaking at the release ceremony, Dr Samanta talked about his encounter with women power right since his childhood and said that has always been emphasising the need for women empowerment. "Women's power helps in the holistic development of a nation and society. If importance is given to women's empowerment, the nation and society will certainly develop," he said.
Neelimarani, the mother of Dr Achyuta Samanta was an ordinary human being with extraordinary dreams and vision to help society. Her ideology had a deep impact on Dr Samanta and created in him the urge to do something for the society. Living a life full of struggles, Neelimarani developed a small remote village into a smart village. Her constant reminder to Dr Samanta to work for the development of their native village Kalarabanka, about 60km from here, is the main theme of the book.
Due to the accidental death of Dr Samanta's father, his mother Neelimarani became helpless at the age of only 40. This tragedy caused her unimaginable hardship and made life a struggle.
But she never gave up as she had a strong willpower and followed moral principles. Dr Samanta has attributed all his achievements to the values that his mother taught him while growing up. She made him what he is today.
 He has dedicated all his accomplishments in life to his mother Neelimarani.