Varavara Rao to be shifted to Nanavati Hospital
Home Minister Anil Deshmukh has no problem, state counsel tells court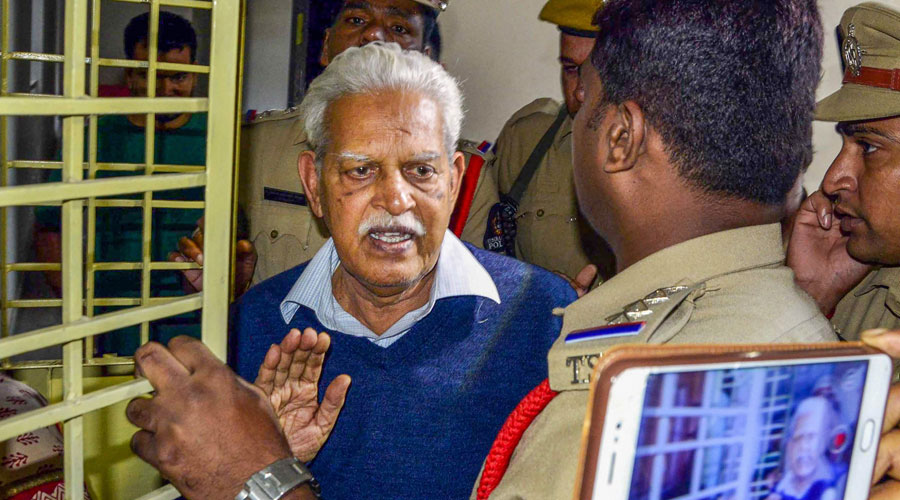 Varavara Rao in a file picture dated August 30, 2018.
PTI
---
Mumbai
|
Published 18.11.20, 06:39 PM
|
---
The Maharashtra government on Wednesday said that it will move jailed poet-activist Varavara Rao to Mumbai's Nanavati Hospital for 15 days for his treatment.
The state, following an intervention of a bench of Justices SS Shinde and Madhav Jamdar, said that it will shift the 81-year-old to the Nanavati hospital as a "special case".
Rao is currently lodged at the Taloja prison in Navi Mumbai, as an unter-trial in the Elgar Parishad-Maoist links case.
Deepak Thakre, the state's counsel, had told the court that the decision was taken as per the directions of Maharashtra Home Minister Anil Deshmukh, who said that the state had no problem in moving Rao to the Nanavati Hospital, which is a private facility.
The court directed the state to bear the cost of the poet's treatment, adding that he should not be discharged from the hospital without the HC being notified.
Rao's family members should be able to meet him, the court instructed. It further said that the state should produce all medical reports of him before the bench.
The court, while also hearing a bail plea filed by him on medical grounds, asked his counsel, senior advocate Indira Jaising, to restrict her arguments to the interim permission to move Rao to the hospital. Jaising did not press on the matter after the suggestion.
Jaising, however, said that Rao had developed a urinary tract infection in prison, suffered from dementia, and his "mental and physical health condition was fast diminishing".
She warned that Rao might die in prison, and his condition cannot be treated in the Taloja prison and needed specialists' care.
Following this, the court asked the National investigation Agency (NIA) why rao cannot be moved to nanavati hospital.
"Ultimately the man is on almost his deathbed. He needs some treatment. Can the State say no we will treat him in Taloja?"
"We are only asking to transfer him to the Nanavati Hospital for two weeks. We will further see after two weeks," said the bench.
Initially, both the NIA and the state had objected to shifting him to the Nanavati Hospital, saying that other prisoners will want the same as well.
The court will next hear the case on December 3.
Since his arrest in June 2018, Rao has been in and out of the government-run JJ hospital in the city. On July 16, he tested positive for coronavirus, after which he was shifted to the Nanavati hospital. He was discharged on July 30 and sent back to the Taloja prison, Jaising said.