477 million jabs administered till Monday
Vaccine: Government misses July target by 20 million doses
The Union health ministry said that the Centre had sent the states more than 496.4 million doses and that 984,610 doses were in the pipeline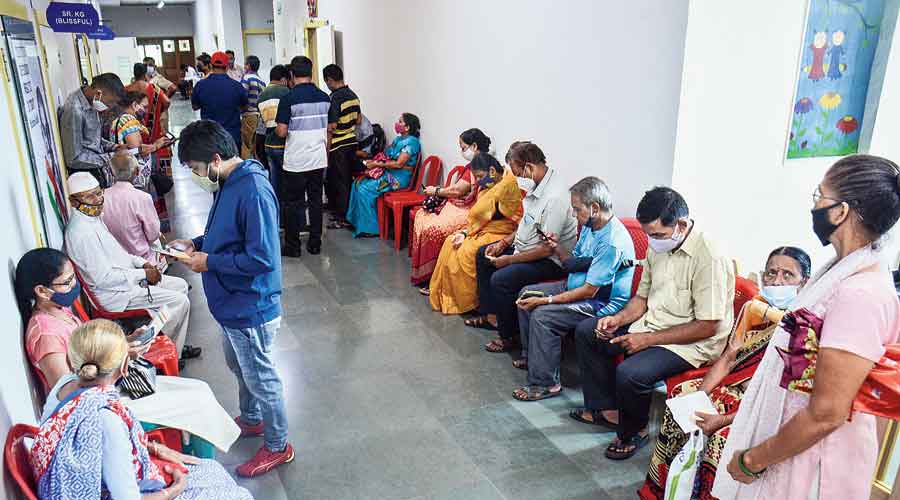 On July 27, the ministry had asserted that more than 516 million doses would "indeed" be supplied by July 31.
File picture
---
New Delhi
|
Published 03.08.21, 02:31 AM
|
---
The Centre had till August 2 provided around 497 million Covid-19 vaccine doses to the states, nearly 20 million short of the 516 million doses it had said it expected to supply by July 31.
The Union health ministry said on Monday that the Centre had sent the states more than 496.4 million doses and that 984,610 doses were in the pipeline. The inoculation campaign had till Monday administered over 477 million doses.
In a June 26 affidavit submitted to the Supreme Court, the ministry had said 516 million doses "will be available" by July 31. But some health experts had in mid-July expressed doubts whether the Centre would be able to meet that target.
On July 27, the ministry had asserted that more than 516 million doses would "indeed" be supplied by July 31.
In a media release, it had said that 457 million doses "have been supplied" to states and an additional 60.3 million doses "are expected to be supplied by July 31".
This would amount to 517 million doses supplied from January 2021 till July 31.
But the ministry's release on Monday said that 496,498,050 doses had been provided to the states so far and a further 984,610 doses were in the pipeline.
The health ministry did not respond to a query from this newspaper on the reasons for the gap between the 517 million doses it had last week expected to supply by July 31 and the 497 million doses provided till August 2.
Experts say the shortfall, although less than 4 per cent of the projected 517 million doses, suggests the ministry was unable to access or provide some of the additional 60.3 million doses it had expected to supply six days ago.
"The government should stop releasing aspirational projections and, instead, say how many doses would be available for actual administration," said R. Ramakumar, professor of developmental studies at the Tata Institute of Social Sciences, Mumbai.
Ramakumar and other experts believe the aspirational projections were likely aimed at what Ramakumar described as "seeking temporary reprieves" from criticism of the vaccination campaign whose pace has been hampered by the limited flow of doses, among other reasons.
Vaccine experts and industry executives had earlier this year predicted dose shortages, underlining the government's failure to invest early enough to secure large volumes of doses the way other countries had.
India had by Monday fully vaccinated over 105 million people, or about 11 per cent of the eligible adult population of 944 million.
The campaign administered over 5.3 million doses on Monday, but will need to administer over 9 million doses daily through the rest of the year to fully vaccinate the eligible population by December 31.