Gang-rape survivor slapped and kicked by cops in Saharanpur
The alleged incident came four days after PM Modi had lauded CM Adityanath for protecting 'sisters and daughters' in Uttar Pradesh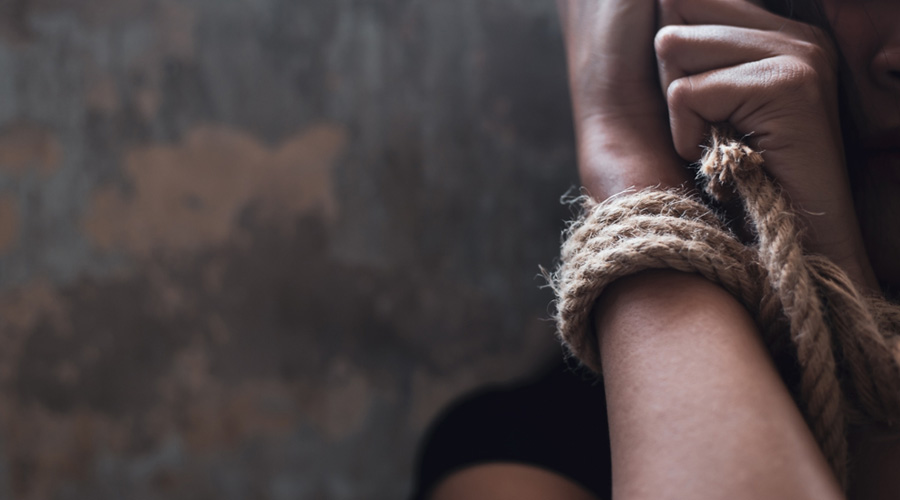 ---
Lucknow
|
Published 21.07.21, 01:27 AM
|
---
A minor gang-rape complainant was allegedly slapped and kicked inside a police station in Saharanpur town on Monday, prompting her to cry out she would "never go to a police station again in this life".
The alleged incident, its aftermath purportedly captured in a video, came four days after Prime Minister Narendra Modi had lauded chief minister Yogi Adityanath for protecting "sisters and daughters" in Uttar Pradesh.
The girl, who seemed hardly 16 and had come to the Kotwali police station with her mother, told reporters on Tuesday that two policewomen had thrashed her and warned her not to make the gang-rape allegation public.
In a widely circulated video, a weeping girl is seen standing on a courtyard, holding on to a parked car for support, and telling an older woman never to take her to any police station again. A Hindi signboard on the courtyard says "Kotwali police station Saharanpur".
Two women in police uniform are seen standing on the veranda of the police station and shouting at an unseen man after he objects to the assault on the girl.
The male voice asks: "Why did you attack the girl?"
A woman in khaki shirt and trousers, who a local source said was a head constable, appears to be replying: "Kaun mara re? Uski maa bhi to ro rahi hai (Who beat her up? Even her mother is crying)."
The other woman on the veranda, wearing khaki salwar-kurta and apparently a constable, appears to say: "A ja, a ja, phir se aja (Come, come, come here again)."
The girl, who her mother corroborated was a minor, told reporters that four youths had drugged and raped her inside a car, and later blackmailed her with nude videos.
"I know one of the rapists — he lives in my neighbourhood. He gave me a lift in his car a few days ago and offered me a soft drink. I fell unconscious," the girl said. "When I regained consciousness, I saw four youths in the car."
She said she had no clothes on her body and realised she had been raped.
"They showed me nude videos of myself and threatened to circulate them if I told anybody at home. After two days, they demanded money to keep the video a secret," the girl told reporters.
"I gave them Rs 5,000 and Rs 7,000 on two different dates. But their demands kept increasing, so I told my mother and she took me to the police."
She added: "Whatever happens to me, I shall never go to a police station again in this life."
Her mother said: "The policewomen asked me to wait outside and took my daughter inside a room. I then heard her cries and rushed into the room, and saw them slapping and kicking her while asking her not to reveal anything that had happened to her."
Rajesh Kumar, Saharanpur city police superintendent, denied the allegation against the policewomen.
"We received a complaint and registered a case of gang rape. One of the accused, who is a minor, has already been arrested and an inquiry is on," he told The Telegraph over the phone on Tuesday.
"The allegation against the policewomen is wrong. The girl was enacting a drama because she didn't want to give her statement."
He did not say when a medical test would be done on the girl, or explain why someone who had come to a police station by herself would refuse to give a statement — and then make the statement before the media.
Adityanath has not yet reacted to the allegations or the video, busy as he has been since Monday directing the police to ensure that no cows are slaughtered on the occasion of Bakr Id on Wednesday.
Modi had on July 15 claimed that Adityanath had put an end to crimes against women, ignoring the high-profile gang rapes and murders in Unnao and Hathras.
"Those who used to target sisters and daughters cannot escape the law…. It became possible because of the hard work by Yogiji," Modi had said in Varanasi.
Another woman had made a similar allegation of being beaten up at Bicchawan police station in Mainpuri district when she went there on July 9 with her mother to complain of gang rape by four men.
She alleged that Ativir Singh, a male sub-inspector, had assaulted her and forced her to change her statement.
Taking cognisance of a video in which a man in uniform resembling Singh appears to be thrashing a woman, superintendent of police Ashok Kumar Rai has attached Singh to the police lines, removing him from active duty.
A gang-rape complaint has been registered and a departmental inquiry started against Singh.