UP police officer letter to CM reveals police posting racket
Noida SSP targeted with smut video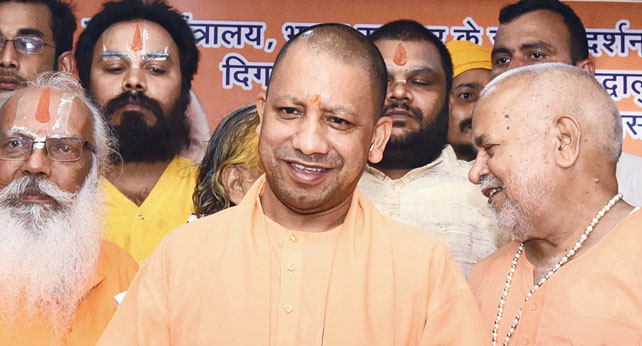 ---
Lucknow
|
Published 03.01.20, 10:34 PM
|
---
A senior Uttar Pradesh police officer's public outburst after finding himself the subject of smut videos has opened a can of worms, indicating an alleged bribery racket involving police postings and prompting charges that IPS officers were spying on one another.
Vaibhav Krishna, Noida senior superintendent of police, had called a news conference on Wednesday to allege someone had "morphed" sex chat videos to discredit him after he complained to the chief minister's secretariat about the postings racket.
He said he had provided the CMO with audio evidence of phone conversations between IPS officers in charge of postings and journalists acting as middlemen for the transfer seekers. But he named no names; nor did he say who recorded the phone conversations.
On Friday morning, several journalists received copies of Krishna's purported letter to the CMO, sent two months ago, which named five IPS officers, five self-styled web journalists, and a bribe offer of Rs 80 lakh in a particular conversation.
The controversy forced state director-general of police O.P. Singh to hold a news conference to say Krishna's complaint was being investigated and set a January 10 deadline for the probe's completion.
He also spoke of possible action against Krishna "for making viral the confidential letters and certain documents which he had sent to the CM's secretariat", appearing to imply the leaked letter was genuine and that Krishna had himself leaked it.
Surya Pratap Singh, a retired IAS officer from the UP cadre, endorsed Krishna's allegations and said there was a similar racket involving IAS transfers.
A home department official claimed a wider "rot" within the state police, saying senior officers had been keeping one another under electronic surveillance since 2018 for personal gain. He said the trend had started after the administration encouraged senior officers to spy on the government's critics, including journalists.
"I had sent a complaint against some police officers, journalists and others as they were involved in running a racket of transfers and postings," Krishna had said on Wednesday evening.
"It appears they circulated three morphed videos to malign me and stop me from pursuing the complaint against them."
The videos show a man resembling Krishna in sleazy conversations with a woman. The officer has lodged a case against unknown people for defamation and the transmission of "obscene material in electronic form".
The leaked letter says that four of the five alleged middlemen-cum-journalists — media circles here had not heard of them — had last August been arrested in Noida in another case. They had allegedly tried to persuade certain senior Uttar Pradesh officials to influence their Bihar counterparts into handing over civil contracts to their clients.
According to the leaked letter, the audiotapes of the alleged middlemen's subsequent phone conversations showed they were in touch with Rampur senior superintendent of police Ajay Pal Sharma, Kushnagar SP Rajiv Narayan Mishra, Ghaziabad SSP Sudhir Singh, Banda SP Ganesh Shah and Sultanpur SP Himanshu.
The leaked letter says that in one of the taped conversations, a middleman says an IPS officer is ready to pay Rs 80 lakh for a posting in Meerut. It alleges that two other tapes reveal a request for a plum posting for a sub-inspector who faces a criminal charge and a conversation about an inspector's transfer to a particular police station.
Sharma pleaded his innocence and told reporters: "A probe is on and everything will be clear when the report comes."
Mishra said: "I have nothing to do with such activities; the probe will prove my innocence."
Sudhir told reporters: "I have written to my officers to prove my innocence."
Shah told The Telegraph: "I don't want to say anything on this subject."
Himanshu did not take calls from this newspaper. He had earlier told local reporters in Sultanpur that he was innocent.
DGP Singh told a news conference: "The Noida SSP had sent the complaint to the chief minister's secretariat, which forwarded it to the home department, which sent it to my office. I ordered a probe under additional director-general of police, Meerut zone (Alok Singh). He requested me on December 26 to give him 15 more days to complete the probe, which was granted. Action will be initiated after the report is ready."
He said the police department had sought an explanation from Krishna "why action should not be initiated against him under Section 9 of All India Services (Conduct) Rules for making viral the confidential letters and certain documents which he had sent to the CM's secretariat".
A home department official, speaking on condition of anonymity, said many journalists and bureaucrats in the state were under electronic surveillance.
"We don't know who needs these conversations and why, and who will be trapped next in the web created by police officers," the official said.
He said the IPS officers initially used to monitor the conversations of the government's critics.
"Now they themselves are under electronic surveillance (from colleagues). Can we really understand who is after whom? We are in a rot, a complete mess. There are many politicians in the racket whose names too should come out."
Nutan Thakur, a social worker who has in the past alleged corruption within the IPS cadre, said: "Krishna's complaint is just the tip of the iceberg. I demand a CBI probe. Why was action not taken against these five IPS officers? Are these officers not close to the most powerful people in the state?"
Surya Pratap Singh, the retired IAS officer, said: "IPS postings are decided on recommendations from the DGP and the additional chief secretary. The order is finally signed by the home minister."
Home secretary Awanish Awasthi is also additional chief secretary of the state, while chief minister Yogi Adityanath holds the home portfolio.
"Krishna has exploded a bomb by exposing the IPS racket. I wonder what will happen when the bomb of the similar racket in the IAS explodes," Surya Pratap said.