Atal-beater royal drives Modi's hope in UP Jat belt
The PM is set to lay the foundation stone of a university in Aligarh, named after Raja Mahendra Pratap Singh who defeated Vajpayee in an election over 50 years ago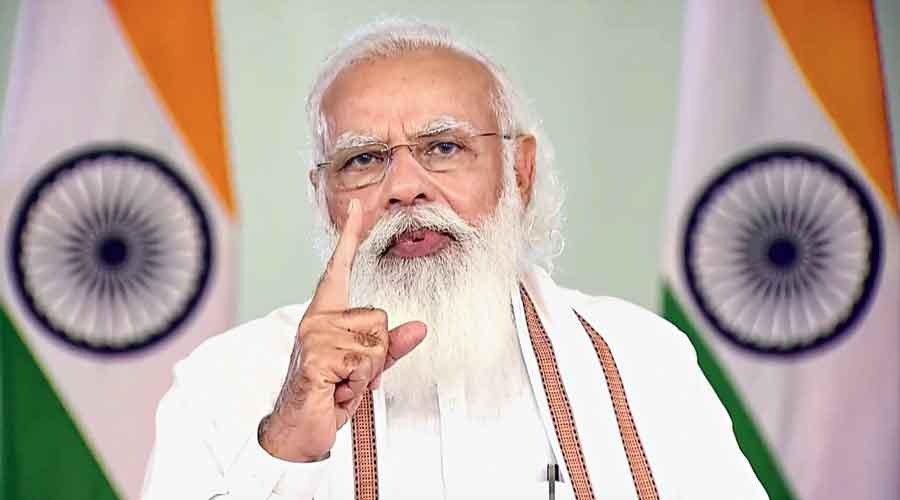 Narendra Modi
File picture
---
Lucknow
|
Published 08.09.21, 02:14 AM
|
---
Prime Minister Narendra Modi is scheduled to lay the foundation of a university in Uttar Pradesh in the name of a Jat king who had defeated Atal Bihari Vajpayee in an election over half a century ago.
The decision to flag off the Raja Mahendra Pratap Singh University in Aligarh on September 14 is being seen as an attempt to mollify the Jats, who are among those driving the ongoing farmers' protest against three farm laws of the Centre.
Jats make up a significant portion of the population of western Uttar Pradesh, where Aligarh is located and which has over 150 Assembly seats. The community can sway elections in 120 constituencies.
Constructing a university in the name of Raja Mahendra Pratap also complements the BJP's campaign that Aligarh Muslim University does not recognise his donation of land for setting up the institution.
Raja Mahendra Pratap had contested the Lok Sabha election from Mathura in 1957 as an Independent and won. Vajpayee, the BJP veteran who later went on to become Prime Minister, had also contested on a Bharatiya Jan Sangh ticket and come fourth.
The move to build the state university comes at a time the farmers' struggle has brought together the Jats and the Muslims ahead of next year's Assembly polls in Uttar Pradesh.
The long-standing amity between the two communities was sundered during the 2013 Muzaffarnagar riots, which helped the BJP make gains in Uttar Pradesh with the Jats siding with the party.
The Uttar Pradesh unit of the BJP tweeted on Tuesday evening: "There will be a university in the name of Raja Mahendra Pratap Singh, who had formed an interim government of India from Afghanistan."
The Raja, whose memory the BJP is trying to revive, had challenged the British and on December 1, 1915, declared the formation of an "interim government of India" from Afghanistan.
The BJP has unveiled a poster of the Raja and Modi.
Raja Mahendra Pratap was a Jat king of the Mursan principality of Hathras district. The BJP alleges that despite his donation of land, AMU didn't give him due respect.
An AMU official said the university remembered all those who had contributed to its formation on its foundation day every year and wondered what more could be done.
Chief minister Yogi Adityanath had said in 2019 that he would establish a state university in the name of the king.
The Raja, who was popular in the area as Aryan Peshwa, had also formed an army known as the Azad Hind Fauj, not related to the one founded by Netaji Subhas Chandra Bose.
Disregarding Raja Mahendra Pratap's secular credentials, a BJP leader told this newspaper in Lucknow: "The king was famously known as Jat Raja. AMU didn't remember him but now our government is restoring his honour as a real hero of the freedom struggle."