Uddhav to BJP: Chant can't make you patriot
The saffron camp has been targeting the Shiv Sena chief for 'giving up' his Hindutva ideology for sharing power with the NCP and Congress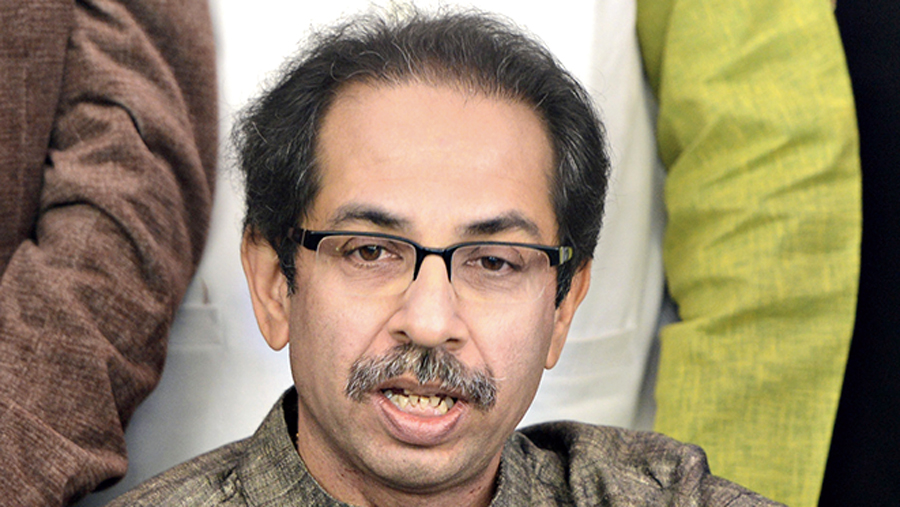 Uddhav Thackeray
File picture
---
Mumbai
|
Published 04.03.21, 01:40 AM
|
---
Maharashtra chief minister Uddhav Thackeray on Wednesday told the BJP that chanting "Bharat Mata ki Jai" alone did not prove its love for the country, reminding the party that it has no claim on India's freedom struggle.
Uddhav said his party, the Shiv Sena, was not part of the freedom struggle but neither was the "parent organisation" of the BJP — a reference to the RSS. Both the Sena and the BJP were founded after Independence, but the RSS has existed since 1925.
"Therefore, only chanting 'Bharat Mata Ki Jai' does not prove your love for the country. You don't have the right to chant Bharat Mata Ki Jai if you are not going to give justice to people and if you are forcing farmers to protest on the streets," Uddhav said, speaking in the Assembly.
Farmers are waiting for their income to double as promised, he said, referring to the BJP's election pledge. "Instead, fuel prices have doubled," Uddhav said.
"Barbed wire fencing, which should have been erected along the border, was erected between farmers and Delhi... China would not have intruded had such arrangement been made there (along the border)," the chief minister said. 
Iron spikes were fixed on the roads leading to the protest sites and their electricity and water supplies were cut, he pointed out.
Asking if the farmers protesting against the three new laws were terrorists, Uddhav said the country was not the BJP's "private property". 
The Sena leader asked the BJP not to lecture his party on Hindutva.
"You formed a government with separatists in Kashmir... you shared power with them. Didn't your Hindutva get corrupted then?" he asked. 
"How many displaced Kashmiri Pandits got homes? Don't teach us about Hindutva. You are not qualified to do that," Uddhav told the BJP.
The BJP has been targeting the Shiv Sena chief for "giving up" his Hindutva ideology to share power with the NCP and Congress. 
Uddhav also took a dig at the renaming of the Motera cricket stadium, which used to be called the Sardar Vallabhbhai Patel stadium, after Prime Minister Narendra Modi. 
"Somebody said India will win every match there. Why? Because the name of the stadium has been changed," he quipped. "You wiped out the name of Vallabhbhai Patel," he added.