TRS backs Margaret Alva, Trinamul unmoved
The TRS decision was announced in Delhi by parliamentary party leader K. Keshava Rao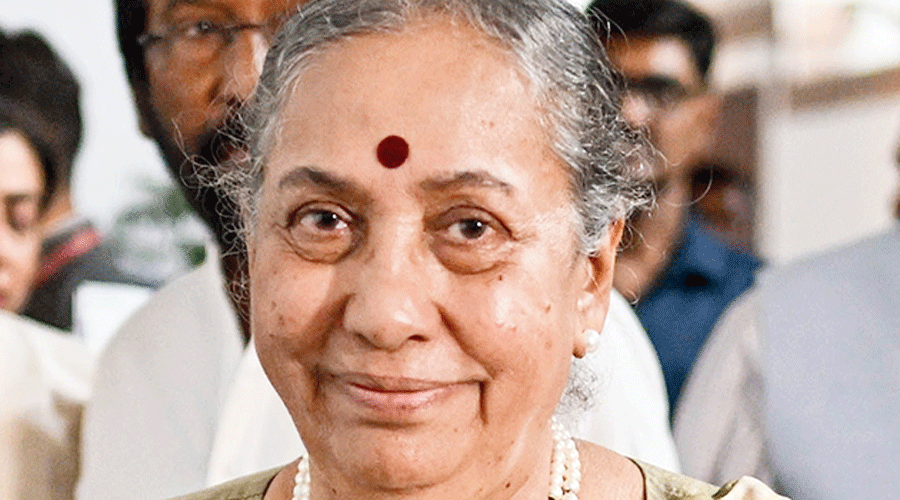 Margaret Alva.
File photo
---
New Delhi
|
Published 06.08.22, 12:49 AM
|
---
The Telangana Rashtra Samithi (TRS) on Friday announced support for Margaret Alva, the joint Opposition candidate for Saturday's vice-presidential election, even as Trinamul Congress leaders maintained that there was no change in their decision to abstain.
The TRS decision was announced in Delhi by parliamentary party leader K. Keshava Rao.The party has 16 MPs but the Opposition remains outnumbered given the majority the NDA enjoys in both Houses and the support it has managed again from parties such as the BJD and YSR Congress.
 Outside the UPA, Alva has the support of the TRS and AAP.Asked if there was any chance of a last-minute change in Trinamul Congress's decision to abstain from voting in this election, a party leader said: "Zero". Earlier in the day, Alva put out a video appeal to all MPs in Hindi and English in which she stressed the need for addressing the breakdown of communication in Parliament.
Stating that she has had an opportunity to chair both Houses of Parliament, Alva said: "I have seen debate, discussion and differences, and yet an atmosphere of give and take. That I do not see today. I believe the time has come for all parties to get together and restore the faith and the trust in each other and restore the dignity of Parliament."
Polling for the elections will take place in Parliament House and the results are expected on Saturday evening itself. The electoral college is made up of members of both Houses of Parliament and the total number of votes is 780, of which the NDA alone has nearly 60 per cent.