Three people killed, a dozen fall ill in Gaya hooch case
The deceased have been identified as Amar Paswan, 26, Arjun Paswan, 43, and Rahul Kumar, 25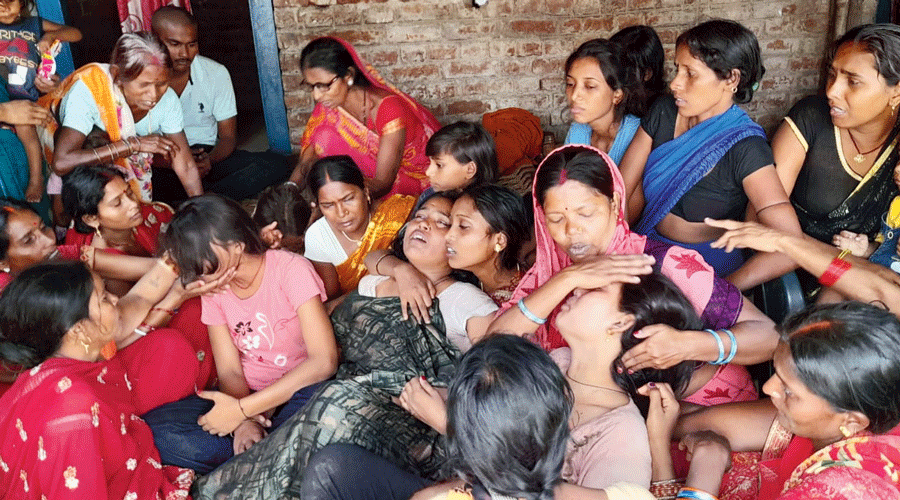 Grieving family members of some of those affected by the hooch incident in Gaya on Tuesday.
Sanjay Choudhary
---
Patna
|
Published 25.05.22, 01:28 AM
|
---
At least three people died and around a dozen others were battling for their lives after consuming spurious liquor in Gaya district of dry Bihar on Tuesday.
The incident occurred at Pathra village in Amas block of the district. The deceased have been identified as Amar Paswan, 26, Arjun Paswan, 43, and Rahul Kumar, 25.
"Three people have died after consuming hooch while five others are admitted in hospitals. They are out of danger. We have arrested two persons, including the one at whose house people consumed liquor," Gaya senior superintendent of police Harpreet Kaur told The Telegraph.
The incident comes on the heels of similar incidents in which three persons were killed at Pararia village in Aurangabad district and two people lost their lives at Ghoshai village in Madhepura district on Sunday after consuming poisonous liquor at marriage ceremonies.
Several others have been left ill and are undergoing medical treatment in different hospitals.
In the latest incident, a large group of people had brought country liquor from an illicit manufacturing unit and consumed it at the village on Monday.
A few hours later they started complaining about nausea, stomachache, dizziness, anxiety, blurred vision and breathlessness.
The family members of the affected people rushed them to a nearby government and private hospitals for treatment. However, three of them died soon after.
"My relatives — maternal uncle Amar Paswan and his uncle Arjun Paswan have died after drinking liquor. Many others are in serious condition and are being treated by doctors.
Two have been referred to Gaya city for better treatment," said Rishabh Kumar.
Those who fell ill include a home guard jawan Indradeo Paswan posted at the primary health centre there.
"Around 20 people consumed country liquor procured by one among. I do not know about the place from where it was brought. I also took a little and fell ill," Indradeo said.
The Amas police station is hardly a kilometre from the village where the tragedy struck. Local villagers asserted that hooch was freely available in their area despite the liquor ban.
Incidentally, chief minister Nitish Kumar visited Gaya on Tuesday to inspect the progress of the project to supply water from the Ganga river with the help of a pipeline.
Nitish imposed total prohibition in April 2016 with much fanfare, but it simply drove the thriving liquor business underground. The mafia opened a widespread illicit supply and distribution network in nexus with the enforcement agencies and politicians.
The liquor ban stands completely compromised at present.
The greed of the mafia has led them to use harmful substances to expedite the fermentation process and also as additives in liquor. This has led to an increasing number of hooch incidents in the state in which over 218 people have lost their lives since January 2021.
The toll stands at 108 this calendar year.