Test for lone-ranger Badruddin Ajmal in Assam
In 2014, the AIUDF had contested 10 seats, winning 3, and reducing the Congress to 3 — its worst performance till date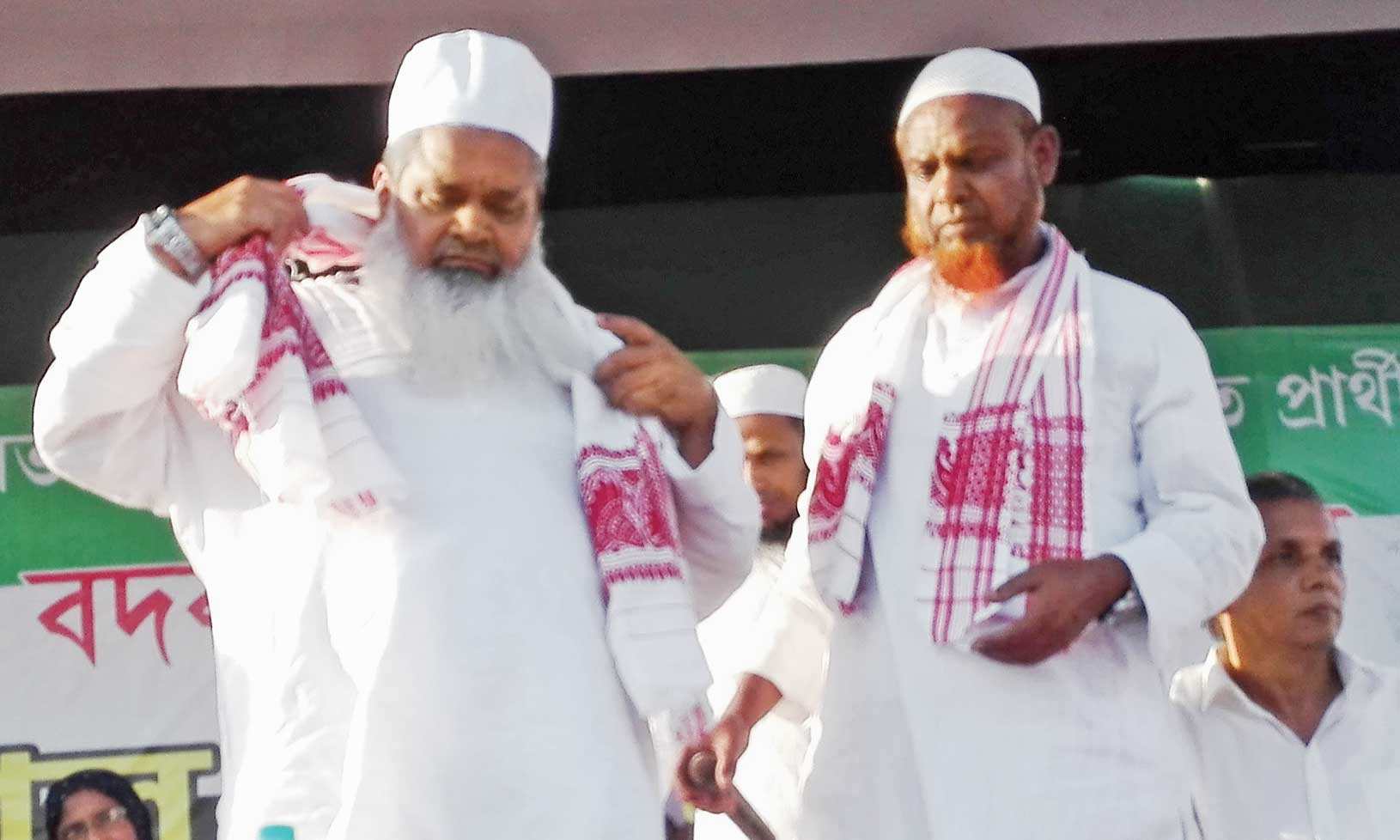 Badruddin Ajmal campaigning in Goalpara
Picture by Sofikul Ahmed
---
Guwahati
|
Published 22.04.19, 01:17 AM
|
---
Everybody is out to finish me, finish the AIUDF by launching a sustained disinformation campaign against us, sitting Dhubri Lok Sabha MP Maulana Badruddin Ajmal told The Telegraph between his punishing campaign schedule on Friday night.
Ajmal's rant is directed at the ruling BJP, his "Enemy No 1", and the Opposition Congress, the "betrayer", for their separate efforts to "finish off" the All India United Democratic Front (AIUDF), the party he founded in 2005 after falling out with then Assam chief minister Tarun Gogoi.
Ajmal, 69, wears many hats — those of politician, businessman, philanthropist, healer, scholar (he is well-versed in Sharia law, hence the prefix maulana) — and is also fond of using shayari and old film songs to send across messages. He took pains to explain why the AIUDF was contesting only three (Dhubri, Barpeta and Karimganj) of the 14 Lok Sabha seats in Assam.
Ajmal wants consolidation of the anti-BJP vote. In 2014, the AIUDF had contested 10 seats, winning three, and reducing the Congress to three — its worst performance till date.
"The Congress backed off after several rounds of talks, after we fielded only three candidates. We supported the UPA for 10 years but the Congress forgets us during elections. I regret not heeding the advice of my well-wishers. They made things difficult for us but we are improving by the day," Ajmal said.
Senior Assam Congress leaders rejected Ajmal's claim but admitted to being against allying with the AIUDF because it is perceived as a party working for migrant Muslims. Last Friday, BJP national general-secretary Ram Madhav had once again claimed that the AIUDF was a "party of infiltrators from East Pakistan (now Bangladesh)".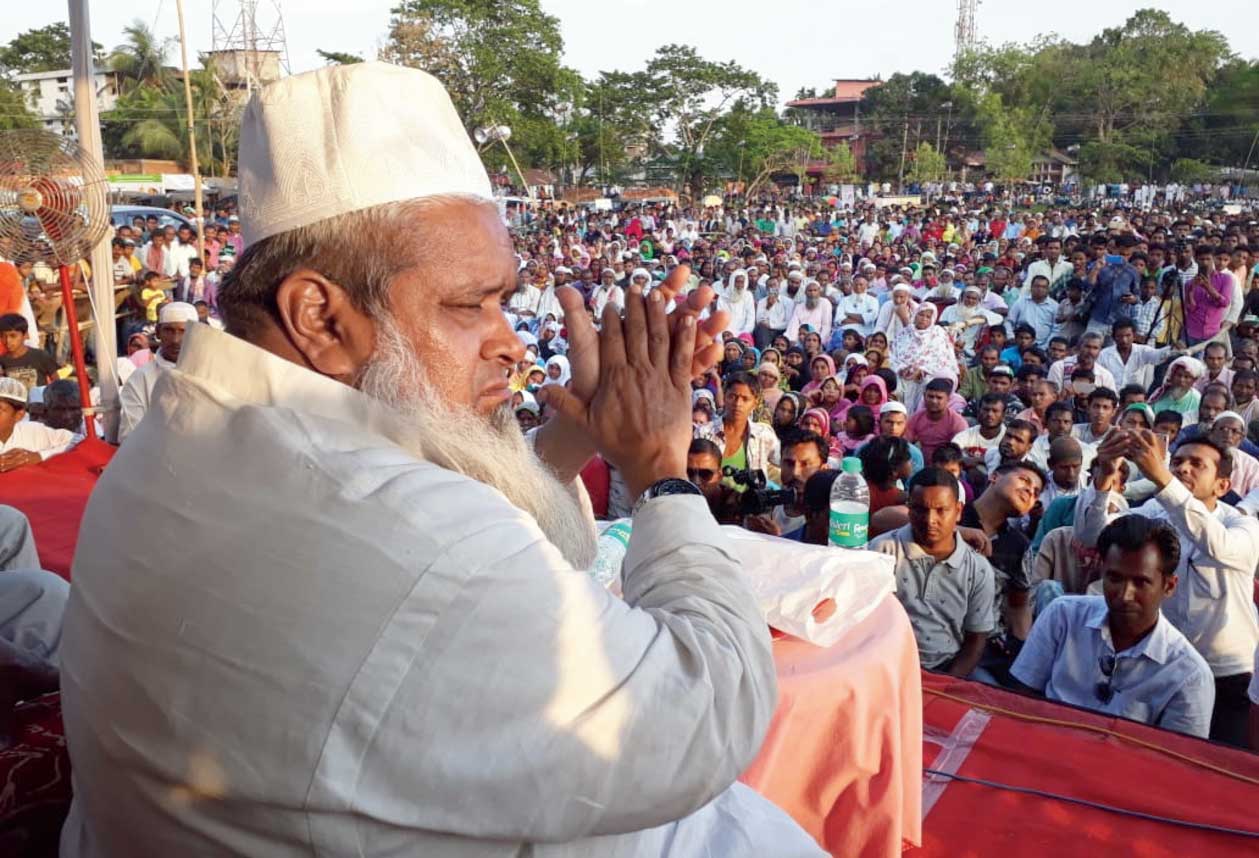 Influx from Bangladesh is a touchy issue in Assam which was racked by a six-year-long anti-foreigner movement from 1979-1985.
Congress leaders were also against any tie-up because they see the AIUDF as being responsible for cutting into its Muslim votebank. However, AIUDF's below-par performance in the 2016 Assembly and 2018 panchayat polls has provided the Congress an opportunity to reclaim lost ground, something they did not want to miss by tying up with Ajmal.
Ground reports suggest that though the AIUDF is facing a tough challenge from both the Congress and the BJP, it still remains influential among a decisive number of Bengali-speaking Muslims. It is this section that the Congress is trying to win back, something which the BJP is attempting to stop by talking of the "secret pre-poll Congress-AIUDF pact" and consolidating the Hindu votes, especially those of Bengali Hindus, in its favour by pushing the contentious citizenship (amendment) bill if it retains power.
Both the Congress and BJP will have to neutralise Ajmal's reach among minority voters in Gauhati, Kokrajhar, Barpeta and Dhubri, which are going to the polls in the third (and final for Assam) phase on April 23.
Muslims make up 78 per cent of the voters in Dhubri and over 52 per cent in Barpeta, constituencies the AIUDF is contesting along with Karimganj which voted on April 18. Gauhati and Kokrajhar seats too have a significant Muslim population.
A pressing challenge for the AIUDF has always been to offset its rivals' campaign to paint it as a Muslim or a communal party. Or to convince, post-2016, all sections of Muslim voters why they should side with the AIUDF. The outcome of the last state and panchayat polls reflected a steady drift towards the Congress.
"They accuse us of being communal but they don't say how many Hindus have won on our ticket. Radheshyam Biswas, our sitting Karimganj MP, is a Hindu, Aditya Langthasa is our working president. We are against foreigners, we are for the 1985 Assam Accord which states anybody coming after March 24, 1971 is a foreigner. Ups and downs are a part of politics but our grassroots grip is intact," said AIUDF leader in the Assembly Hafiz Bashir Ahmed Qasimi.
Political commentator Arupjyoti Choudhury said the prevailing situation is "highly polarised" which could make the going difficult for the AIUDF. "On one side is the BJP and on the other is the Congress. In such a situation, the other players become marginal. So in case of the AIUDF its earlier relevance could diminish. Non-major forces have to fight for survival," Choudhury said. "It will be a test for the AIUDF."
Ajmal knows the stakes are high. He is contesting from Dhubri which he won in 2009 and 2014. He is campaigning "hard", addressing 10-12 meetings a day, four to five by choppers, and also via social media. "But I am not having to take any goli (medicine)," he said.
Dhubri-based Benoy Bhattacharjee, director of the North East Craft and Rural Development Organisation, said development is not an issue but safety and security are, especially for people living in the char (riverine) areas. "They feel the AIUDF chief can provide them with security from harassment in the name of D (doubtful)-voters or the NRC update. They form a significant part of the 18-lakh plus voters in the constituency. And this may give Ajmal saab the edge," Bhattacharjee said.
Dhubri votes on April 23