Telling mix of anger, optimism, uncertainty in Delhi's Chandni Chowk
BJP's Harsh Vardhan is pitted against Congress veteran Jai Prakash Aggarwal and Aam Aadmi Party national secretary Pankaj Gupta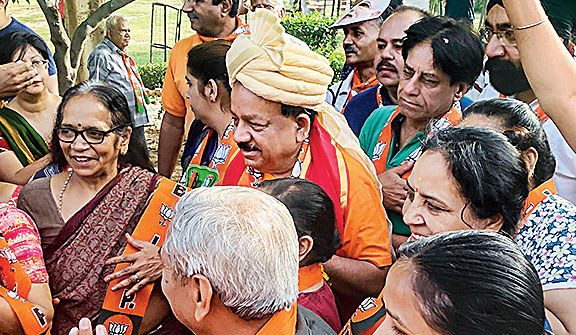 ---
---
Grain merchant Sumit Jain in Naya Bazar is still angry about the November 2016 demonetisation. Footwear trader Zahid Manzoor in Ballimaran is worried about the future of Muslims in India. Sesh Bhagwan in Model Town wants to help Prime Minister Narendra Modi remain Prime Minister another five years.
The three men are among about 1.4 million people who are expected to vote on Sunday in Chandni Chowk. Located in the heart of Delhi, the constituency had in 2014 witnessed BJP candidate and ear-nose-throat surgeon Harsh Vardhan win by a margin of 1,36,320, drawing 45 per cent of the votes.
Like Delhi's other six parliamentary constituencies, Chandni Chowk faces a triangular contest, as it had in 2014.
Harsh Vardhan, 64, is pitted against Congress veteran Jai Prakash Aggarwal, 74, and Aam Aadmi Party national secretary Pankaj Gupta. Aggarwal is a long-time Chandni Chowk resident and won from the constituency in 1984, 1989 and 1996. Gupta is an information technology professional turned politician.
Voter sentiments in Chandni Chowk appear to reflect the mix of anger, optimism and uncertainty that marks this general election nationwide.
Among the voters are Muslims worried about the BJP's pro-Hindu agenda but unsure how to negotiate the three-way contest foisted upon them by the Congress and AAP leaderships, traders hurt by the note recall and GST, and residents keen to give Modi a second chance.
"Forget the local candidates, this election is about getting Modi back in power," said Bhagwan, who runs a jewellery business in Chandni Chowk and lives in Model Town. "He has helped India acquire a reputation in the world: other countries see India differently now."
The Congress allegations of corruption in the Rafale aircraft deal haven't impressed Bhagwan's fellow morning walkers. "Modi is honest, and that's something you can't say about most other leaders," said Om Parkash Sethi.
But some within the business community assert they will turn to the Congress this time.
"The demonetisation and the GST have hit business people. Business is down. Everyone knows this but most won't say this," said Jain, who owns a retail outlet for Basmati rice. "And replacing 1,000-rupee notes with 2,000-rupee notes — does that make black money go away or easier to stash?"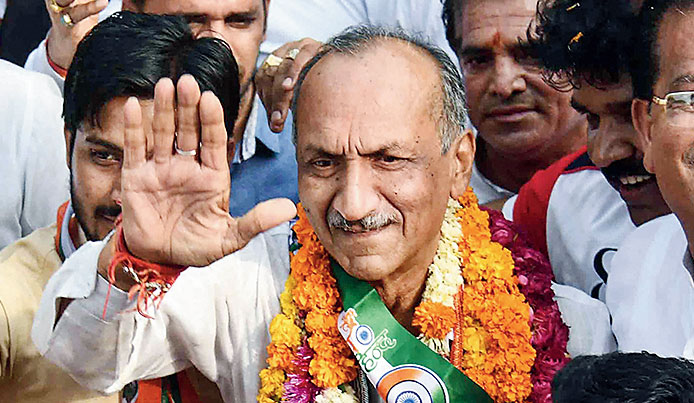 Like the Modi government's Swachh Bharat mission, the AAP government's local municipal management too seems to have left Jain's neighbourhood untouched.
A street corner on Friday had a heap of garbage large enough to fill five trucks, and an open drain gave out a stench.
The Congress is banking on Chandni Chowk's sizeable Muslim population, concentrated largely in the Ballimaran, Jama Masjid and Matia Mahal localities, and the goodwill that many party workers believe Aggarwal has earned over the decades.
"He has helped almost everyone who has ever approached him, and people in households across Chandni Chowk know this," said Rajesh Sharma, a Congress worker.
Another resident, who requested not to be named, said Aggarwal was likely to receive support from the local Baniya (trader) community.
But the three-cornered nature of the contest has cast a pall of uncertainty over the outcome.
In 2014, the AAP's Ashutosh had secured 31 per cent of the votes cast while the second runner-up, Congress candidate Kapil Sibal, had polled 19 per cent.
A similar division of votes between the Congress and the AAP would bolster Harsh Vardhan's chances.
"This way, the BJP may return," said Khalid Jameel, an optician in Ballimaran. "The AAP (state government) has done well with schools, community clinics, medicines. But there is also a feeling that at the national level, the votes should go to the Congress. We're hoping there will be a consolidation of votes on election day."
But Jameel concedes that the Muslim votes by themselves won't lead to a change.
"About 90 per cent of my clients who come for glasses are Hindus. Many of them talk about how the BJP has over the past five years changed the environment — they (the BJP) are trying to erect a nafrat ki diwar (wall of hate) between communities. Maybe they (voters) will think about this when they vote."
A few metres down the optician's outlet, footwear retailer Manzoor too is worried about the likely return of the BJP. Manzoor married a Hindu girl, his school sweetheart, 19 years ago — long before the term "love jihad" had slipped into the national vocabulary — and has two sons, aged 16 and 5.
"What's the future my boys are heading towards? I keep thinking about this. The government has to change," he said.