Bihar Opposition leader Tejashwi Yadav has challenged Nitish Kumar to venture out among the people and see their hapless condition, asserting the chief minister cannot remain untainted when the officials around him are being accused of corruption.
"Show us a single photograph of the chief minister meeting farmers, workers or labourers. Although he has come to power through the backdoor, he should venture out to meet the common people and see their pitiable condition. Farmers are dying in the state," the Rashtriya Janata Dal politician said on Sunday.
"Nitish Kumar enjoys being surrounded by officers, but they are being accused of corruption. He cannot remain untainted if they are being accused by his own minister of making money during transfers and postings of officials."
Madan Sahni, social welfare minister and a member of Nitish's Janata Dal United, had recently accused senior IAS officers of corruption and offered to resign.
Tejashwi was speaking after kicking off his party's yearlong silver jubilee celebrations on the eve of its foundation day. Then chief minister Lalu Prasad had formed the RJD on July 5, 1997.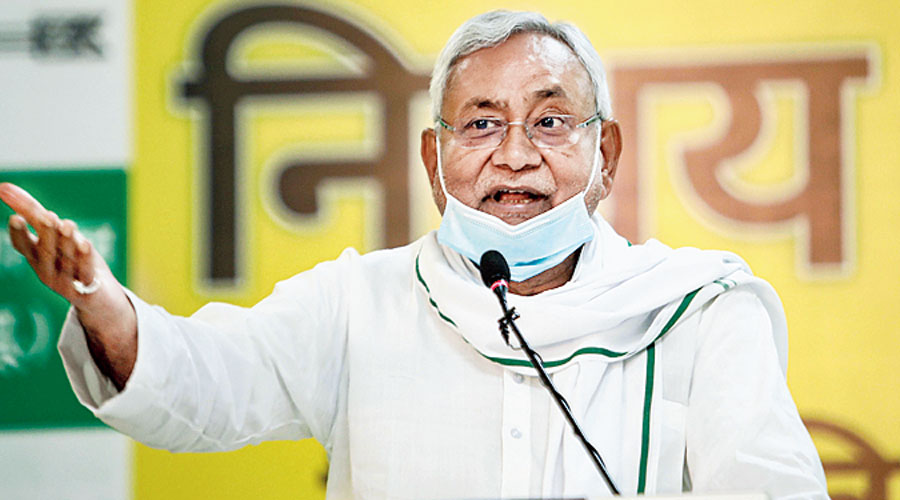 Nitish Kumar
Lalu address
Lalu Prasad, currently in Delhi after receiving bail in the fodder scam cases, will digitally inaugurate and address the main event on Monday. His address is expected to heavily influence the course of Bihar politics.
The ruling NDA fears that he will try to engineer defections or resignations within the ruling alliance to bring down the government. A small shift of seven legislators could topple the current state government.
"The people of Bihar will get the opportunity to listen to Laluji after waiting three years. He is the leader of the masses and lives in people's hearts. He is the voice of the poor, exploited and deprived," Tejashwi said.
Tejashwi, a former deputy chief minister and Lalu Prasad's younger son, claimed the RJD represented all sections of society.
The party has already put up posters and billboards in Patna and other Bihar cities featuring Lalu Prasad along with his wife and former chief minister Rabri Devi and Tejashwi.
However, his eldest daughter and Rajya Sabha member Misa Bharti and legislator son Tej Pratap Yadav have been left out, prompting speculation about friction within the family.