Tamil binds judge, guru and lawyer
The three men have one thing in common: they are all from Tamil Nadu with Tamil as their mother tongue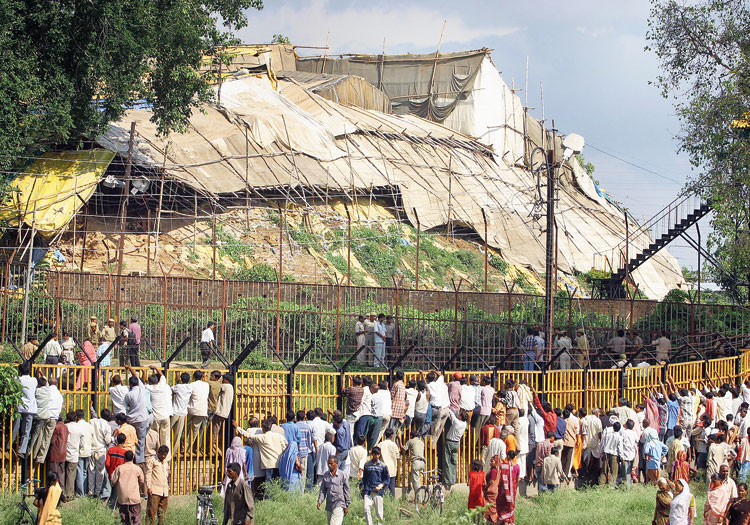 People look through the fence of the high-security complex in Ayodhya on July 5, 2005
Picture by AP
---
New Delhi
|
Published 08.03.19, 08:51 PM
|
---
One of them took the broom to India's cricket administration; another faltered in a past attempt to solve the Ayodhya tangle; and the third has been a dab hand at making peace, whether between warring spouses or battling companies.
But despite their very different CVs, the three men the Supreme Court has picked to mediate the Ayodhya land dispute have one thing in common. They are all from Tamil Nadu, with Tamil as their mother tongue.
The soft-spoken Justice Ibrahim Kalifulla had been part of the bench that passed the judgment of July 15, 2016, constituting the Justice R.M. Lodha committee and mandating it to suggest ways of cleaning up Indian cricket.
Justice Kalifulla, who retired a week later, had been chief justice of Jammu and Kashmir High Court before being elevated to the apex court on April 2, 2012. His career in the higher judiciary had begun in March 2000, when he was appointed a judge of Madras High Court.
PTI quoted him as saying on Friday: "For the present, I can only say that if the committee has been constituted, we will take every step to resolve the dispute amicably."
Sri Sri Ravi Shankar is a native of Papanasam town in Thanjavur district. The founder of the Art of Living Foundation had in 2017 failed in his self-appointed task of settling the Ayodhya dispute by interacting with community leaders.
He had claimed his mission was to "connect hearts" which "a court could never do". But he faced disappointment after disappointment.
Imam Khalid Rashid Firangimahli, the imam of Lucknow's Idgah and a member of the All India Muslim Personal Law Board, met him but later distanced himself from suggestions that the two had discussed an out-of-court settlement.
Chief minister Yogi Adityanath too had, after a meeting with Ravi Shankar, ruled out any negotiated settlement, saying it was too late.
On Friday, Ravi Shankar tweeted: "Respecting everyone, turning dreams into reality, ending longstanding conflicts happily and maintaining harmony in society — we must all move together towards these goals. #ayodhyamediation."
Sriram Panchu, who has a flourishing legal practice as a senior advocate in Chennai, said he would do his best to carry out the "serious" responsibility he has been given. "It is a very serious responsibility given to me by the hon'ble Supreme Court. I will do my best," he said in a brief statement, according to PTI.
Panchu is president of the Association of Indian Mediators and has a reputation as a pioneer among mediators. He has written books on mediation, including a comprehensive manual, Mediation: Practice and Law. Cases he has mediated include the boundary dispute between Assam and Nagaland.