A. Anandavally: Sweeper to chief of Kerala block panchayat
CPM picks 46-year-old for post in kollam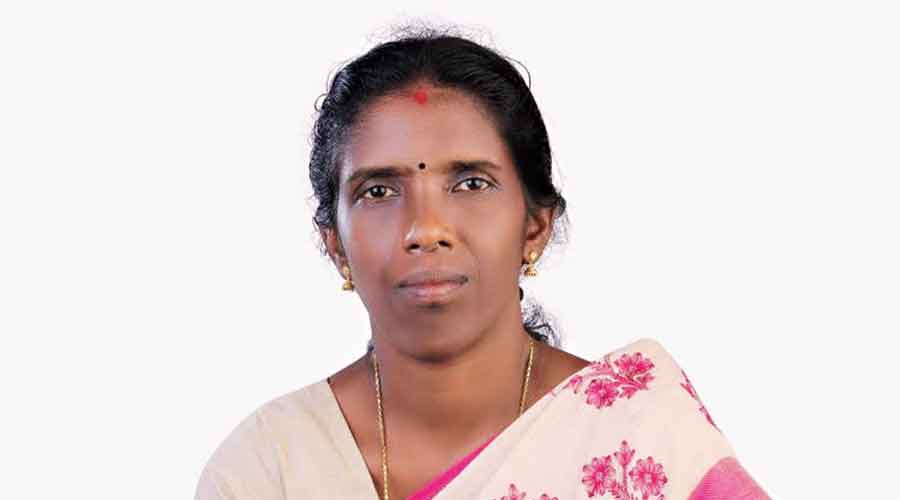 ---
---
A woman who wielded the broom at a block panchayat office for a decade has now been chosen by the Kerala CPM to head it as its president.
A. Anandavally, 46, had since 2011 been employed as a sweeper at the agriculture office of the Pathanapuram block panchayat in Kollam district.
It had been a surprise enough for the Class X passout when the CPM requested — and persuaded — her to contest the recent panchayat elections, after husband and house painter Mohanan had declined.
"It was a bigger surprise when our party appointed me president. All of this has been a surprise since neither my husband nor I was inclined to even contest the elections," Anandavally told The Telegraph on New Year's Day.
She said that three days after her appointment, she was still receiving congratulatory calls.
Anandavally is one of several women the CPM has picked to head local bodies, including the country's two youngest, aged 21 — Thiruvananthapuram mayor Arya Rajendran and Aruvappulam village panchayat president (Pathanamthitta) Reshma Mariam Roy.
Anandavally is keenly aware of the challenges ahead, and quietly confident about meeting them.
"I was only familiar with cleaning the rooms and carrying tea and snacks for the officials. It will take me some time to adjust to the new reality and responsibility," she said.
She hopes to help the six villages under her purview by using the lessons about life, poverty and struggle she has learnt and the contacts she has built in her decades as ayah, paddy field worker and sweeper.
"There are many like me who need better amenities, higher education for their children and modern healthcare. I can relate to their problems," she said.
Poverty and lack of guidance had prompted Anandavally to drop out of school after clearing her Class X exams."There was no one to guide me on what to do next. Nor did we have the financial resources," the eldest of three siblings said on her decision to work at a young age.
"I even worked in paddy fields to make ends meet," she said. She worked at a government pre-primary school in her village, Thalavoor, from 1995 to 1997, doubling as ayah and informal teacher, at a monthly salary of Rs 300.
She did several odd jobs after that till she got a sweeper's job at the Thalavoor village panchayat office in 2007 for a daily wage of Rs 70.
Both Anandavally and Mohanan come from families of CPM workers and used to be regulars at party events and election campaigns.
In 2011, the CPM shifted her to the nearby block panchayat office, where she began on a monthly salary of Rs 2,000. Her last drawn salary was Rs 6,000.
"People in my village wanted either my husband or me to contest the panchayat elections in 2015, but neither of us was ready at the time," she said.
This December, she defeated her Congress rival by 654 votes. Anandavally has now quit the sweeper's job. She said her new salary would be about Rs 10,000 but was not sure.
"At the moment I don't know much about what the functions of a block panchayat president are. But I'm confident about learning quickly with the help of the officials and the local people, who have known me since decades," said the mother of two sons, one of them enrolled in college and the other in Class XII.
Her aged mother had expressed apprehensions about how Anandavally would cope in her new job with her limited education and lack of experience.
"I told my mother that I have support from all quarters. Now that I have been entrusted with this job, I don't want to disappoint my party or the people," Anandavally said.