Swachh plan to cut states' role
Read more below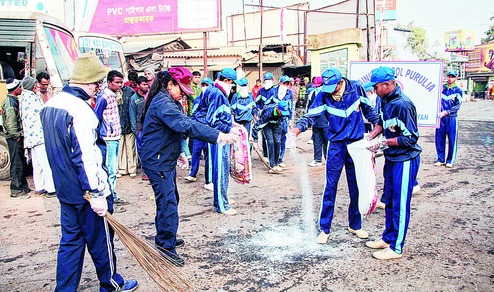 ---
Published 26.10.14, 12:00 AM
|
---
Fashion designer Sanjana Jon and her mother Shashi Abraham at a cleanliness drive in Kochi on Saturday. (PTI)
New Delhi, Oct. 25: In India's towns and cities, the Swachh Bharat campaign will be looking to clean up not just the filth but also red tape and funds diversion.
For the first time, the Centre aims to deal directly with the urban local bodies in funding projects without routing the proposal-clearance-sanction process through the state governments.
At stake is the Rs 67,000 crore that the Union urban development ministry plans to spend under the Swachh Bharat programme to build one crore household toilets and five lakh public toilets in the country's urban areas by 2019.
Sources said that a meeting recently discussed a proposal to start an online reporting and monitoring mechanism that will allow the country's 4,041 civic corporations and municipalities to directly submit their proposals to the central ministry.
It's the ministry that will decide whether to clear the proposals. If it does, it will transfer the money directly to the civic body, bypassing the state government.
"We have seen in the past that state governments often divert money meant for a particular project to another. The Centre can only lodge a protest later, during auditing. This unnecessarily delays the process and scuttles the target," a senior urban development ministry official said.
It's the civic bodies that will be submitting the utilisation certificates so the next instalment of funds can be released, thus speeding up the process.
They will also be able to upload regular information about the progress of the projects. A mechanism will be put in place to enable the Prime Minister's Office to directly monitor the progress.
Till now, even for projects it funded fully, the Centre used to deal with the state governments rather than the civic authorities themselves. Officials said the state governments were likely to be consulted before the new system for the urban component of the Swachh Bharat campaign was adopted.
They stressed that the proposed procedure would keep the states in the loop. When the local bodies send their project proposals to the Union ministry, they will have to simultaneously inform their state governments.
In instances where a state government differs with a local body on a certain proposal, the Centre will decide the matter "on a case-by-case basis", the official said.