'Stronger' Chidambaram mauls 'clueless' Centre
He ripped into the govt's management of the economy, saying the problem was of competence and attitude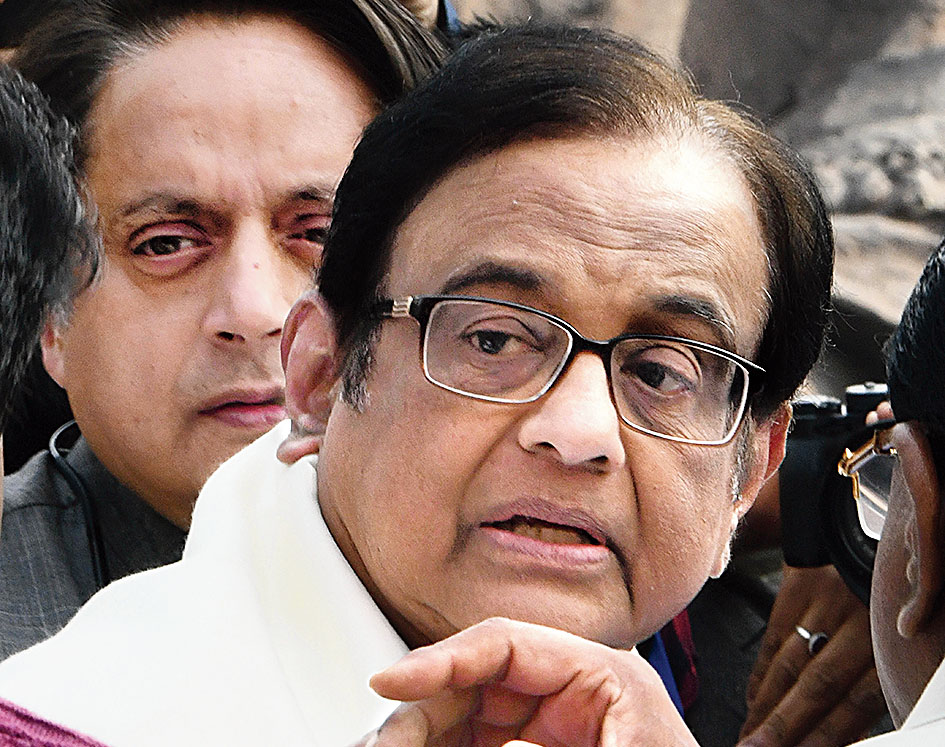 Chidambaram outside Parliament on Thursday.
Picture by Prem Singh
---
New Delhi
|
Published 05.12.19, 09:48 PM
|
---
Legally inexplicable pre-trial incarceration for 106 days and denial of basic needs like a proper bed and a pillow to a 74-year-old who has not only been a top lawyer but a senior minister in several Union governments have failed to break P. Chidambaram.
He has emerged stronger, far more aggressive than he was and far more determined to, what he repeatedly described as, "speak truth to power".
Barely hours after he was released on bail by the Supreme Court on Wednesday night, Chidambaram took part in a demonstration on the Parliament premises along with fellow Congress MPs against the savage spurt in onion prices, followed by a media conference at the party headquarters on economic mismanagement.
The decision to hold the media conference was announced within a couple of hours of Chidambaram's release, clearly demonstrating that he was burning with rage and wanted to deal with the government, which he believes unjustly tormented him for political reasons.
Although he avoided saying anything on the INX Media money-laundering case, as has been directed by the Supreme Court, the former minister hinted at his innocence and extolled the virtues of freedom.
"I am glad to speak to you exactly 106 days after I last spoke to you. As I stepped out and breathed the air of freedom at 8pm last night, my first thought and prayers were for the 75 lakh people of the Kashmir Valley who have been denied their basic freedoms since August 4, 2019," Chidambaram told the media conference.
"I am particularly concerned about the political leaders who have been detained without charges. Freedom is indivisible: if we must preserve our freedom, we must fight for their freedom."
He added: "I am grateful for the clear and comprehensive order yesterday of the Supreme Court. The order will clear the many layers of dust that have unfortunately settled on our understanding of criminal law and the manner in which criminal law has been administered by our courts."
While granting bail to Chidambaram, the Supreme Court reaffirmed the well-established principle that bail is the rule and its refusal an exception.
Chidambaram said on Thursday: "To many of your possible questions on the case, the answers can be found in the lucid order of the Supreme Court pronounced yesterday. In the last 106 days, I was strong in spirit and I have become stronger because of the following: One, my record as minister and my conscience are absolutely clear. Officers who have worked with me, business persons who have interacted with me and journalists who have observed me know that very well; Two, my family trusts in God; Three, we have total confidence that the courts will ultimately render justice."
Arguing that he was always strong in spirit, he said: "Now I am stronger in body as well. Sleeping on a wooden board in jail has strengthened my neck, my spine and my back. My neck is stronger, my spine is stronger and my head is stronger."
Delighted that the party was firmly behind him, he threw enough hints of his determination to fight the government with all his might. The heightened aggression in tenor and content was writ large on Chidambaram's performance on the first day.
He ripped into the government's management of the economy, saying the problem was of competence and attitude.
"The place to start is diagnosis. If the diagnosis is wrong, the prescription will be useless, may be even fatal. Even after seven months into the fiscal year, the government believes that the problems faced by the economy are cyclical. The government is wrong.
"It is wrong because it is clueless. It is unable to look for the obvious clues because it is stubborn and mulish in defending its catastrophic mistakes like demonetisation, flawed GST, tax terrorism, regulatory overkill, protectionism and centralised control of decision-making in the Prime Minister's Office (PMO)," Chidambaram said.
He continued: "Nothing sums up the state of the economy better than the following series of numbers: 8, 7, 6.6, 5.8, 5 and 4.5 (quarterly GDP growth rates). We will be lucky to end the year if growth touches 5 per cent.
"And please remember Dr Arvind Subramanian's caution that 5 per cent under this government, because of suspect methodology, is about 1.5 per cent less. The Prime Minister has been unusually silent on the economy. He has left it to his ministers to indulge in bluff and bluster. The net result, as The Economist put it, is that the government has turned out to be an 'incompetent manager' of the economy."
Pointing out that investors pay close attention to numbers, Chidambaram said every parameter reflected a floundering economy.
"The figures point to less demand among the people because they have less money and less appetite to consume due to uncertainty and fear. Unless demand increases, there will not be increased production/output or increased investment. If one half of the installed electricity capacity is shut down, there can be no greater disaster. The economy can be brought out of the slowdown, but this government is incapable of doing that," he said.