Sonia Gandhi to Narendra Modi: All you did was create divisions
Farmers are not getting adequate prices for their produce; stray animals and scarcity of fertilisers are creating additional problems for them: Congress president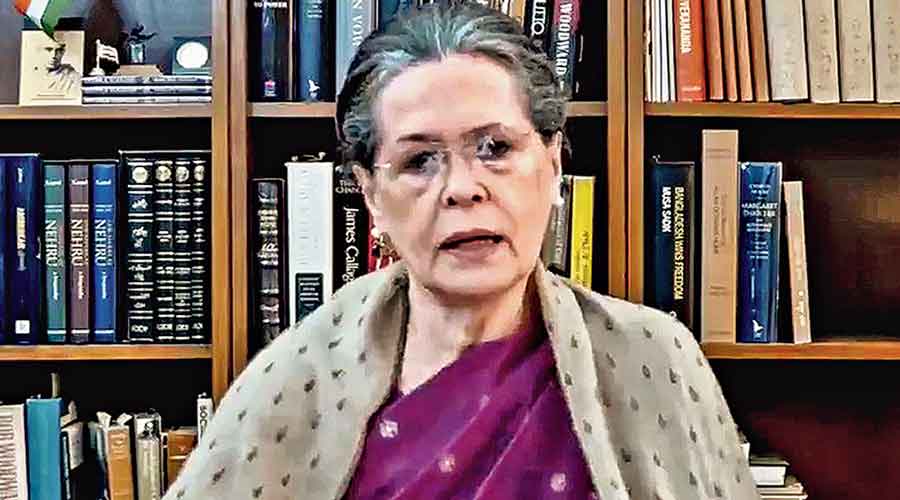 ---
New Delhi
|
Published 22.02.22, 03:53 AM
|
---
Congress president Sonia Gandhi on Monday confronted Prime Minister Narendra Modi's claim of exceptional development in Uttar Pradesh, alleging that the government did nothing except create divisions in the society.
Addressing the voters of her parliamentary constituency Rae Bareli, Sonia said:  "For five years, you have seen a government that did nothing except create divisions in the society. Farmers are not getting adequate prices for their produce; stray animals and scarcity of fertilisers are creating additional problems for them. Youths are sitting at home because there are no jobs; the government refused to fill 12 lakh existing vacancies."
The Congress president added: "Running a household has become so difficult because of rising prices of petrol, diesel, edible oils and other items. Your life was miserable during Corona, oxygen wasn't available, and patients didn't get admission in hospital. Lockdown destroyed your businesses and livelihood. You walked long distances to reach home but the Modi-Yogi governments behaved irresponsibly. They closed their eyes to your problems. In addition, public sector units are being sold to Modi's friends."
Asserting that the Congress alone was committed to people's service and rights-based empowerment, she said: "Our politics is about your welfare. We did our best to help you during Corona and lockdown. The Congress vision for Uttar Pradesh is for creating more jobs for youth, providing safety to women and giving relief from high prices of essential commodities. The Congress has released detailed plans for every section of society. We worked hard in Uttar Pradesh for five years, and 18,000 Congress workers were sent to jail during this period."
Although the Congress now appears squeezed out in the polarised ambience that suggests a direct fight between the Samajwadi Party and the BJP, Priyanka Gandhi Vadra has intensified campaigning for the remaining rounds of polling.
Led by Priyanka, the Congress unit was indeed active on the ground in the state for the last five years when other Opposition parties like the Samjawadi Party and the Bahujan Samaj Party avoided confronting the Yogi government during the anti-CAA protests and the lockdown.
While the Congress ran kitchens to feed the poor returning home during the Covid-induced humanitarian crisis, Sonia announced tickets for the migrant labour during the lockdown.
Priyanka, who is campaigning extensively in eastern Uttar Pradesh, also asked why the Prime Minister and the chief minister were talking about irrelevant issues if they did good work for the people.
"They will talk about garmi nikal denge, charbi nikal denge but not about employment. All other parties are talking about caste and religion instead of discussing the real concerns of the people. Politics is for solving people's problems, for giving jobs and security to the people."
Questioning the BJP's push on security and freedom from crimes, she asked: "Whose security Modi-Yogi are talking about? They are obsessed with their own security and power. Where were they when the poor and Dalits were being beaten up by the police, rape victims were being burnt without family's consent and farmers were getting crushed?"
Priyanka has consistently attacked Modi for retaining Ajay Mishra Teni as a minister in his government.
While she received good response in the family fiefs Amethi and Rae Bareli, her roadshows on the way to Lucknow also attracted impressive crowds.