Army trying to identify more jawans
Soldier faces stick over farmers' protest
Indian Army said to be trying to identify two other jawans who had posted videos on Twitter criticising the new laws and defending the protesters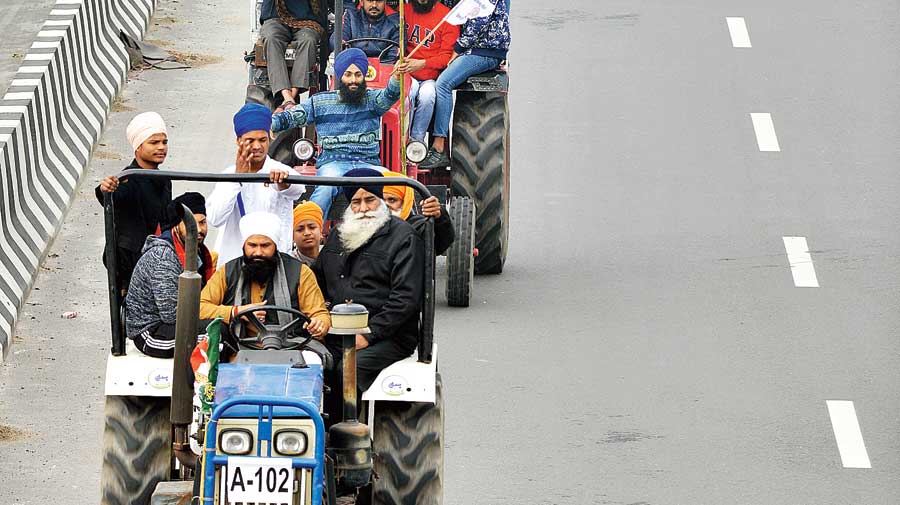 Farmers protesting against the new farm laws take part in a tractor rally at the Ghazipur border near Delhi on Thursday.
Prem Singh
---
New Delhi
|
Published 08.01.21, 12:46 AM
|
---
The army will discipline a serving soldier for participating in a farmers' protest in Punjab last month, an army official told The Telegraph on Thursday.
He said the army and other security agencies were trying to identify two other jawans who had posted videos on Twitter criticising the new farm laws and defending the protesters.
All three appear to be posted in Jammu and Kashmir, and all three have slammed government supporters' vilification of the protesters, sources said.
The country's top political leadership is growing increasingly worried about the impact the farmers' protest is having on military personnel from Punjab and Haryana, most of whom are from farming families, sources in the security establishment said. Army rules prohibit serving personnel from participating in demonstrations.
Many ex-servicemen from Punjab and Haryana, including medal-winning veterans of wars against Pakistan, have been participating in the farmers' agitation on Delhi's borders.
"Commanders have been asked to sensitise soldiers about the army rules that forbid participation in any protest," the army official said.
A widely circulated photograph on social media shows a sepoy in army uniform and a camouflage mask participating in a farmers' protest outside the deputy commissioner's office in Bathinda, Punjab.
He carries a placard that says: "My father is a farmer. If he is a terrorist then I am also a terrorist."
Several BJP leaders have maligned the protesters as Khalistanis or Maoist stooges.
An inquiry has revealed the soldier was visiting his home in Bathinda on leave from his posting in Jammu and Kashmir, the army official said.
"Disciplinary action will soon be initiated against the soldier. His action violates the Army Act 1950, which bars participation in protests," the official said.
He did not identify the soldier, nor say what action he might face. The army has officially not said anything on the matter.
In the Twitter videos uploaded by the other two jawans, who appear to be from the army too, they have said their parents have been protesting the new farm laws while they are protecting the nation in Jammu and Kashmir. They have asked how they can be called "anti-national".