Smriti questions Rahul 'manhood'
Irani, who had lost to Rahul in Amethi in 2014, compared the Congress chief's purusharth unfavourably with that of Amit Shah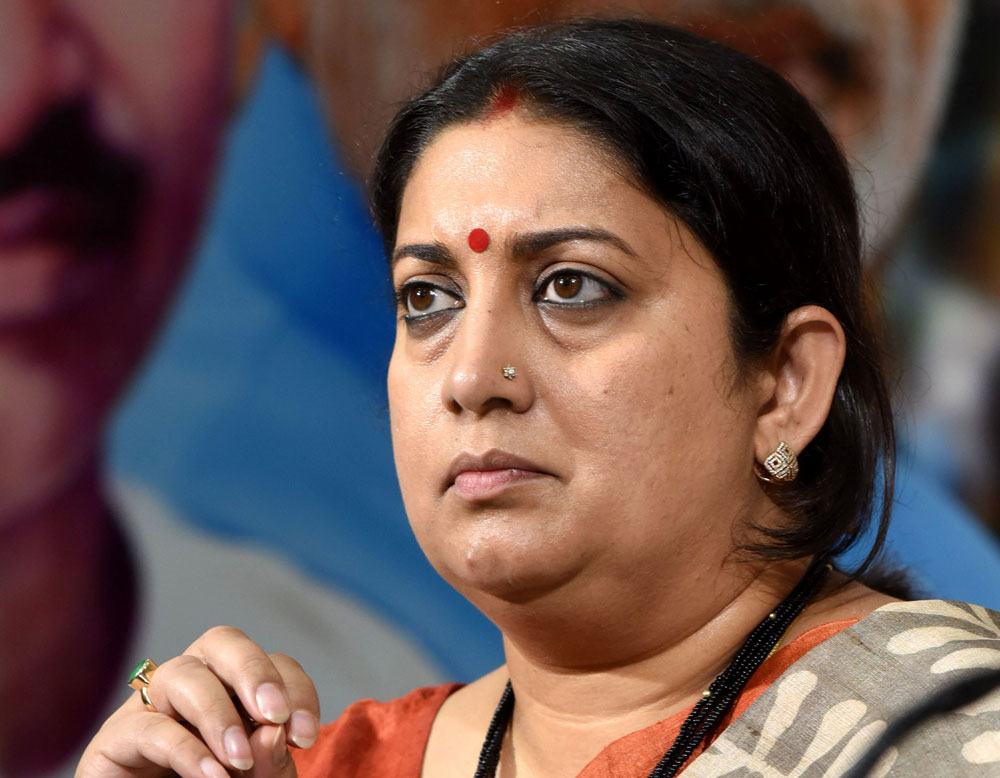 Asked whether the BJP was feeling insecure after its defeats in Chhattisgarh, Madhya Pradesh and Rajasthan, Irani said: "We are still ruling most states."
The Telegraph file picture
---
Lucknow
|
Published 04.01.19, 10:41 PM
|
---
Union minister Smriti Irani appeared to question Rahul Gandhi's "purusharth" (manhood) during a visit to Amethi on a day the Congress president gave his constituency a miss to take on a man with a "56-inch chest" in Delhi.
The duo's paths were to collide on Friday but Rahul chose to postpone his scheduled to visit Amethi so he could target Prime Minister Narendra Modi over the Rafale deal, Congress sources confirmed unofficially.
Irani, who had lost to Rahul by over one lakh votes from Amethi in 2014, compared the Congress chief's purusharth unfavourably with that of Amit Shah.
"(BJP) ke adhyaksh apne purusharth se bane hain; Rahul Gandhi apni mata ke ashirwad se Congress ke adhyaksh bane hain (The BJP president earned his post through his manhood, Rahul got his thanks to his mother's blessings)," the textiles minister said.
Claiming that Amethi owed its development to Modi's rule, she threw a dare to Rahul: "Amethi ka vikas Rahul Gandhi ke purusharth ko chunauti hai (The development of Amethi is a challenge to Rahul Gandhi's manhood)."
State Congress spokesperson Dwijendra Tripathi frowned on Irani's choice of words, saying in Lucknow that the "people of the country are hearing the language of Irani".
"Irani may have visited Amethi 16 or 17 times since 2014 but Rahul has been staying there for days since his childhood and knows everyone. Whatever development we see in Amethi was done by Sonia Gandhi and Rahul Gandhi," he said.
"The Modi government took away the IIIT and Hindustan Paper Mill from there."
Chandrakant Dubey, Rahul's representative in Amethi, told reporters the Congress chief's two-day programme from Friday had been "deferred" but gave no reasons.
A senior Congress leader told The Telegraph in Lucknow that Rahul didn't want to miss the opportunity to keep attacking "an escapist Prime Minister" who "kept running away" from questions on the Rafale deal.
"Rahul was to reach Fursatganj airport in Amethi at 5pm today (Friday) but the party decided in the afternoon that he should stay in New Delhi to seek answers from the Prime Minister on the Rafale corruption. He is likely to be in the constituency on December 22 and 23," he said, asking not to be identified.
Friday was the first time since 2014 that Rahul and Irani had both scheduled meetings in Amethi.
Asked whether the BJP was feeling insecure after its defeats in Chhattisgarh, Madhya Pradesh and Rajasthan, Irani said: "We are still ruling most states."
She asked: "Why was Rahul Gandhi silent when the Madhya Pradesh chief minister spoke against migrants from Uttar Pradesh and Bihar? How will he look the people of Amethi in the eye?"
Kamal Nath had said last month that many industries in his state employed people from states such as Uttar Pradesh and Bihar. "I don't want to criticise them, but this is depriving the people of Madhya Pradesh of jobs," he had added.