Slammed by Modi for his Pakistan remark, Akbar Lone is confident
The National Conference leader had triggered a row for saying Pakistan should "remain a prosperous and successful country"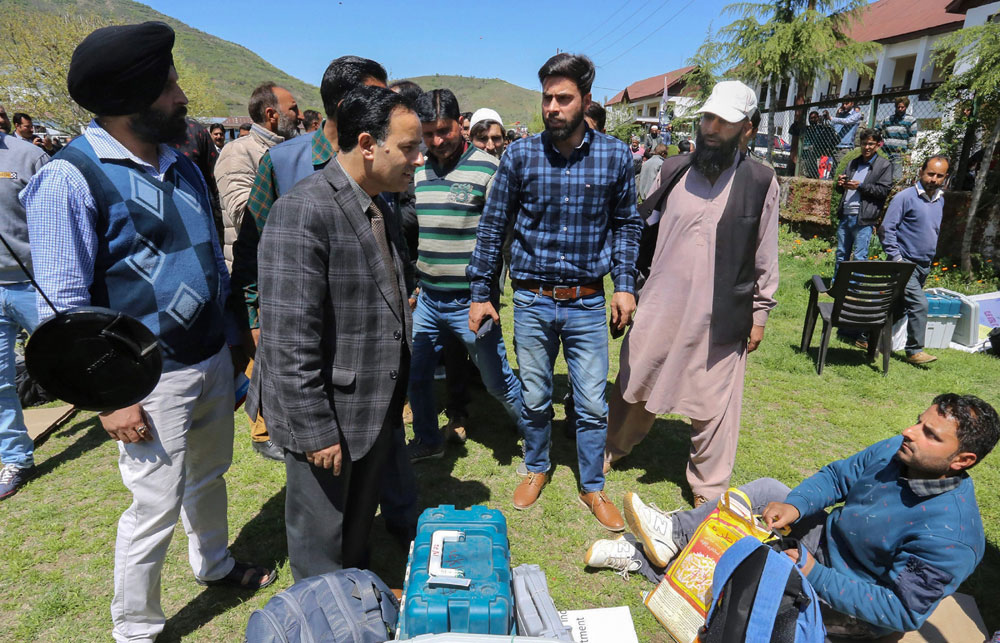 ---
|
Srinagar
|
Published 11.04.19, 12:21 AM
---
National Conference politician Akbar Lone is confident of victory in Thursday's poll in the Baramulla parliamentary constituency, perhaps not least because of Prime Minister Narendra Modi.
Lone is the one Kashmiri politician Modi has targeted the most in election speeches, without naming him, for his apparent pro-Pakistan remarks. "He has been talking about me and no one else… only to draw political mileage," Lone told The Telegraph, a day ahead of the vote.
The National Conference candidate — a former Assembly Speaker and education minister — had last month triggered a row when he said Pakistan should "remain a prosperous and successful country".
"Our friendship with them should intensify. India and Pakistan should have friendship with each other and I am an admirer of this friendship," he had told a gathering in Kupwara. "If anyone abuses them once, I will abuse him ten times."
Modi had seized on the comment to target not just the National Conference but also its ally, the Congress. "A National Conference candidate talked rubbish. Entire country saw it," Modi told a gathering in Jammu's Akhnoor.
"The country is also watching how the Congress has joined hands with such people. Does the Congress extend its hand to those people who talk rubbish about India or sing paeans to Pakistan?"
At another rally in Secunderabad in Telangana, he said a National Conference parliamentary candidate had made insolent remarks and "abused India".
"But the Congress party and the National Conference are silent on it. Even the media in Delhi sat silent after highlighting it only for a day," he said.
Modi did not name Lone but it is common knowledge in the Valley that he was referring to him.
Lone said he stood by his remarks and asserted that he was "as much a citizen of this country as Mr Modi is".
"He has stooped low while making my references," he said.
The National Conference leader said that while everybody knew that Modi was speaking about him, he (Lone) had made no attempt to extract political mileage from the Prime Minister's comments.
Sources, however, said Lone took a strong anti-BJP stand and pointed out that rivals Peoples Democratic Party and People's Conference had partnered the BJP to form the previous government.
Lone is seen as the frontrunner in Thursday's election, although many observers believe there would be a four-cornered contest with Peoples Democratic Party candidate Abdual Qayoom Wani, People's Conference candidate Raja Aijaz Ali and Awami Itehaad Party leader Engineer Abdul Rasheed.
"I don't want to sound arrogant and may God forgive me, I believe I will win. I see a slight contest with the People's Conference candidate," Lone said.
All the four candidates have drawn huge crowds during their campaigns, indicating the possibility of a decent turnout despite calls for a boycott by separatists.
The municipal polls in the Valley had seen an abysmal turnout after the two major players, the National Conference and the Peoples Democratic Party, boycotted the elections. The separatists had then too called for a boycott of the elections.
The Hizbul Mujahideen's operational chief, Riyaz Naikoo, has criticised the people of North Kashmir for participating in poll rallies in large numbers.