Show me the order, show me the warrant: Priyanka Gandhi Vadra
The Congress general secretary travelled about 80km without being noticed before she was stopped in heavily barricaded Sitapur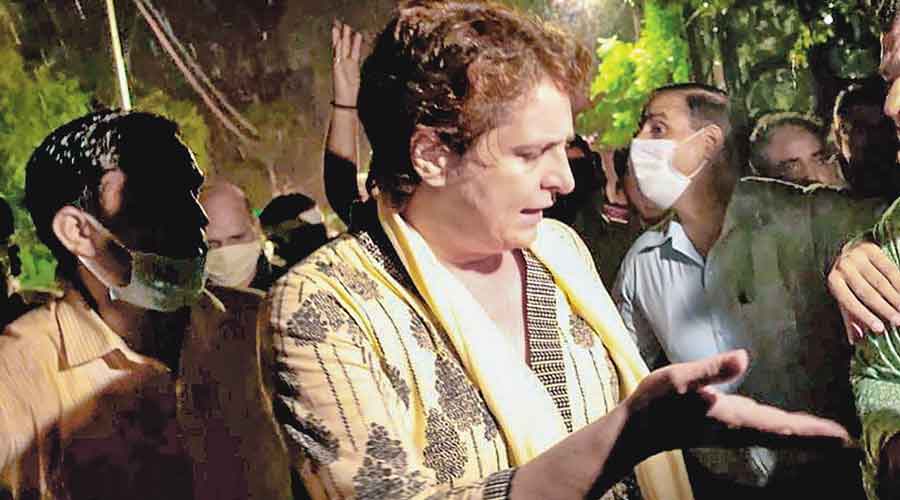 Priyanka Gandhi Vadra demands a warrant when Uttar Pradesh police confronted her and asked her to accompany them to a guesthouse.
PTI picture
---
Lucknow
|
Published 05.10.21, 02:23 AM
|
---
Priyanka Gandhi Vadra stole out of her Lucknow home at midnight, dodging the police, when most Opposition leaders would have been waiting for daybreak to start their journey to Lakhimpur Kheri where at least nine people, including four farmers, have been killed.
By 2am on Monday, she had already travelled 600km from Delhi and reached Sitapur, 100km from the site of Sunday's violence, before she was detained.
A video showed her sweeping a room at what appeared the guesthouse of the Second Battalion, Provincial Armed Constabulary, in Sitapur city where the Congress general secretary was detained. Late on Monday evening, she was still there.
Priyanka had arrived in Lucknow from Delhi around 10pm on Sunday. The police virtually barricaded her rented accommodation, Kaul House at Gokhle Marg, but Priyanka's aides said she somehow sneaked out close to midnight. She walked half a kilometre to Balu Adda, where a Congress politician's car was waiting.
She travelled about 80km without being noticed before she was stopped in heavily barricaded Sitapur. With thousands of farmers having set off for Lakhimpur Kheri on foot from across Uttar Pradesh, the administration had blockaded every road to Tikunia, where Sunday's violence took place. Stopped in Sitapur and asked by the police to accompany them to the guesthouse, Priyanka put up a fight, a video circulating on social media suggests.
"Listen to me, show me the warrant, otherwise I'm not moving from here. And I shall file a case of kidnapping against you if you force me to sit in that vehicle," Priyanka tells a police officer, presumably referring to a police SUV.
"I shall make the charge against you in particular," she adds. Local sources identified the officer as the circle officer.
The officer then summons a group of policewomen. Priyanka takes a few steps towards the officer and says: "Why are you taking the help of women? Do you fear women? Show me the warrant, tell me on what ground you are removing me from here. I will not move from here."
Deepender Singh Hooda, a Congress Rajya Sabha member standing close to Priyanka, tells the police: "You hit Priyankaji (aapne haath uthaya) today."
A voice, presumably of a policeman, says: "Who hit her? None did."
Hooda says: "I saw you attack her, I'm the witness."
Policemen then push Hooda out of the frame.
"See, you have started again. You have started again. Stop them. Stop him. You do not dare talk to a woman but you are beating him," Priyanka says and appears to push away a policewoman who is trying to grab her arm.
"Show me the order, show me the warrant. And if you don't have this, then you don't have any right to stop me. We are four people. Show us what your legal ground is. What do you think — you can beat people; you can crush the farmers?"
A posse of policewomen then push Priyanka out of the frame.
While journalists and Congress supporters were prevented from getting near the Provincial Armed Constabulary compound, state Congress president Ajay Kumar Lallu was allowed to meet Priyanka late in the morning. He brought her some fruits.
Lallu told reporters in the afternoon: "Priyankaji has sent a message to supporters, saying they should maintain peace and that she has decided not to return without meeting the victims of the BJP leaders."
He added: "She says she prefers going to jail instead of returning. People in the government crushed the farmers under the wheels of their car and now they want to crush us.
"She has told her supporters the government must bow before democracy and allow her to go on and meet the families of the victims. We were the first to start this battle against the killer government and we will take it to a conclusion."
From the guesthouse, Priyanka tweeted: "The Union minister and his son are responsible for political tension in Lakhimpur Kheri. Why is the BJP government protecting them? The government should take prompt action against the BJP leaders instead of taking me into custody."