Parallel polls on Shiv Sena wish list
Conditional electoral alliance proposed by Sena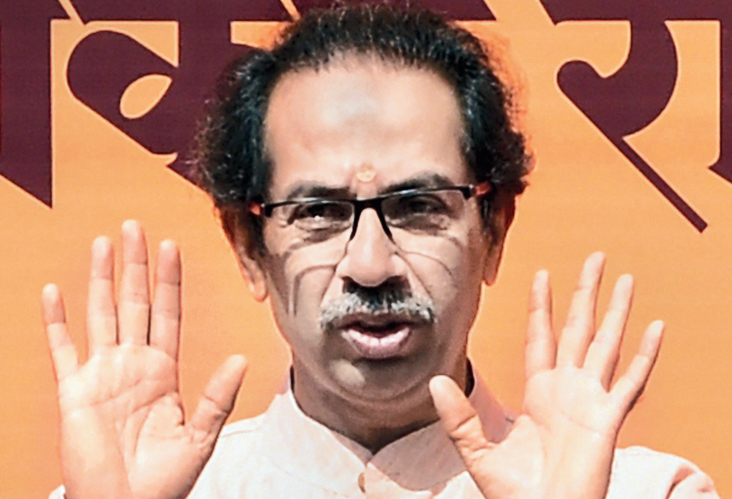 Uddhav Thackeray
The Telegraph file picture
---
New Delhi
|
Published 25.01.19, 10:37 PM
|
---
The Shiv Sena is putting pressure on the BJP to hold the Maharashtra Assembly polls along with the general election in the summer, making it one of the conditions for an electoral alliance, sources said.
The Sena has been going almost hammer and tongs against the BJP and the central government despite sharing power both at the Centre and in Maharashtra. The BJP, however, feels the Sena will contest in alliance and the attack is part of a strategy to gain the upper hand in seat-sharing.
The Sena, the BJP's oldest ally, used to be the senior partner in Maharashtra but the tables turned after the 2014 Lok Sabha polls. The BJP and the Sena had contested the 2014 Lok Sabha elections in alliance but split in the Assembly polls later that year.
The two parties came together to form the government in the state but the BJP bagged the chief minister's post since it had won more seats than the Sena. The BJP won 122 of the 288 seats in the Assembly and the Sena 63.
The Sena now wants to take advantage of the BJP's "desperation" for an electoral alliance to regain its control of the state. The Sena wants the BJP to give it the right to be the senior or the ruler in Maharashtra like the old days.
In order to achieve this goal, the Sena wants the Assembly polls, scheduled to be held at the end of 2019, along with the Lok Sabha elections so that the party can have a deal of its choice, BJP sources said.
"We are confident the Sena will contest the Lok Sabha polls with us. The Sena wants the state elections to be clubbed with the Lok Sabha polls and we are considering the option," a senior BJP leader said.
The Sena, other sources said, fears that the BJP will sideline it once they win the Lok Sabha polls and may choose to go it alone, like in 2014, when the Assembly polls are held at the end of this year.
In 2014, the BJP had performed well as the Opposition (the Congress and the NCP) fought separately. This time the Congress and the NCP have already decided to strike an alliance in the state, both for the Lok Sabha and the state polls, making matters tough for the BJP.
'Stomach ache'
The Sena on Friday questioned the BJP for its criticism of the Congress's decision to make Priyanka Gandhi a general secretary of the party.
"If people have accepted the heirs, why are some people getting stomach ache?" the Sena asked in an editorial published in its mouthpiece Saamana.
For the Sena, founded by Bal Thackeray, politics and dynasty have been inseparable. After the demise of the founder, his son Uddhav leads the party and his grandson Aaditya heads the youth wing.