Scientific and technical posts still exempt from quota rule
'Outdated' view worsens position of SCs, STs and OBCs in faculties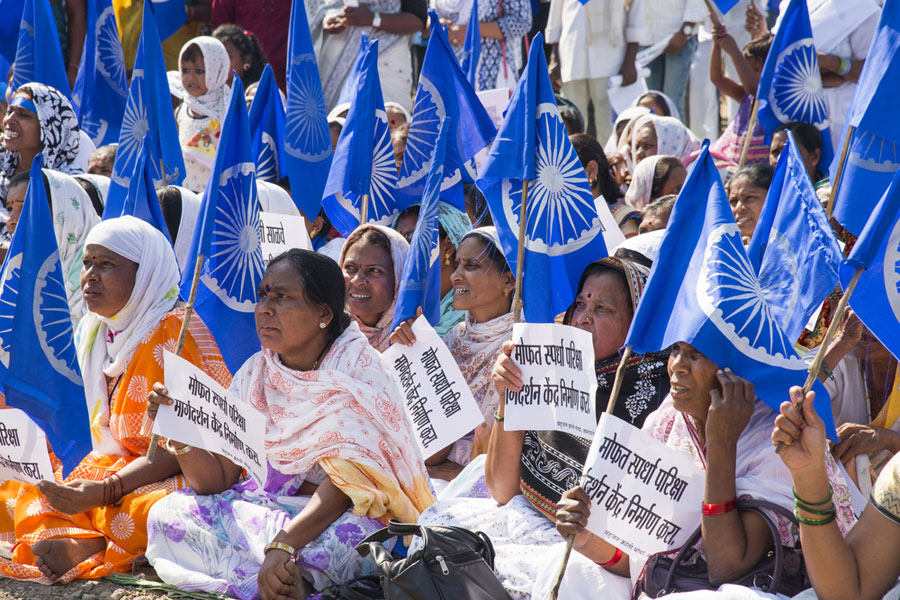 Protesters march demanding the strengthening of the Scheduled Castes and Tribes (Prevention of Atrocities) Act.
(Shutterstock)
---
New Delhi
|
Published 08.02.19, 10:49 PM
|
---
The Centre has iterated that "scientific and technical" posts will continue to be exempted from reservation but academics termed the policy outdated since there are enough eligible candidates now from the deprived sections to fill up reserved seats should quotas be extended to such appointments.
The government repeated its policy in guidelines it issued last week on the new 10 per cent quota for economically backward sections in the hitherto unreserved categories.
The academics feared that the "exclusionary" policy would worsen the already skewed representation of Scheduled Castes (SCs), Scheduled Tribes (STs) and Other Backward Classes (OBCs) in centrally funded technical institutions.
The SCs, STs and OBCs are entitled to 15 per cent, 7.5 per cent and 27 per cent reservation, respectively, in appointment of faculty members.
In 2008, the HRD ministry asked the IITs to bring the "scientific and technical" posts under the ambit of quotas while recruiting teachers up to the assistant professor level. In 2013, it requested the IIMs to do the same. The HRD ministry wields more power on the IITs as the department's minister is the chairman of the IIT Council.
While the IITs complied with the order, the IIMs have not implemented the advisory, resulting in abysmally low number of SC, ST and OBC candidates in the faculties of the premier management institutes. The IITs have not recruited any person from these categories to posts higher than assistant professor, citing the exemption.
The department of personnel and training (DoPT) under the ministry of personnel, public grievances and training last week issued detailed guidelines for the implementation of the 10 per cent economic quota, including a provision for "exemption from reservation".
"Scientific and Technical posts which satisfy the following conditions can be exempted from the purview of the reservation orders by the ministries/departments," the document said.
Reservation expert P.S. Krishnan said the government had identified "scientific" posts in 1961 and kept them outside the purview of reservation because there were not enough eligible candidates from among SCs, STs and OBCs.
"The exemption policy is irrelevant and outdated now. There are enough eligible candidates from the deprived categories who can be appointed. In the past 70 years, a sizable section of SCs, STs and OBCs have gained adequate higher education to be eligible for these posts now," Krishnan said.
Anil Wagde, an alumnus of IIM Ahmedabad and a champion of social justice, said the DoPT's policy would increase the exclusion of people from the lower social strata in faculty posts.
"This policy is harmful to SCs, STs and OBCs. It will perpetuate their exclusion and sustain the monopoly of upper castes in the technical institutions. This policy must be reviewed immediately," Wagde said.