Sangh overdrive on Pranab Mukherjee
Narendra Modi, Amit Shah, J.P. Nadda and Mohan Bhagwat pay tribute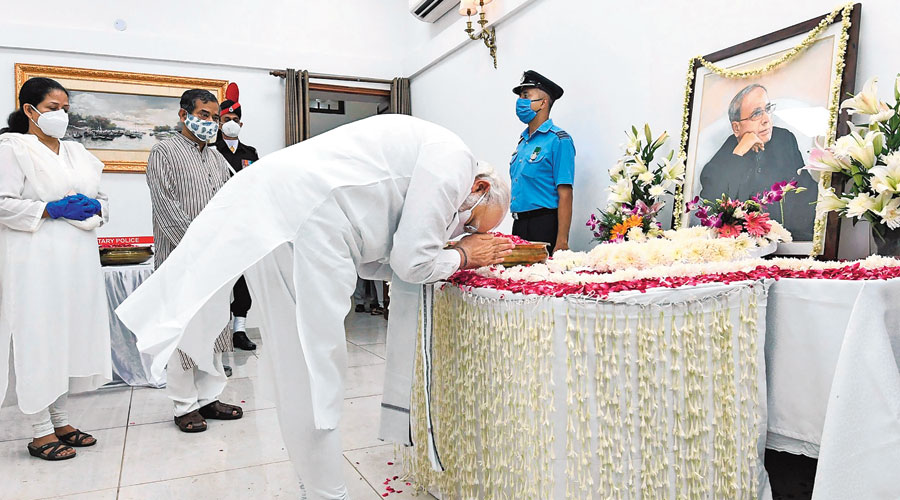 Prime Minister Narendra Modi pays his last respects to former President Pranab Mukherjee in New Delhi on Tuesday
PTI
---
New Delhi
|
Published 02.09.20, 01:57 AM
|
---
Prime Minister Narendra Modi, home minister Amit Shah, BJP president J.P. Nadda and RSS chief Mohan Bhagwat showered rich tributes on Pranab Mukherjee, seeking to project his death as their loss, betraying an effort to appropriate the legacy of yet another Congress leader.
Modi posted a series of tweets on Monday and Tuesday with the highlight being a photograph of him touching Pranab's feet. Shah, back from hospital after an extended stay for post-Covid care, tweeted in Bengali and English and put out a video in Hindi.
Bhagwat issued a statement in Hindi and English, in addition to a video message. He described Pranab's death as an "irreparable loss to the Sangh (RSS)" and said the former President was "like a guide to the RSS".
The excessive showering of praise and the effort to appropriate his legacy is being seen in power corridors as aimed at the Bengal polls next year. Shah's tweets in Bengali hailed Pranab as a "loved son of Bengal". However, the calculated effort to appropriate Pranab had started while he was still in Rashtrapati Bhavan when Modi would flaunt his special bond with the President. Bhagwat, too, paid a number of visits to Rashtrapati Bhavan. The Modi government in 2019 conferred the highest civilian honour Bharat Ratna on Pranab and has now declared a weeklong mourning for the lifelong Congress leader.
The BJP has in the past virtually appropriated the legacy of Sardar Vallabhbhai Patel, who worked closely with Jawaharlal Nehru, by accusing the Nehru-Gandhi family of sidelining Patel. Modi used the allegation to play on Gujarati pride and reap political dividend during his stint as Gujarat chief minister. That Patel as home minister had banned the RSS is quietly brushed under the carpet.
On Monday, when Pranab passed away, and on Tuesday, when he was cremated, the BJP appeared to be in a rush to leave the Congress behind in paying tribute to the former President.
"I was new to Delhi in 2014. From Day 1, I was blessed to have the guidance, support and blessings of Shri Pranab Mukherjee," Modi tweeted, with a picture of himself touching Pranab's feet and also holding his hand.
The tweets by Modi and other BJP leaders repeatedly addressed him as "Bharat Ratna". The Congress tweets did not.
Shah on Tuesday posted a picture of himself standing to pay respect to Pranab during a cabinet meeting to express "profound sorrow".
"For decades, former President, Bharat Ratna Shri Pranab Mukherjee ji worked relentlessly towards strengthening the nation," he tweeted.
Nadda wrote: "He has served the country in many roles with diligence and determination."
Bhagwat said: "It will not be easy to fill the void in the politico-social life of Bharat. He was a guide for us because of his care & interest about the Sangh."
Modi and many of his ministers went to Pranab's residence to pay their respects.
The Congress was far quieter in its mourning. It posted videos of Pranab, spanning his life, and of senior party leaders remembering him.
Party president Sonia Gandhi, in a letter to Pranab's daughter Sharmistha, wrote: "Pranabda had been such an integral and prominent part of national life, the Congress party and the central government over five decades, it is hard to imagine how we can do without his wisdom, experience, sage advice and deep understanding of so many subjects.... The Congress party de-eply mourns his loss and will always honour his memory."
Former Prime Minister Manmohan Singh said in a statement: "I have learnt with profound sorrow about the passing away of Shri Pranab Mukherjee, former President of India. In his death, our country has lost one of its greatest leaders of Independent India. He and I worked very closely in the Government of India and I depended on him a great deal for his wisdom, vast knowledge and experience of public affairs."
Rahul's tweet was less personal. "With great sadness, the nation receives the news of the unfortunate demise of our former President Shri Pranab Mukherjee. I join the country in paying homage to him," he wrote.
But before bowing in front of a portrait of the departed President to pay his last respect on Tuesday, Rahul took off his shoes. Modi did not.