Sabarimala to bigger bench
They are also expected to deal with similar questions of religious practices relating to women among Muslims and Parsis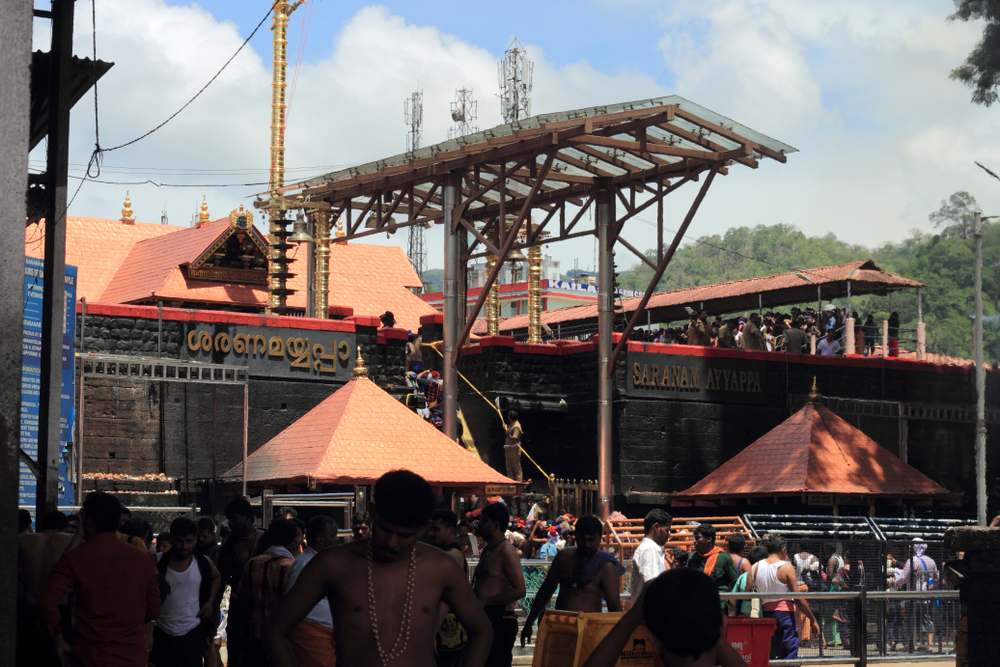 ---
---
A five-judge constitution bench on Thursday decided by a 3:2 majority to refer to a seven-judge bench the question whether women of childbearing age can enter the Sabarimala temple in Kerala.
The larger bench is also expected to deal with similar, "overlapping" questions of religious practices relating to women among Muslims and Parsis.
The court was hearing a batch of 40-odd review petitions challenging the September 28, 2018, judgment of another five-judge bench that had quashed as "unconstitutional" the centuries-old ban on women aged 10 to 50 at the temple.
On Thursday, Chief Justice Ranjan Gogoi and Justices A.M. Khanwilkar and Indu Malhotra favoured a reference to a seven-judge bench which, unlike the current five-judge bench, will have the power to reverse last year's five-judge bench judgment.
Justices R.F. Nariman and D.Y. Chandrachud dissented, dismissing the batch of review petitions and assailing the majority decision.
Despite Thursday's majority judgment, last year's verdict allowing women of all ages to enter the shrine would remain in force as a five-judge bench cannot stay a judgment by another five-judge bench.
The earlier verdict had been split 4:1, with then Chief Justice Dipak Misra and Justices Khanwilkar, Nariman and Chandrachud holding
the majority view. Justice Malhotra, the lone woman judge on the bench, had at the time dissented and upheld the ban.
"Prejudice against women based on notions of impurity and pollution associated with menstruation is a symbol of exclusion. The social exclusion of women, based on menstrual status, is but a form of untouchability, which is anathema to constitutional values," Justice Chandrachud had said as part of the original judgment.
However, the composition of the bench changed with the retirement of Justice Misra, and Justice Gogoi stepped into his shoes. Justice Khanwilkar, who had earlier struck the ban down, has now decided to let a seven-judge bench review it.
The larger bench is also expected to hear issues relating to other communities' right to practise, profess and follow their own religious fundamental rights, guaranteed under Articles 25 and 26 of the Constitution.
"The debate about the constitutional validity of practices entailing… restriction of entry of women generally in the place of worship is not limited to this case, but also arises in respect of entry of Muslim women in a Durgah/Mosque as also in relation to Parsi women married to a non-Parsi into the holy fire place of an Agyari," Thursday's judgment said.
"There is yet another seminal issue pending for consideration in this court regarding the powers of the constitutional courts to tread on (the) question as to whether a particular practice is essential to religion or is an integral (part) of the religion, in respect of female genital mutilation in Dawoodi Bohra community."
Thursday's judgment suggested that a decision by a larger bench would "instil public confidence" and "put at rest recurring issues touching upon the rights flowing from Articles 25 and 26".