Sabari woman alleges assault by mother-in-law
Kanakadurga says she was attacked with a wooden reaper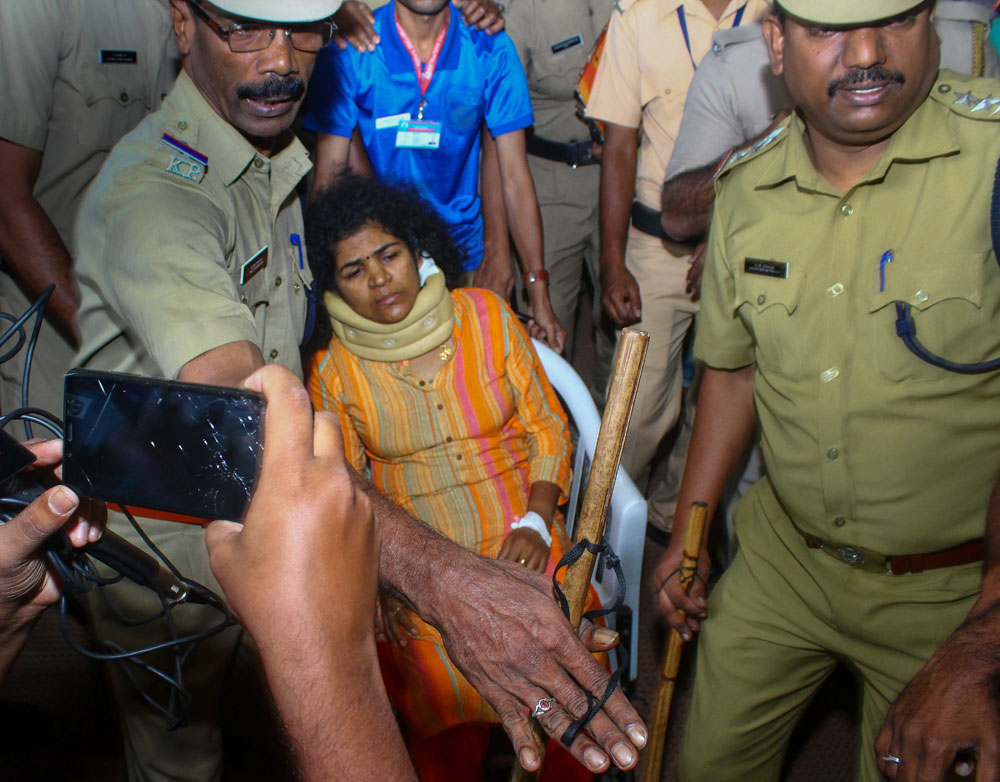 Kanaka Durga, one of the two women who recently made history after entering the Sabarimala temple in their menstrual age, being shifted to a hospital for treatment after she was allegedly beaten up by her mother-in-law, in Kozhikode on Tuesday, January 15, 2019.
(PTI)
---
Bangalore
|
Published 15.01.19, 09:31 PM
|
---
One of the two women of childbearing age who had made history by entering the Sabarimala temple earlier this month was hospitalised on Tuesday after her mother-in-law assaulted her when she returned home in Kerala's Malappuram district early in the morning.
Police rushed Kanakadurga, 44, to a nearby taluk hospital as she had suffered a head injury and later shifted her to the Government Medical College in neighbouring Kozhikode for a scan.
Sources said Kanakadurga was stable but a scan was needed to rule out any internal injuries.
In what appeared to be a counter-move, her husband Krishnanunni's family too rushed her mother-in-law, Sumathi, who is in her seventies, to the same taluk hospital as she too had suffered bruises in the scuffle.
Kanakadurga and Bindu, 42, had on January 2 entered the Sabarimala temple with legal sanction for the first time in decades, marking a milestone in gender equality since the Supreme Court scrapped the 10-50-year age ban on the entry of women into the hilltop shrine in September last year.
The two women had prayed at the temple at 3.45am under police protection and then left for an undisclosed location safely, outwitting Sangh parivar activists who had been keeping vigil to intercept any young woman devotee.
But the intrepid lady, an employee of the state civil supplies department, had probably not reckoned with her mother-in-law's wrath.
Kanakadurga had returned to her husband's home in Angadipuram around 7am, as she was to rejoin work on Tuesday. The police had escorted her to her home because of the threat she faces from Sangh groups.
Kanakadurga said her mother-in-law attacked her with a wooden reaper, a construction tool, when she entered the house.
"I walked into the house since the main door was open. When mother (Sumathi) asked from the kitchen who had entered, I responded it was me. She quickly came out of the kitchen and hit me repeatedly with a wooden reaper. But I didn't retaliate since I respect her a lot," she told a Malayalam channel from her bed in the taluk hospital before being shifted to Kozhikode. "She pushed me out of the house even as my head reeled and slammed the door behind me."
Her husband's family then rushed Sumathi to the taluk hospital.
The police have booked Sumathi under penal code sections 341 (wrongful restraint) and 324 (voluntarily causing hurt by means of any instrument). If found guilty, the septuagenarian could be jailed for up to three years and fined.
Kanakadurga's husband and other family members had earlier distanced themselves from her, perhaps fearing repercussions as hundreds of Sangh activists had swarmed both her maternal and marital homes the day she had entered the temple with Bindu.
Kanakadurga's brother, Bharat Bhushan, blamed her for what happened on Tuesday. "She barged in with party workers and police. When mother (her mother-in-law) stopped her, she pushed her to the floor. Then both of them assaulted each other," he said.
SC Sabari hearing
Chief Justice Ranjan Gogoi on Tuesday said the scheduled hearing of the five-judge Constitution bench on the batch of petitions relating to the entry of women of childbearing age into the Ayyappa temple may not take place on January 22 as one of the judges Justice Indu Malhotra is on medical leave.