Clashes over Sabarimala spread
Attack and retaliation in political hotbed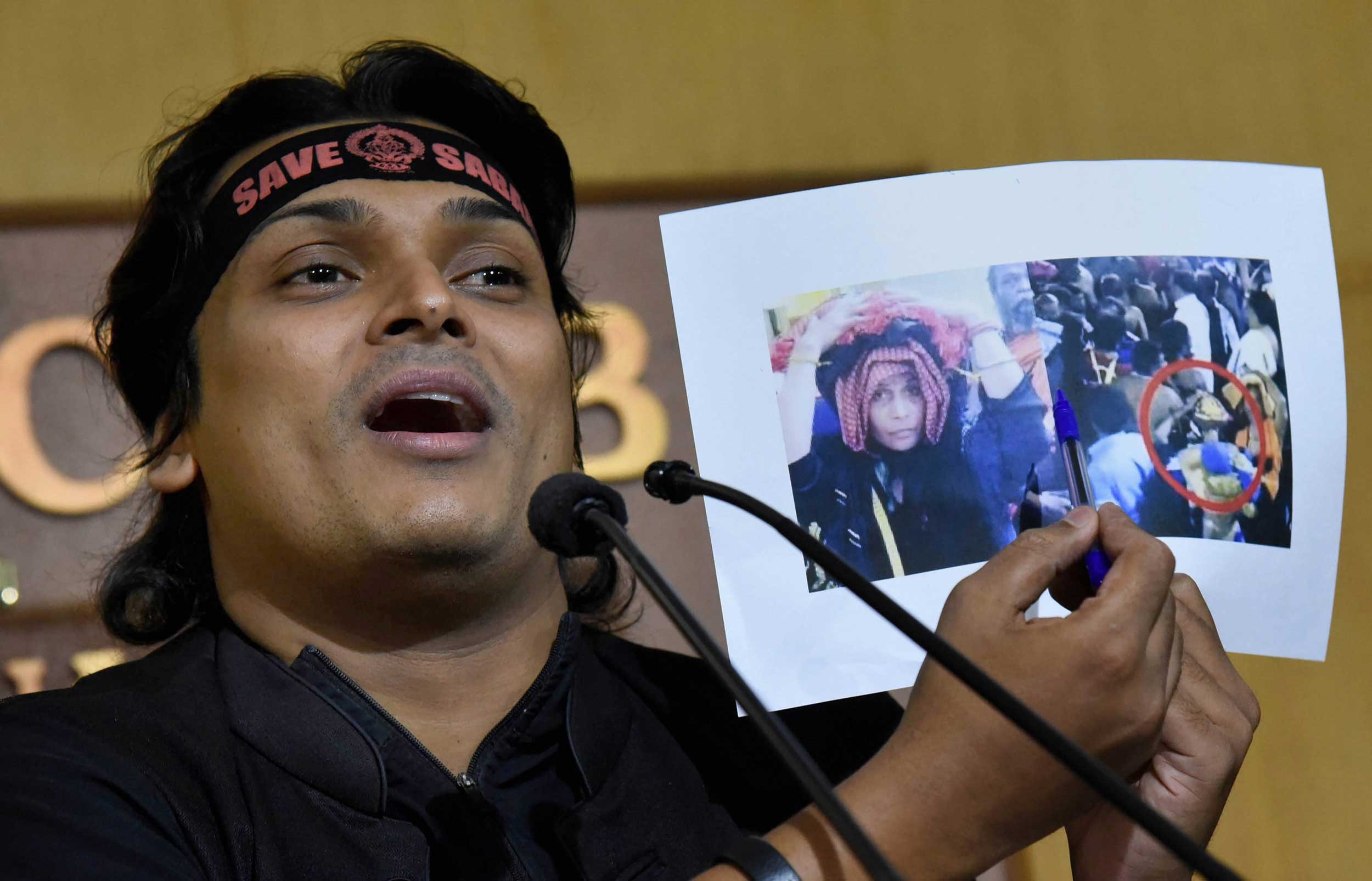 Ayyappa Seva Samajam president Rahul Easwar attends a press conference on the issue of entry by the two women in the Sabarimala temple, in Kochi, on Saturday.
(PTI Photo)
---
Bangalore
|
Published 05.01.19, 08:58 PM
|
---
The Sangh parivar-triggered violence over the entry of women of childbearing age into the Sabarimala temple has swiftly spread to Kannur, the favourite hunting ground of the RSS and the CPM in Kerala with a history of blood and gore, with both sides targeting rival homes and offices.
Already a political hotbed where the RSS and the CPM have perpetrated tit-for-tat killings, Kannur district witnessed several bomb attacks late Friday night.
Suspected RSS cadres hurled bombs at the house of CPM legislator A.N. Shamseer around 10.45pm on Friday when he was participating in a peace meeting called by the Thalassery sub-collector.
A similar attack was launched on the house of CPM district secretary P.K. Sasi close to midnight.
In a retaliatory strike, suspected CPM cadres hurled a bomb at the ancestral house of BJP Rajya Sabha member V. Muraleedharan, who was not at home.
While no one was injured in any of the cases, the impact shattered windowpanes at all three houses.
Suspected Sangh activists armed with machetes in Iritty attempted to behead a CPM worker, who is fighting for his life at Pariyaram Medical College in Kannur.
Pathanamthitta in Kerala's south, where Sabarimala is located, also witnessed similar incidents with both sides targeting party properties and homes of leaders.
This prompted CPM leaders to caution their cadres against "falling into the trap" laid by the RSS-BJP, whose "sole objective is to scale up the violence" and jeopardise the state government.
"They are trying to whip up more violence and take this to the next level and make it a CPM-BJP face-off, diverting the focus from how they wreaked havoc in the name of Sabarimala," said CPM state secretary Kodiyeri Balakrishnan.
Minister A.K. Balan echoed the views and said a section in the BJP was trying to pull down the Left government. "But that is not going to work in Kerala," he said.
His cabinet colleague E.P. Jayarajan said the RSS was functioning like a "quotation gang" — a local usage for hired assassins — and urged the outfit to stop the vandalism.
Riot police held a route march at Thalassery and Pathanamthitta in an effort to calm the situation.
According to a state police bulletin, 3,178 people have been arrested in the past three days and 1,286 cases registered. A total of 37,979 accused have been identified for rioting since Wednesday.
Special police teams have spread out in each district to arrest these people. The political affiliations of those arrested are not known yet.
Director-general of police Loknath Behera has ordered his officers in each district to take strong action against anyone involved in rioting and destruction of property.
In an apparent move to ensure that the Sabarimala issue is kept alive in the run-up to the Lok Sabha polls, the BJP has scheduled visits by Prime Minister Narendra Modi and party president Amit Shah in the coming weeks.
But the CPM state secretary was not perturbed by the impending VVIP visits that could boost the BJP. "Let them come. It's good for us," said Balakrishnan.
"Amit Shah's tricks are no more working even in northern states. What will he shake up here? His size is not enough to shake up things here," the CPM veteran said.
BJP parliamentarian Muraleedharan accused the Left government of trying to divert attention from the Ayyappa devotees' "anger" against the women of childbearing age entering Sabarimala temple.
"This is a clear attempt to divert attention from the anger of the Ayyappa devotees. That's why they are trying to project this as a political issue between the CPM and the BJP," he said in a video message.
According to Muraleedharan, CPM cadres had attacked the houses of BJP and RSS leaders in Kannur in the past two days. "They are claiming that the attack on my home was a retaliatory strike," he said.
He urged chief minister Pinarayi Vijayan and the state CPM leadership to rein in their cadres and restore peace.