Revenge on BJP after elections on Mamata's lips
Trinamul sources claimed that the Bengal CM was convinced that the central jawans were following orders from the BJP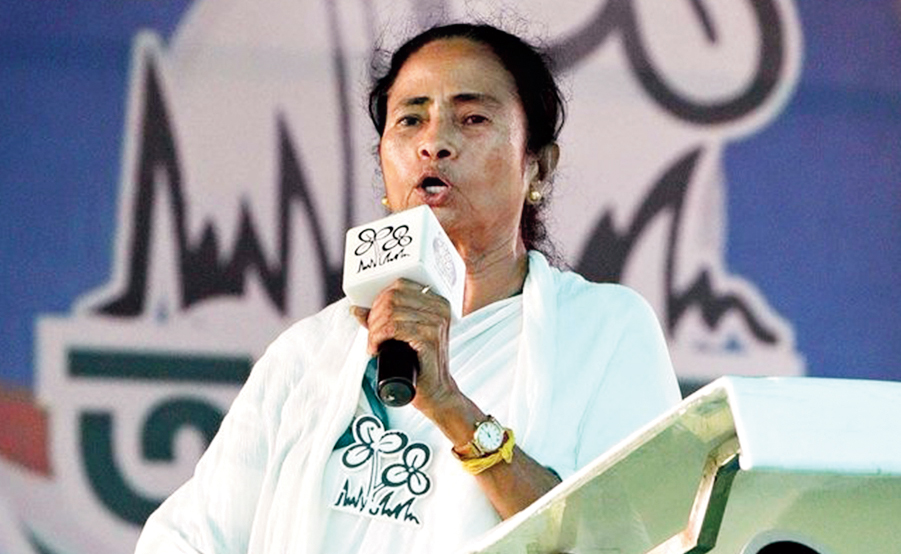 ---
|
Calcutta
|
Published 13.05.19, 12:25 AM
---
Mamata Banerjee on Sunday threatened "inch by inch badla (revenge)" once the general election ended, alleging that RSS activists wearing uniforms of paramilitary jawans were being sent to Bengal from outside to influence the polling.
The Trinamul Congress chief, who held four election campaign rallies in the afternoon, said the central forces should be "ashamed" of their alleged bid to influence people to vote for Narendra Modi.
"First of all, I do not disrespect the central forces. But they are being ordered to influence voters. On the pretext of deploying central forces, the BJP is getting BJP and RSS activists to Bengal. I suspect some RSS activists in uniforms are being sent here," she told a public meeting at Basanti in South 24-Parganas.
"Since morning, the central forces have been creating a lot of troubles, beating up and coercing voters. Law and order is a state subject, but they have tried to take control of it. Remember, the elections are here for a few more days, after which they will go. Then, there will be inch by inch badla."
Since the third phase of the polling on April 23, the Bengal chief minister has been attacking the Election Commission and the central forces. She alleges that the commission is hand in glove with the ruling dispensation at the Centre. But Mamata had not threatened "revenge" before Sunday.
Trinamul sources claimed that the chief minister was convinced that the central jawans were following orders from the BJP.
On Sunday, she alleged that the central force personnel in charge of the BJP's Ghatal candidate, Bharati Ghosh, had opened fire at a booth, injuring a person.
Mamata said the paramilitary jawans were telling voters in queues to press the lotus button. "How can they do this? Is this the assignment of the central forces here, to tell people to vote for the BJP?" she asked.
The Trinamul chief accused the Modi government of having sent retired officers to oversee the elections in Bengal, apparently referring to special state observer Ajay Nayak and special central police observer Vivek Dubey.
"You (the central forces) should be ashamed of doing these things. You are here to do your job. How can you campaign in favour of Modi? Tomorrow, when Modi will be ousted from power, where will you hide?" she asked.
Mamata repeated her allegation that Modi was trying to run a parallel administration in Bengal.
"Modi is running a parallel government in Bengal. We are monitoring everything silently. Our silence is not our weakness. You have insulted me a lot. We will pay you back," she said.
"They are not allowing me to run the government…. They do not have the power to interfere in our affairs. Central forces have no right to intimidate or coerce voters. The law will take its own course," she added.
The chief minister said Modi had been using the entire machinery of the central government to create trouble in Bengal ever since she had given a call to oust him from power at her Martyrs' Day rally in Esplanade on July 21 last year.