Reopening sugar mill in Anand Nagar can help over 3 lakh farmers, feels sexagenarian doctor
Ganesh sugar mill was founded in 1932 and has been shut since 1994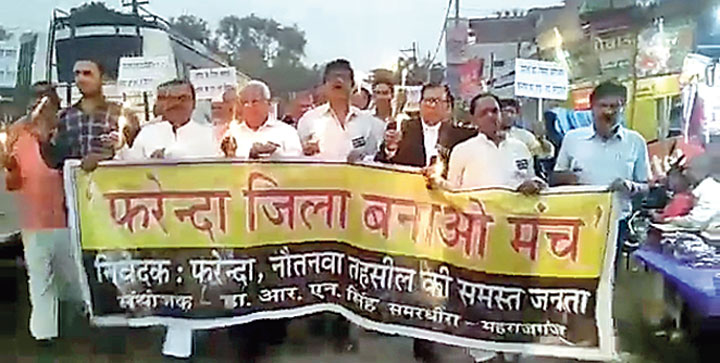 Residents take out a march demanding a separate district of Pharenda.
Picture by Piyush Srivastava
---
Maharajganj
|
Published 19.05.19, 10:27 PM
|
---
Maharajganj, on the border with Nepal, rarely makes news. And its alienation is such that the most potent issue in this Lok Sabha constituency is the one raised by a doctor. It is an issue that can give jobs to 10,000 local youths and help over three lakh farmers.
"Ganesh sugar mill in Anand Nagar is one of the oldest and the biggest in east Uttar Pradesh, but it is shut for three decades. I am trying to make its reopening an election issue," said Dr R.N. Singh, a paediatrician from Gorakhpur, who has put on hold his popular practice and is camping in Anand Nagar, also known as Pharenda, his hometown. "I am requesting the people to ask the candidates what they think about the sugar mill and then decide whom to vote for," said Singh, who is in his 60s.
The sugar mill was founded in 1932. It has been shut since 1994.
"Pharenda falls between Lumbini in Nepal and Kushinagar in UP and Buddhists come here in large numbers during their travel from the birthplace of the Buddha (Lumbini) to his place of mahaparinivana (Kushinagar). This place can be carved out as a separate district; people travel 45km to Gorakhpur or 45km to Bhairahwan in Nepal for shopping and 40km to the Maharajganj headquarters for official work. So we have formed Pharenda Zila Banao Manch to press for a separate district," said Singh.
Singh, who knows Uttar Pradesh chief minister Yogi Adityanath well, said he had spoken to the CM "about these issues but didn't get any conclusive reply".
Amresh Pandey, 68, a farmer, accused the government of neglecting Maharajganj.
"The government has started Gorakhpur's Pipraich sugar mill and is preparing to restart Basti's Munderwa sugar mill. Then what is the problem with Pharenda's mill, which covers triple the area of Pipraich and Munderwa? Is it just because it is politically not so important?" Pandey said.
While a farmer earns Rs 20,000 from paddy or wheat produced on one acre of land, it would go up to Rs 80,000 if he grows sugarcane and there is a mill to buy it, he added.
Pankaj Choudhary, the BJP candidate, and SP candidate Akhilesh Singh have said the mill issue would be taken up after the poll. Supriya Shrinate of the Congress also told former employees of the mill that she would take up their cause. "Why don't they say this in their public meetings?" said Dhruv Narayan Pandey, a 70-year-old farmer. "Most of the political parties were behind the closure of the mill. The mill was making profit but some private sugar mill owners of east UP wanted the sugarcane of Pharenda. So they lobbied with the politicians and closed the mill. Instead of transporting their sugarcane to other areas and waiting for months and years for payment, over three lakh farmers stopped growing sugarcane."